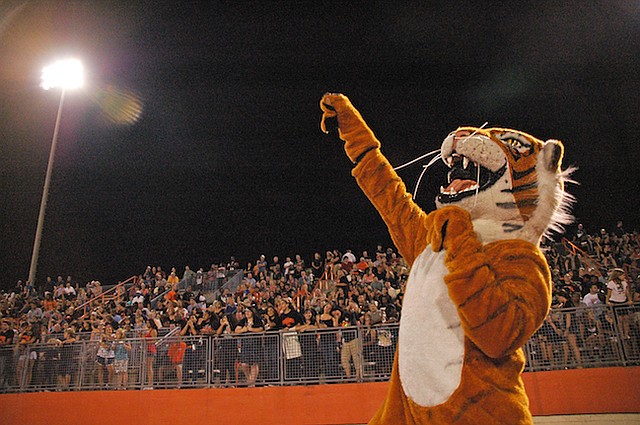 Winter Park finally comes home
Nearly two months into the football season the Winter Park Wildcats will finally get to play on their own field. Renovations and re-turfing of Showalter Field forced the Wildcats to play on the road for the first eight games of their season.
That didn't stop them from amassing a 6-2 overall record, despite the notable handicap of playing every game on their opponent's home field.
The Wildcats are carrying a three-game win streak into their homecoming, fresh off beating Boone 28-19 on Oct. 21.
They'll host Spruce Creek (5-3, 3-1) for their first game on their new turf, having already taken care of winning Class 8A District 3 outright, collecting all four district wins on the road while outscoring their district opponents 127-32 in the process.
The game kicks off at 7 p.m. Friday.
Edgewater
Despite playing half their games at home, the Eagles have managed to lose all of them, falling to 0-8 overall when they were spanked by East Ridge 36-14 on Oct. 21. They'll travel to Hagerty Friday night, facing a 7-1 Huskies team that blasted Lake Howell 49-7 on Oct. 21.
UCF football
The Knights landed in Connecticut in need of a morale booster after losing their own homecoming game by way of a comeback the week before. They got it, smashing the UConn Huskies 24-16 on their homecoming.
But the game was looking all but lost for the Knights early on, as they allowed the Huskies to go up 13-0 in the first 20 minutes of the game. That eerie similarity to the Knights' early fortunes against Temple soon evaporated. The Knights managed to escape with a win only after a monstrous comeback that saw them outscore UConn by 24-3 for the rest of the game.
"It's going to show the character of this team how we respond," UCF football head coach Scott Frost had said in the run up to the game.
The win sets the stage for the Knights (4-3, 2-1) as they venture deeper into the American Athletic Conference season. They'll need the momentum, as they travel to face Houston (6-2, 3-2) Saturday. The Cougars are one of the toughest teams the Knights have faced since their upset win over No. 5 Baylor in the 2013 Fiesta Bowl.
It's the same Houston team that beat FSU in the Peach Bowl last season and that, until last week when they lost a shocker against SMU, was ranked No. 11 in the country.
The Knights would be looking to take advantage of that momentum shift against the previously invincible Cougars, who let an SMU team with a losing record beat them by 38-16 with a successful punt fake thrown in for good measure. Until that game, Houston, whose only loss was to No. 24 Navy, had been cruising to bowl season. After that loss, to a team that had yet to beat an AAC opponent and that had only been to four bowl games in more than 30 years, the Cougars were left looking more vulnerable.

And as the Cougars have fallen apart, the Knights have coalesced around their new quarterback, with McKenzie Milton playing for four of the past five games after usual starter Justin Holman exited a Michigan blowout Sept. 10 with a hamstring injury. After a slow start in East Hartford, Milton exploded for 317 yards in the air, going 29-for-45 with three touchdowns and no interceptions.

The final three scores of the game belonged to the Knights, and those scores would be all that mattered. The win put UCF at 4-3 overall and 2-1 in AAC play.
Traveling for their second week in a row to Houston, the Knights will play a team they narrowly defeated in back-to-back last-minute miracles in 2013 and 2014. But last time they met, at the Bright House on Oct. 24 last season, the Cougars walloped the Knights 59-10. This season the Cougars have beaten opponents by an average of a nearly 29-point spread.
The Cougars tend to be on the winning end of games when their defense holds their opponents' score low. This season Houston has only won one game when they allowed an opponent to score more than three touchdowns. Though most of Houston's wins have been high-scoring affairs for the Cougars, their defense has made the difference.
The Knights so far this season have only one game in which they surpassed 500 yards, though against East Carolina on Oct. 1 they allowed themselves to be out-gained 521 yards to 373 yards and allowed UConn on Oct. 22 to gain 413 yards to their 400 and still pulled off wins both times.
If the Knights are to avoid a repeat of the nightmare they suffered hosting Temple — when they needed a first down to seal a win late in the fourth quarter and instead were stuffed for negative yardage on three straight run attempts — they'll need to break Houston's defense. Coming into this week the Cougars have the No. 6 rushing defense in the FBS, allowing less than 100 yards on the ground per game. They'll have to find ways to stop the relentlessness of Houston's offense too; they're ranked No. 13 in the FBS in completing third-down conversions, and No. 14 in fourth-down conversions, succeeding 14 out of the 20 times they've tried.
The game starts at noon Saturday, broadcast on ESPNews and 96.9 The Game.