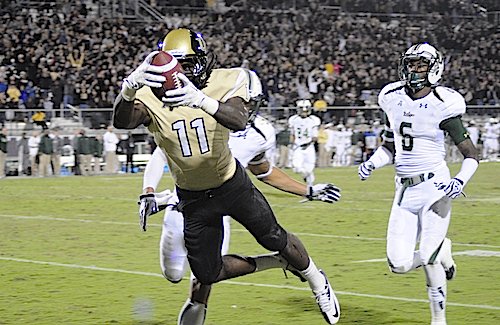 With a well-timed interception after a torrent of turnovers went the wrong way, the Knights snagged a win out of thin air in a chilly thriller in the Bright House. Jordan Ozerites hands touched a Mike White pass just as the crowd got as loud as it would during the constant nail-biter of a rivalry rematch against the Bulls on the gridiron.
"When you don't play very well and have five turnovers, you don't usually win games like that," Head Coach George O'Leary said in a press conference after the game. But the Knights won, 23-20, after giving up more turnovers than they had all season.

It had been a much closer game than expected as the UCF Knights (10-1, 7-0) and the USF Bulls (2-8, 2-5) traded field goals and punts for much of the first half of the game.
After multiple fumbles handed USF its only scores of the first half, the Knights distanced themselves by halftime, but it wouldn't be enough.
A seemingly off-balance Blake Bortles had trouble finding receivers, and rushers had trouble finding lanes as the Knights' offense failed to find a rhythm against an unexpectedly tough USF defense.
The bright spot that slowly began to shine as the game wore on would be running back Will Stanback, who became the yardage workhorse for the Knights after two scary fumbles early on by regular go-to runner Storm Johnson. Stanback would rush for 40 yards on 10 carries and catch 69 yards worth of receptions. Johnson would eventually find his hands and race to 69 yards on the ground and snag 62 yards in the air.
The game never had a wider scoring gap than a single touchdown separating the two teams for its duration, making for a hair-raising experience for the Knights, who came into the game heavy favorites.
But the grudge match turned into just that as the teams battled for the first time since USF terminated their rivalry five years ago in search of tougher competitions. The teams met at the height of one of the Knights' all-time best seasons, while USF was struggling in one of its worst.
An offensive juggernaut in many games this season, the Knights only converted one third down conversion out of nine attempts in addition to their eyebrow-raising five turnovers.
The Knights would come away with a win thanks to a 52-yard Breshad Perriman touchdown reception and Ozerites' interception with less than two minutes to go to seal the deal as the Bulls were threatening.