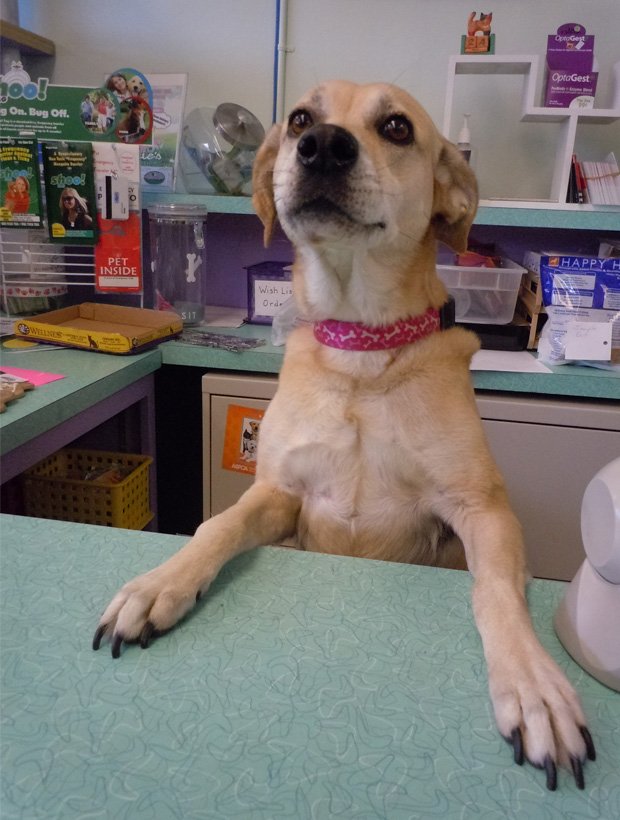 Spike was a true individual. We had a large fir tree in our front yard of the first house I can remember living in as a kid in Brevard, N.C. My brother and I would climb its closely spaced branches, and Spike, our wire-haired terrier, would follow. He'd get 4 or 5 feet off the ground, and freeze there if he could. It was magic to me as a kid, and every dog that has been part of my life has produced their own magic since.
I come from a family of dog lovers. I've had cats too, including a black cat we got from the Atlanta Humane Society and named Serial . . . as in Killah! And he lived up to it. But I'm a dog person through and through and always will be. They've never been pets in my eyes, but more members of the family. That is just as true today.
For me, childhood without a dog sounds unimaginable, askew from what nature intended. There's a reason so many Norman Rockwell pieces with children also included a dog. There is nothing that can replace the memories, the love and the fun a dog adds to a child's life. When no one else understands you — or seems to — is when unconditional love means the most. Whether it's the three English bulldogs who tackled me when I was 7 and covered my face in doggie saliva, or our Olga Korbut dog named Maggie – a Boxer and wannabe gymnast – who would jump up and catch herself atop our Atlanta fence before pulling herself over, or my sweet Molly, another Boxer, who at 8 weeks of age stood over a Bassett Hound puppy with her paws on his ears waiting to see how long she could trap him, these dogs are as distinctly individual in my mind as any person I've known. I remember them fondly for the wonderful role they had in my life, and the memories of them I now treasure.
Snowball, a Spitz, was my furry sibling as a toddler. There was one mix female we simply called Blackie that we drove to get at a distant humane society after seeing her on television. We discovered Old English Sheepdogs and had both Yo-yo and, when I first went to college, Bagwhan Shree-Rajsheep Dog, or Boggie for short, named for an interesting Rolls Royce collector who was attempting to flee the country and in national news at the time we got him. My life partner and I have three female Boxers now and since starting to write this, each of them has visited me and wanted attention, a head scratch, a tummy rub, a longing look from Fat Puppy (aka Millie) as if to say, 'do you know how close you are to the kitchen and the food right now? Come on, take a break."
Each of our Boxers has come from a breeder, and I'm not sure my other half realizes I do not intend to repeat that approach in the future. There are too many animals in need of a home, too many sad faces seen looking back at me from my computer monitor, leaving me wanting to help and wondering if they will have a real chance to be loved.
This Saturday around Lake Lily in Maitland, Pookie's RescueFest will seek to unite rescue animals with new homes and raise money for local rescue groups. This is its fifth year, and its second around Lake Lily. I spoke with Marcia Sundberg, co-owner of Pookie's Pet Nutrition and Bow Wow Bakery, last week about the event. What started in the small backyard of their previous location on Fairbanks Avenue has doubled in size each year, raising thousands for local rescue groups and finding homes for more than 200 animals. Last year the city of Maitland estimated attendance at 5,000, and if they continue to grow as they have, the event may be destined for Lake Eola in Orlando in the future.
I ask her how difficult it is to work so closely with rescue groups, knowing so many firsthand stories of abuse and neglect, the pets put down each year. As she answers I notice her eyes tearing. "There's a huge, huge problem in this country with abused and abandoned animals and people who don't know of the importance of spaying and neutering because of the whole issue with animal overpopulation, backyard breeding, and things which are never addressed," she said. "So all of these animals are getting taken into shelters and euthanized."
She adds, "What I think people who do rescues have to do at some point is you have to focus on what you can do, and you can't save everybody."
Thankfully, they're not above thinking strategically to ensure another rescue finds that new home they deserve. Melissa Gosik, Pookie's co-owner and Marcia's life partner, recalls, "We know some folks are sweet on certain breeds, so I placed The Doggie Door's vendor booth between Florida Dachshund Rescue and the greyhounds. Well, they ended up holding Fritz from the Doxie rescue for much of the day. Then came a home visit, and now he lives with Brian and Jeff (owners of The Doggie Door)." Melissa and Marcia's four dogs and one cat have all come to them via contacts made via local rescue groups.
There will be classes for pet owners, a kids' area with face painting, vendors of all sorts (especially pet-related), music, raffles and potential new furry family members all around Lake Lily this Saturday from 10 a.m. to 4 p.m.
The biggest bird in town – aka me in an owl suit – will be in attendance, as well. If you can't find me, just listen for the all the yapping small dogs that think I want to eat them.
I hope to see you there.