The Roth Jewish Community Center of Greater Orlando invites the community to go "all-in" at its ninth annual Bruce Gould Poker Invitational, on Thursday, Feb. 7, at the Home Builders Association in Maitland.
The Texas Hold 'em-style tournament will benefit the JCC's Marvin Friedman Scholarship Fund, which has provided more than $1 million in the past five years for individuals and families to participate in the JCC's preschool, after school, summer camp and senior programs.
"The event is open to the entire community and has a devoted following over the years from novice to seasoned players," said Bruce Gould, the chair of the tournament.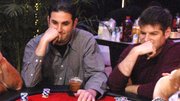 While the action heats up at the poker tables, others in attendance can enjoy playing blackjack, craps and roulette in a Las Vegas atmosphere. The evening will begin at 6 p.m. with a dinner provided by The Olive Garden, which will also include complimentary wine, beer and liquor for all registered guests. The tournament itself will begin at 7 p.m.
The Roth JCC's suggested donation to participate is $125 for poker players, and $50 for casino game players.
The final table players from the tournament, as well as the craps and roulette winners, will win fabulous prizes including trips, sporting event tickets, golf outings, restaurant gift certificates and more.
"The Roth JCC's Bruce Gould Poker Invitational gives people an opportunity to participate in an action-packed evening, while at the same time helping children in need," said Eli Bercovici of the JCC.
The Home Builders Association is located at 544 Mayo Ave. in Maitland. Participants can register online at orlandojcc.org or in-person at the Roth JCC.
For more information, contact Eli Bercovici at the Roth JCC at 407-645-5933, extension 259, or at EliB@orlandojcc.org
Get fit this Presidents Day
Get pumped this Presidents Day here at the Roth JCC at "Move It Monday," which will feature free health screenings (including mammograms), and these free fitness classes, all open to the community:
8:15 - 9:15 a.m.: Zumba (adults)
8:15 - 9:15 a.m.: Boot Camp (adults)
9 - 9:45 a.m.: Rotation Station (kids, ages 5-12)
9:15 – 10 a.m.: Cardio Cycling (adults)
9:15 - 10 a.m.: Family Fitness (adults and kids, 5-12)
10 - 10:45 a.m.: Presidential Fitness (kids, ages 5-12)
10 - 11 a.m.: Les Mills Body Pump (adults)
11 - 11:45 a.m.: Obstacle Course (kids, ages 5-12)
11 a.m. - noon: Yoga (adults)
11 a.m. - noon: SilverSneakers (seniors)
11 a.m. to noon: Cardio Cycling (adults)
Noon - 1:15 p.m.: Teen Fitness* (grades 8-12)
*Teens must print and bring this signed waiver by a parent: http://bit.ly/teenguestwaiver
We're also hosting a School Out Day if your child requires care all day while they are off of school.
For more information, contact René at ReneN@orlandojcc.org or 407-645-5933.
Amy Schwartz is the marketing director of the Roth Jewish Community Center. The JCC welcomes people of all faiths. For more information, visit orlandojcc.org or call 407-645-5933.