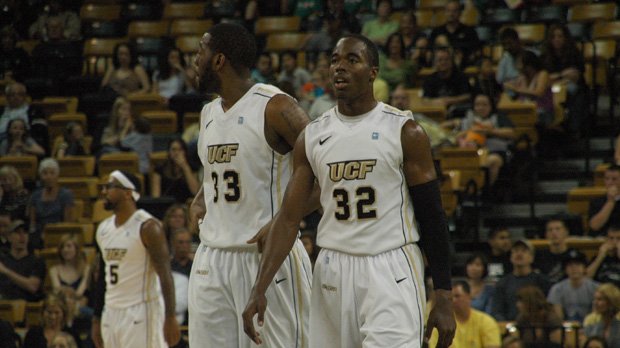 After losing a star to graduation and two big players before the start of the season, the Knights have continued to surprise the odds makers with an unlikely season dominating the men's basketball court. Now at 10-4, they're entering conference play with a ragtag starting lineup and dreams of going farther than last year's fizzling finish.
"We continue to learn with this young team," Head Coach Donnie Jones said after the Knights' 99-69 blowout over Florida A&M on Jan. 5.
In that game the Knights were led by some familiar faces from last season, with forward Keith Clanton scoring 15 points, second year transfer Tristan Spurlock adding 15 of his own, and a resurgent Isaiah Sykes nailing 22 points.
But where the Knights really surprised was in assists, dishing out 27 of them. That led to massive scoring, with the Knights not only nearly putting up triple digits, but also shooting 57.6 percent overall, substantially higher than their average last season. Jones said he was proud of the team's selfless play, spreading the ball around and scoring more efficiently in the process. He said the team's goal had been 20 assists in the game.
Now with the team working together better than it had at the start of the season, the Knights look to conference play to see if they can exorcise some of the demons that led to their end of season collapse last year.
"We've gotta be ready," Spurlock said about upcoming conference play. "Teams know how you move, they know your favorite play. We've gotta be focused to win the conference title."
The Knights kicked off Conference USA play hosting UAB at press time Jan. 9. They'll head to East Carolina 7 p.m. Jan. 12 for a showdown with the Pirates (9-4, 0-0) before heading west to Houston (11-2, 0-0) for a 6 p.m. Jan. 19 tipoff.
Tars streaking to milestone
Rollins men's basketball Head Coach Tom Klusman could have a milestone on his hands by the time this paper is on the stands. The longtime Tars coach was on the verge of 600 career wins Wednesday night at press time when the Tars (9-2) took on Florida Tech on the road.
The Tars started with a loss, but went on to win nine of 10 to build momentum toward Klusman's looming milestone. Only five active NCAA Division II coaches have reached 600 wins in their careers.