JAN. 10
Rollins College will be hosting U.S. Ambassador-at-Large for Global Women's Issues, Melanne Verveer, on Thursday, Jan. 10, at 7:30 p.m. for "The SMART Thing To Do: Advancing Women and Girls around the World." For this event, Rollins has partnered with the U.S. Department of State and Tupperware Brand GlobalLinks. This is a free event that is open to the public. For more information, visit Rollins.edu
The Annual Park Avenue Sidewalk Sale is being held from Thursday, Jan. 10, to Sunday, Jan. 13. Visit winterpark.org for more information.
Winter Park Public Library School EXPO is Jan. 10. Believe it or not, it's time to start thinking about where your child will go to school or preschool next fall. Explore your options at the Winter Park Public Library's School EXPO on Jan. 10 from 9 a.m. to noon in the Library's Community Room. For a list of participating schools, visit wppl.org/kidsteens/school_expo.html. Call 407-623-3300, extension 4, for more information.
JAN. 11
January's Culture & Cocktails at Art & History Museums – Maitland features an exciting group show titled "The Art of the Theatre." Featured artists are Cindy White, Huaixiang Tan and Kristen Wheeler. In addition to a fabulous art show, guests will enjoy music sponsored by Performing Arts of Maitland, Literary Readings by Maitland Poets & Writers, delicious food truck fare from K-Burgers, popcorn from The Enzian, friendship and fun. Admission to Culture & Cocktails is free to A&H members, and $5 for not-yet-members. The $5 includes one drink ticket.
Good Morning Winter Park presented by Florida Blue is Friday, Jan. 11, at 7:45 a.m. Join us as we launch the 2013 Chamber Cares campaign, our annual philanthropic effort. This year's recipient is the Down Syndrome Association of Central Florida. Cost is free and includes a complimentary continental breakfast. It's all at the Winter Park Chamber of Commerce, 151 W. Lyman Ave. Barnie's CoffeeKitchen, Costco Wholesale and the Winter Park/Maitland Observer support the event.
JAN. 13
The Holocaust Memorial Resource and Education Center will be hosting the exhibit "The Plot: A Graphic History of the Protocols of the Elders of Zion." An opening reception is planned for Sunday, Jan. 13, at 2 p.m. that will feature Lecia J. Brooks, outreach director for the Southern Poverty Law Center. For more information, visit holocaustedu.org or call 407-628-0555.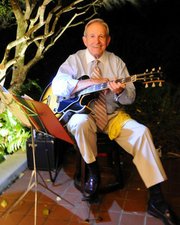 Peter Thatcher has been playing the guitar for almost 60 years and favors what has become known as the "Great American Songbook," including Gershwin, Arlen, Ellington et al. – all the Jazz standards of the '40s with a liberal dash of Jobim for good measure! It's all at Casa Feliz on Jan. 13 from noon to 3 p.m.
JAN. 15
Winter Park Public Library invites knitting and crocheting enthusiasts of all ages and skill levels to join the Library's "Knotty Knitters" club. Please bring your own supplies. Light refreshments will be served. This program is free, but registration is suggested to reserve space. It runs from 6 to 8 p.m. on Jan. 15 and 29 in the Library Conference Room.
JAN. 16
Priscilla Bagley will perform her cabaret, "When Will I Be Loved?: The Linda Ronstadt Hall of Fame Campaign 2013!" with Christopher Leavy at the piano on Wednesday, Jan. 16, and Thursday, Jan. 17, at 7:30 p.m., as part of the popular Winter Park Playhouse Spotlight Cabaret Series. Tickets are $20 and include a drink from the bar. Standing room tickets are available for $10 (no drink included) when performance is sold out. For information, contact Lisa Melillo at 407-645-0145 or lisa@winterparkplayhouse.org
JAN. 21
Winter Park's Own.....Dr. Minnie Woodruff, Author of My Doctors Can See You Now. Come meet the author Jan 21, 2013 at The Unity Heritage Festival honoring Dr. Martin Luther King, Jr in Hannibal Square 2pm-4pm.
*My Doctors Can See You Now: a historical reflection of the way Dr. Minnie Boyer Woodruff grew up in a family of eight children an dhow her experiences influenced the way she raised her two daughters. Growing up in Winter Park in the 40's and 50's when integration was not fully realized, she took the "mother's wit" from her mother and the "academic potential" from her father, to take advantage of every opportunity to realize her own dreams.