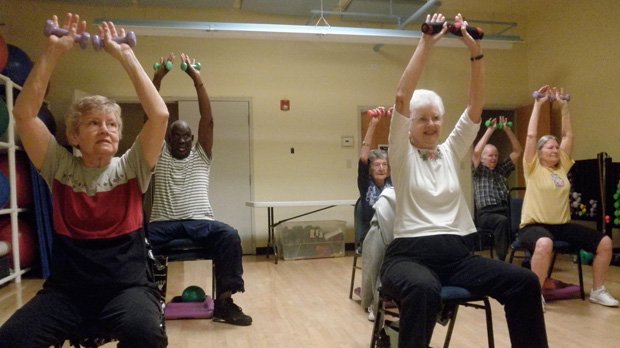 Hips move and groove as the Black Eyed Peas bump from the stereo, it's a warm-up for the exercise class and a touted secret to staying youthful. Keep those hips moving and you'll stay feeling young, the teacher says.
Class attendees move from exercise to exercise, working their abs, kicking up their feet, and some of them even touching their toes.
Every weekday, the SilverSneakers Fitness Program meets at the Roth Jewish Community Center (JCC) for an exercise class made for seniors. It's one of dozens of fitness centers in the Central Florida area that offers the program, which was developed by Healthways and has a partnership with more than 40 Medicare health plans to offer it to their members for free. As of Jan. 1, the program will be added to the list of offerings from Florida Blue and will give 50,000 more seniors access to a fitness program.

Alice Gerken, the associate district manager for Healthways for Florida, said they've been working hard to alert their new potential participants, and will continue to do research and make sure that everyone will have enough quality locations for the program.
"It's very important that our seniors have access to this because we're all living longer and we want to live the best life we can," she said. "Exercise is important, it's a solution for them to take control of their health, to be independent."
Proven benefits
To find a SilverSneakers Fitness Program near you, visit silversneakers.com. The Roth Jewish Community Center, located at 851 N. Maitland Ave. in Maitland, has classes five days a week. Visit orlandojcc.org or call 407-645-5933 for schedules. Classes are also offered in Seminole County, including at Crescent Fitness, located at 300 E. State Road 434 in Winter Springs. Visit crescentgym.com or call 407-322-2099 for information.
SilverSneakers has been proven to help older adults manage their health and increase strength, balance and endurance. The exercise and nutrition guidance and social benefits from participating in the program is said to lower the risk of chronic diseases, heart disease and depression, and can help keep seniors living independently. Patricia Scalon, 73, and her husband Patrick Scalon, 83, head to the program at the JCC five days a week, and both said they've felt better than ever.
"I've always got more energy when I come home," Patricia said. "I have more endurance, I hope my bones are getting stronger."
"I feel invigorated after the class," Patrick said.

Many, including Patrick, joke that they measure success by how close they are to touching their toes.

"I can touch my toes and do things that a lot my friends can't do," said Sylvia Brown, 72, who comes with her 98-year-old father-in-law. "When I leave here I feel wonderful."
The class keeps them moving for the entire 45 minutes, featuring cardio exercises to keep up their heart rates. While everyone can move and work at his or her own pace and ability, it's not easy, and there aren't any built-in breaks. But the instructors are always there to keep them going.
Sherre Myers has been teaching SilverSneakers classes since 2004. She noticed at her gym there were lots of seniors, but no one catering to their needs. They were so loyal, getting together every day at the gym, and incredibly focused on their fitness. Teaching them became her niche. She knows everyone's name in the class at the JCC, educates them on how each exercise is helping them, and gives personal attention when her members need a little nudge.

"In a setting like this you are looked at, you are attended to, when you call out someone's name that makes a difference," Myers said. "Why treat them like they're on their last breath? They deserve a regular fitness class."
Holly Foster, 68, teaches at Crescent Fitness in Winter Springs, and feels like SilverSneakers has given her a purpose after retiring from a career in dancing and ice-skating. She incorporates her past when she coordinates Rockette-style kick lines for the members, and they love it.
"We don't want to get old and sedentary; the more you do, the more you can do," Foster said. "We want a good quality of life."
Focusing on preventative care
It's amazing the improvements that Myers and Foster have said they've seen in their members because of SilverSneakers. Seniors have lost weight, lowered their cholesterol, gotten off medications and bounced back from heart attacks. Myers had one member who never got out of his chair during the class, and now not only does he shake his "Shakira hips" with the best of them while standing, he's walking without a cane.

Myers said she is happy that more insurance companies are catching on to the benefits of fitness and preventative care, and loves watching her class members gain strength, health and happiness from the program. She says it's the most important thing you can do.
"What's better than a healthy life?" she said.