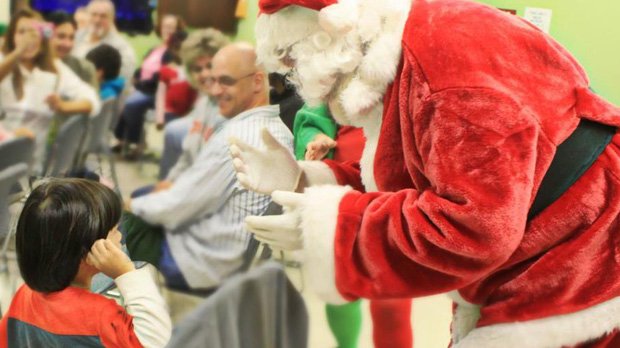 Red and green sprinkles the room with cheer, and a sweetly decorated Christmas tree – each branch holding sparkling ornaments, toys and twinkling lights – brightens up the corner where one very special man plans to sit.
An old-fashioned quilt is laid over his chair, ready for his robust figure to settle down in, and certainly ready for little ones to plop right down on his red and white furry outfitted lap. As the children enter the room, they sprint to the blanket set on the floor for them, gazing up at that big chair for Santa Claus.

Music is playing, some people are singing, but others are quietly signing along instead.
An elf pops in, excitedly chatting the children up about Santa Claus' arrival, her hands moving with just as much pep and speed as her happy voice. This time, Santa has come with not only the special talent of just being Santa Claus, one of the coolest guys around during Christmastime, but he also comes with the skill of sign language. But the children weren't surprised to learn that he could talk to them; he is Santa after all. They all sat waiting, shouting and signing "3, 2, 1, come on Santa!"

"It was like natural, they just really expected it," said Wanda McCann, Santa's elf and wife.
"Their eyes were as wide as their faces, they were so excited," said Allison Gould, who is in charge of volunteers for the Center for Independent Living.
The Center for Independent Living in Winter Park is a resource for education, training and empowerment for people with disabilities. For more information, visit CILOrlando.org or call 407-623-1070. For more information about Pastor A.C. McCann and his church services at the First Baptist Church of Apopka, including services that he uses sign language, visit FBCApopka.net
The Center for Independent Living (CIL) in Winter Park, a resource for education, training and empowerment for people with disabilities, held a Christmas party for their deaf clients and families on Dec. 13. The party had a signing Santa Claus and elf, a signing storyteller to tell "The Night Before Christmas," and lots of food and fun. It's one of the only places in Central Florida deaf children and parents are able to communicate with a Santa who speaks their language.

"They want their child to experience the same as any other children at Christmas, to feel included in society," Gould said. "For many it was the first time they have been able to speak to Santa in this way … we try to get them their Christmas wish."
"To see their faces light up when Santa was signing … to see the kids being accepted for who they are," said A.C. McCann, who plays Santa. "It gives me a sense of fulfillment."
A.C. is a pastor at the First Baptist Church of Apopka, where he and his wife Wanda hold church services for deaf people in their community. A.C. speaks and signs, while Wanda signs along with him.

They were a young couple when their lives got a surprise launch into the deaf community more than 40 years ago. Wanda contracted Hong Kong flu, and one morning about a month after being sick for a week with that flu, she realized her world was silent.
"I woke up one morning, deaf," Wanda said.
The couple immediately sprung into action, learning sign language together to cope with their new life. They began sharing their love of church with others in the deaf community, and A.C. and Wanda began on the path that led them where they are today.
Then, nine months after that silent morning, Wanda woke up with hearing in one of her ears. But their connection to the deaf community was not gone, and they have continued to work with deaf people at the First Baptist Church of Apopka.
Last year, when they were asked to join the Center for Independent Living as Santa and elf, they were thrilled. The party caters to deaf and hearing children and parents, giving everyone an opportunity to join the fun. There's the same nervousness at first from the children since meeting Santa can be intimidating, and they ask for the same types of gifts – cars, dolls and puppies – A.C. said.
The difference is the way that they ask – and the fact that before, their parents might not have been able to know what they were asking for. Now they can see the little secret Christmas wishes.
"Now they get to share in their child's excitement," Wanda said.
"Every child deserves to have a normal Christmas, and Santa brings that sense of normalcy," Gould said. "It was truly heartwarming."