JAN. 3
The Orange County Retired Educators Association will meet Thursday, Jan. 3, at 10 a.m. at College Park United Methodist Church; 644 W. Princeton St. A speaker from Orange County Public Schools will talk about the homeless population and what the school system is doing to help. Visit our website at ocrea-fl.org or call 407-677-0446. Anyone who has worked in education is invited to join.
JAN. 4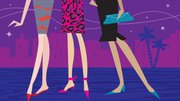 Art & History Museums – Maitland (A&H) proudly introduces Ladies' Art Lounge, a new program that focuses on friendships and creativity, with a lot of fun thrown in the mix. The program is held on the first Friday of every month, beginning Jan. 4. Each event features one of the A&H's talented faculty members leading a program in which you can let your creative juices flow. Have fun creating fine art and craft pieces for your home, as a gift, or to wear. It's from 5:30 to 7:30 p.m. at the Maitland Art Center, 231 W. Packwood Ave. To register, visit ArtandHistory.org, or call 407-539-2181, extension 265.
It's the First Friday of the year! Stop by the Baldwin Park First Friday Charity Festival and Art Stroll on Jan. 4 along New Broad Street in Baldwin Park from 5:30 to 9:30 p.m. to see more than 40 local artists' work plus food, wine and beer. The featured charity this month is the Center for Independent Living Orlando. Visit cilorlando.com and facebook.com/BaldwinParkFirstFridayFestival
JAN. 5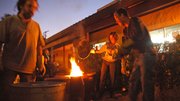 Crealdé School of Art will host Night of Fire and Winter Open House on Saturday, Jan. 5, to kick off the new year. The second Annual Night of Fire features campus-wide activities including a live bronze sculpture pour, kiln firing, free workshops, and handmade clay lantern displays at the main campus. The Night of Fire open house is scheduled from 5 to 8 p.m. with a gallery reception for Director's Choice III starting at 6 p.m. on the Crealdé campus at 600 St. Andrews Blvd. in Winter Park. This exciting event is free.
Are you ready for a fresh start in 2013? At 10 a.m. on Jan. 5 a Cleansing & Detoxification class by Dr. Samadhi Artemisa will be held at Florida School of Holistic Living in downtown Orlando. Come learn about how the body cleanses and purifies itself naturally on a daily basis, and how to support these built in systems. Registration is $15 at injoyhealthcare.com or by calling 407-252-1397.
JAN. 6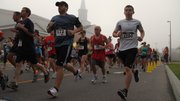 Time to make good on new year's resolutions with the Asbury "I CAN" 5k on Sunday, Jan. 6, at 4 p.m. The race kicks off at 220 W. Horatio Ave. in Maitland. All proceeds will be used to feed hungry children through support of local food banks. Call 407-644-5222, email connect@asburyumc.com, or for race registration forms visit asburyumc.com
JAN. 7
Winter Park Executive Women will meet Monday, Jan. 7, at 11:30 a.m. Kick off the new year and ask yourself, "Is your ladder leaning against the right wall?" as Jaqueline Brito, assistant dean of admissions at Crummer Graduate School of Business, provides insight into matching your passion with your career choice. Cost is $20 for members and $25 for non-members. Go to winterpark.org to RSVP by noon on Jan. 4. It's at the Winter Park Chamber of Commerce, 151 W. Lyman Avenue.
Targeted by Mexico's deadly drug cartels, journalists at a Tijuana-based newsweekly risk their lives to report the truth in "Reportero," showing Monday, Jan. 7, on PBS. Close to 50 journalists have vanished or been murdered in Mexico since December 2006. The movie starts at 10 p.m. on PBS affiliate WUCF.
JAN. 10
Rollins College will be hosting U.S. Ambassador-at-Large for Global Women's Issues, Melanne Verveer, on Thursday, Jan. 10, at 7:30 p.m. for "The SMART Thing To Do: Advancing Women and Girls around the World." For this event, Rollins has partnered with the U.S. Department of State and Tupperware Brand GlobalLinks. This is a free event that is open to the public. For more information visit Rollins.edu
JAN. 11
January's Culture & Cocktails at Art & History Museums – Maitland features an exciting group show titled "The Art of the Theatre." Featured artists are Cindy White, Huaixiang Tan, and Kristen Wheeler. "The Art of Theatre" celebrates theatre through costume design, set design, and theatrical photography. In addition to a fabulous art show, guests will enjoy music sponsored by Performing Arts of Maitland, Literary Readings by Maitland Poets & Writers, delicious food truck fare from K-Burgers, popcorn from The Enzian, friendship and fun. Admission to Culture & Cocktails is free to A&H members, and $5 for not-yet-members. The $5 includes one drink ticket.
"James Casey: Equine Sculpture" opens at the Maitland Art Center on Jan. 11 from 6 to 8 p.m. Memories of growing up in Central Florida and working on his grandmother's cattle ranch laid the foundation for James Casey's iconic sculpture works. Casey's current body of work employs rugged materials that capture the unexpected beauty and grace of his equine subjects. The gallery is located at 231 W. Packwood Ave.
Also at the Maitland Art Center, "Selections from the Permanent Collection: Sculpture" runs from Jan. 11 to Feb. 3. The A&H's Maitland Art Center is home to a diverse collection of sculpture works by distinguished national and local artists. The collection acquired through purchases and donations unites a variety of media and subject matter.
Good Morning Winter Park presented by Florida Blue is Friday, Jan. 11, at 7:45 a.m. Join us as we launch the 2013 Chamber Cares campaign, our annual philanthropic effort. This year's recipient is the Down Syndrome Association of Central Florida. Cost is free and includes a complimentary continental breakfast. It's all at the Winter Park Chamber of Commerce, 151 W. Lyman Ave. Barnie's CoffeeKitchen, Costco Wholesale and the Winter Park/Maitland Observer support the event.
ONGOING
Tickets are on sale as of Jan. 2 for Dinner on the Avenue, but hurry because the tables go quickly. The dinner is April 20 from 6 to 10 p.m. but only 38 tables are available. For more information regarding this unique dining experience, please visit cityofwinterpark.org/dinnerontheavenue or call 407-643-1627.