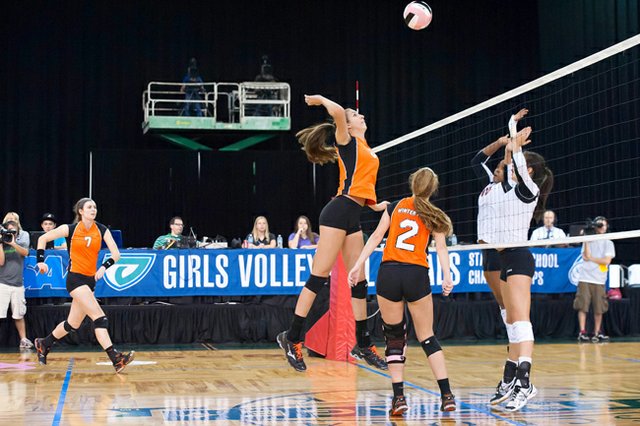 The Winter Park High School girls' volleyball team won it all on the Florida stage in November after defeating Lake Mary High School in the state finals at the Silver Spurs Arena in Kissimmee – redeeming themselves from a heartbreaking defeat in the finals the previous season.
The Wildcats blazed through their season with a 29-3 record, beating their record last year of 26-6.
The title marked the school's fourth girls' volleyball state championship, all in the past 10 years.
"That was the best feeling in the world," said Kacey Saunier, senior and team captain. "We waited a year of practicing to come back from states last year. I think that's all we thought about for a year straight."
The team's work started almost 356 days earlier, said Coach Stephanie Gibson.
A heartbreaking loss in a state championship game that ran five sets last season had taken its toll on the girls, but also motivated them to make another run.
The same core group of players was ready for another go.
"A defeat after being only three points away from winning the state championship in 2012 is going to leave a little bit of emotions that hopefully can help guide you to overcome that," Gibson said. "I'm sure all the kids had that in the back of their mind…we had to learn how to eliminate all of the extra thoughts and emotions."
Winter Park continued to develop their confidence while working tirelessly on shot selection, often staying late after practices.
"We didn't want to let go of a state championship, so I think every time we came in the gym we worked as hard as we could," Saunier said. "That was our main goal of the year, to get better every single time that we had a chance, and I think we did."
The team's emotional strength was tested just a week before playoffs following a loss to Boca Raton High School, the reigning state champions who defeated Winter Park the previous year.
"I credit them for an emotional metamorphosis so to speak," Gibson said. "Our team learned so much about ourselves in that match and we were able to apply what we've learned in every match for the remainder of the year."
The Wildcats took heart and went on to win their division of 16 teams, moving on to the regional tournament before advancing to the state tournament.
But the Wildcats faced further opposition in the form of injuries. Senior Beth Nordhorn twisted her ankle during the state semifinal match versus Jupiter High School, dropping down on an opponent's foot after jumping to block a ball in front of the net. Senior Christina Ambrose also fractured her finger when a ball ricocheted of her hitting hand during the same match.
But that wasn't about to stop the Wildcats.
"I big thing for me was not letting that show and playing through," Nordhorn said. "Obviously, my team and how we were doing was much more important than a simple ankle injury."
Nordhorn, Ambrose and the rest of the Wildcats persevered and won the match three sets to one, punching their ticket to the finals against Lake Mary.
They returned to Silver Spurs Arena the next day for the final match of the season, and for six players, their high school career.
Winter Park won the first game by a slim margin of 25-22, but lost the second game 17-25. The team took it as a wakeup call, dominating Lake Mary 25-12 in the third game.
Winter Park finally clinched their victory in the fourth set by a score of 25-20.
They had come all the way back to win it all – all of their hard work had paid off.
The Wildcats fell to the floor after the final point, as emotions they'd fought to conceal the entire season began to unravel.
"It was incredible for us, I've never really felt anything like that," Nordhorn said. "Watching the final point go down and this feeling of relief like, 'We finally did it.'"
"To reach the pinnacle of your sport through a season of hard work and trials and errors is just so rewarding and so exhilarating," Gibson said.
Moving forward, six seniors will graduate after this season, leaving a group of younger Wildcats with a chance to step up and take the reins.