In revolutionary times, serving in Congress was to risk loss of property, family and life. Today it is a sweet deal involving power, prestige and wealth. Individuals with position and power are loath to relinquish it. A few examples are Syrian President Bashar al-Assad, killing thousands of his citizens to retain his position; Robert Mugabe in Zimbabwe, who has killed and imprisoned thousands to the same end; presidents Hugo Chavez and Mahmoud Ahmadinejad in Venezuela and Iran, respectively, oppressing citizens and rigging elections to remain in office; and even American President Bill Clinton, who clung to the post after his disgraceful conduct and after a more conscientious president would have resigned. Senators and House members can serve for life, and with the advantages of incumbency, they often do.
The problem is that senators and representatives support legislation primarily to please supporters and to remain in office, instead of on the basis of evidence and careful thought about what is best for our country.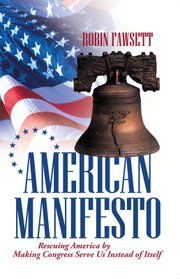 I wrote "American Manifesto" because the United States is in an as-yet avoidable decline, and because I identified Congress and the official behavior of U.S. senators and representatives as a major cause. Explaining an ideal (and perhaps idealistic) solution, I propose entirely removing re-election from the picture by allowing senators and representatives only one four-year term, with no re-election at any later time. This would dramatically improve the official behavior and work performance of elected federal lawmakers. It would minimize the cost of their campaigns by forcing them to devote their time and effort exclusively to the work we elected them to perform, to the exclusion of catering to the wishes and orders of party bosses and outside interests who can get them defeated or elected for a further term. It would also end campaign fundraising while in office, currently a major activity of federal lawmakers.
Our unsustainable federal debt and overspending are two issues on which un-bought and uncorrupted congresspersons must act in our interest instead of their own. Re-election is bought by federal legislators, promising and providing benefits in amounts that no one can ultimately pay, funded currently by borrowing and taxation. The ruthlessness with which party bosses, controlled by desire to stay in power, impose their will on lawmakers in their parties needs to be curtailed. This includes the influence of the American left, the far right, labor unions, environmentalists and trial lawyers on our senators and House members. How? All such influence largely evaporates without re-election.
The American left wants us to unilaterally disarm and helped force federally controlled health care on us. The far right wants to control intimate details of human reproduction. Labor unions advance their self-serving agendas, including laws to increase their power at the expense of workers and employers. Environmentalists want to handicap American industry relative to industry in other countries to advance their causes. Trial lawyers want to continue their raids on American industry for their own benefit. Social Security and Medicare are ticking toward permanent insolvency and default because legislators in both parties with re-election as their goals are afraid to act. Internationally, we are vulnerable to attack from nuclear weapon-wielding terrorists, including to an atmospheric nuclear blast-triggered electromagnetic pulse, which could effectively destroy our civilization. All those issues and others should be decided by U.S. lawmakers unaffected by personal interest, apart from their own conscientiously educated opinions and convictions on the issues.
I realize that a constitutional amendment to accomplish the one-term limit would be difficult. My goal is to stimulate critical thinking about the quality of the people we are electing to the U.S. House and Senate.
Winter Park resident Robin Fawsett, who holds his law degree from the University of Florida, is a management labor and employment law partner with Shutts & Bowen LLP in Florida, and is the author of the newly released book "American Manifesto," which is available at Amazon.com, Barnes&Noble.com and from the publisher, at iUniverse.com