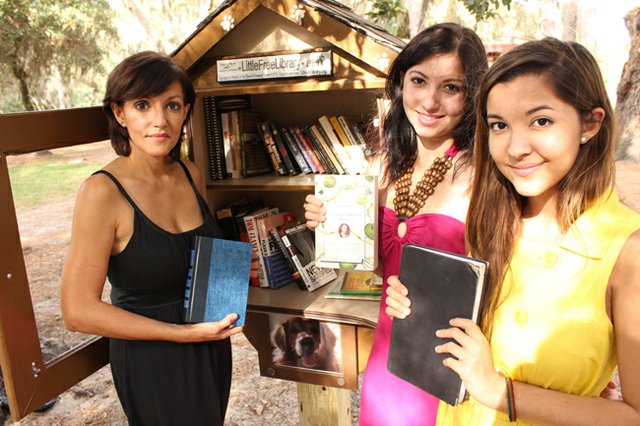 A book, Alanna Leaptrot says, can change your life.
Bound pages fitted between paper or cardboard, cemented in order with staples or glue, she says, can transport you around the world with a few flips and turns. The words inked on paper, she says, can imprint lessons that help you determine who you do or don't want to be.
"A book is a very powerful thing," says Alanna, a floral-printed reusable bag filled with books placed on the picnic table in front of her. Sitting beside her, her mother, Jannette Matos, and sister Kiara Leaptrot nod in agreement as sounds of dogs playing and barking echo over their shoulders.
Everyone, they say, has a certain book that has touched their lives in a way they'll never forget. There is a story out there for each person, the three agree, that helps, heals, hurts or hits home so much so that a little piece of it will stay with that individual forever.
When you put the books that hold each of those stories together in one place, you get a library. When you put the people holding on to the stories together in one place, you get a community. And it's Alanna, Jannette and Kiara's goal to bring those two facets together throughout the Orlando area through what's called the Little Free Library program — and they're starting in Winter Park.
The Little Libraries, Jannette says, work as a free market exchange location for books. You take one out, you put one in — or not — she says. There's no check out or return policy, only the honor system. And writing notes in the books, she says, is encouraged rather than discouraged. The whole process, she explains, is one of free, communal intellectual and literary exchange.
"When I heard about the idea, it was like seeing the guy you know you're going to marry," Janette of Baldwin Park said. "I loved it."
It took three months from that love-at-first-sight moment in June for the pieces of her first little library story to fall into place, as the Fleet Peeples Little Free Library was unveiled and opened for business on Sept. 1.
Like any love story, getting the library installed in the park for happily ever after, Jannette said, wasn't without its bumps in the road. Location ideas came and went pending official approval, the family fretted over funding and inspiration came in the form of tragedy when the family's 11-year-old golden retriever, Brandon, passed away in July.
"It's been a lot of hard work," Alanna said, "but it's been worth every second."
It was after their dog passed away on July 27 that the family sought after the idea of installing their first Little Free Library at Fleet Peeples Park's dog park in his memory. And after getting approval from the city of Winter Park to install it, and the funding from a $5,000 Kickstarter campaign to fund it, the small dog-house-shaped structure sits today on a podium next to the park's bulletin board with shelves stacked with books. A photo of the smiling, graying golden hangs below its windowed door and a plaque that explains the library's purpose.
This park, along with others in Winter Park and the surrounding area are the perfect places for Little Libraries to call home, Parks & Recreation Director John Holland said.
"I think it's a pretty cool idea," he said. "I hope that it will get a lot of participation. I think it's a neat thing to do in the park. It creates a little community and gives some people a reason to go to the park to see what books are there and to share their own."
He said that plans are in the works to approve four more Little Free Library locations in the city's different parks in the coming months.
Winter Park's first Little Free Library is installed in Fleet Peeples Park, at 2000 S. Lakemont Ave. and is Little Free Library number 2,403 in the world. Bring a book or borrow a book — the library functions as a free exchange. Other libraries are in the works for Blue Jacket Park, the Village Center at Baldwin Park and Lake Eola Park, among others. To find out more about the local Little Free Library movement and to donate to help fund more little libraries, visit littlefreelibraryproject.com
For information on the national Little Free Library project, visit littlefreelibrary.... For a map of where Little Free Libraries can be found worldwide, including nearby in Longwood and Kissimmee, visit http://bit.ly/Qjc...>
It's Jannette's goal to use the funding she has, and continues to seek, to install two of the Little Free Libraries around the Orlando area every month, until they've spread to all the surrounding communities. Materials and labor for constructing each library, she said, cost an estimated $400 on average. And each library needs a volunteer steward to oversee its occasional maintenance, from sweeping away cobwebs to overseeing its contents and restocking its shelves.
John Rogers, a regular at Fleet Peeples Park with his dog and a former high school English teacher, says the simple pleasure of reading and the community participation the Little Free Library promotes is something the world needs more of now and in the future.
"It's a noble project and one that should be encouraged…. People don't read enough in the world today, or in this country today," he said.
The more you read, he says, the better you write. And the more stories you read of other people's lives, he says, the less likely you are to make the same mistakes those people did.
In many cases, people can point to one story for them that made a difference in their life, and remember, he said, "One book was all it took."
With the opening of each Little Free Library, Jannette — along with her daughters Alanna and Kiara and sister Clary — says they will host an unveiling ceremony where members of the community are invited to bring their "one book," and if they want to contribute a little bit more to the ongoing funding effort, a buck.
People are encouraged to leave a note in their chosen novel to the next reader about why the book meant something to them, and why they chose to pass it along. At the ceremony, everyone is welcome to present their book and reasoning to their neighbors who've come out for the occasion.
For Alanna, that book for the first unveiling was "When God Winks" by SQuire Rushnell, which she said was a nod to fate at work and the way everything fell into place as her family pulled together to get this Little Free Library open.
"We want people to share the books and stories that have inspired them," Alanna said. "We want this to be a way of bringing people together over a shared love of books …. Leaving a book, you're giving a gift to your community."