Ah, those LUVly Florida thunderstorms. What a pain they can be.
Already behind for the day – yes, my natural state of existence, and I'm dealing – the rain and the THUNDER begin and I have two Boxers glued to my leg like Cruella De Ville was at the door with a new coat sketch, wanting their's. They were NOT happy. I finally tore myself away from them, their little eyes looking at me desperately. Okay, one was. I'd bribed the other with marrow bones and that worked nearly as well as a pair of ear muffs. Better. Fat Puppy is easily bribed.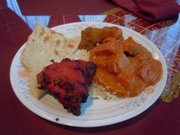 So, off I went to stuff myself on the Indian food I'd been thinking about now for about 18 hours.
Yum. I'm STILL stuffed nearly 6 hours later. My destination was Moghul Indian on Semoran. Kohinoor, their sister restaurant in Altamonte Springs, has long been one of our favorites. The first time we ate there years and years ago we couldn't believe how awesome the dal makhani was. It reminded us of our holy grail for dal makhani, the version we had in late 2000 in a restaurant called Bukhara in the Sheraton Hotel in Dehli, India. It was so awesome – and they knew it – you could actually buy it in cans to take with! We mentioned it to the folks at Kohinoor and one of the guys in the kitchen has WORKED IN THAT RESTAURANT! I was hooked.
So, when Moghul India opened I was happy, happy. Too happy, actually, for it to have been so long since I'd been there. So, when I decided yesterday I was CRAVING Indian, it was the natural choice. Now, I'll explain here that Indian is my FAVORITE. Indian and Turkish, okay, and Italian. But if I was left on an island and could only eat ONE thing for an extended period, it would be a tossup between pizza and Butter Chicken! Shukria! Thank you, may have another . . . . stuffing myself, smiling all the time. Throw in some soft, moist onion nan / kulcha and I'm in heaven.
So, the rain pouring down, I scoot over to Moghul India today right at 12:45. I knew they had a buffet and I've seen how these can go and I didn't want to get just a smidge of something really great to find that was the last of it! I got soaked running in, but had forgotten any of that by the time I settled into a booth. I brought a book – Winter Park Chain of Lakes: Boathouses Past & Present – to peruse, so that I had visual entertainment while I ate. I ordered a drink quickly and was off to the buffet.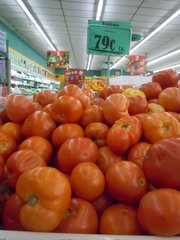 Chicken Tikka Masala isn't exactly Butter Chicken, as I understand it, but it's a close sibling. I scooped it up on rice, some yummy nan, a curry potato dish and a thigh of Tandoori chicken and was back to the table. I won't say I hoovered it down, but, okay, I did. It was yummy. Major yummy. It had been MUCH too long since I'd enjoyed Indian food! There's just something about the flavors . . . so harmonious. We learned some time ago that the best Indian meals are a production, something occurring not merely over hours, but a day, or two. Moghul India to me is pretty much perfect and, given that comment, the only two negatives I can come up with are that there was no dal makhani on the buffet and, well, I ate so much I soon after wanted a nap! SHUKRIA, Moghul India, I LUVED every bite!
On the subject of my reading / viewing material, the book I mentioned above, I just received it in the mail yesterday. I will be writing a column about its author, Elaine Sullivan, in the coming weeks, so I won't give away too much here. But suffice it to say her comments on Winter Park on the back cover well match my own, and I'm sure so many others'. I look forward to recording her LUV for Winter Park, her experiences here over the years. She now lives here over the winter and in Nashville during the other half.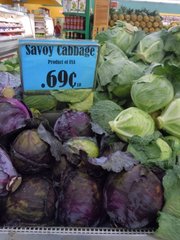 I decided given the area I was in I'd stick to Semoran, track a bit northward to a few places I knew of, explore one or two others.

If you enjoy good, fresh produce and need it on a day when the Winter Park Farmers' Market isn't available, consider Fancy Fruit & Produce in Casselberry. Located in the Big Lots strip center at the corner of Semoran Boulevard and Howell Branch. My partner and I discovered some time ago that Local stores specializing in ethnic foods are also wonderful places to buy fresh produce of all kinds. And, the prices can be shocking!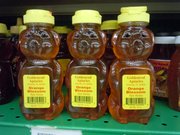 There was another business located here before which only sold produce. Since Fancy Fruit & Produce opened we 've not only purchased fruits and vegetables there, but also some meet and other items. And, I'll tell you it has been to rave reviews! And the prices are more akin to what you would expect at your Local farmers' market. Sometimes it's to such a degree it's inexplicable. We live just south of Palmer, west of Lakemont, so the location is easily, quickly accessible. The tomatoes, avocadoes, cabbage, and MORE – including multiple Local brands of honey – are all from right here in Florida, some even more Local.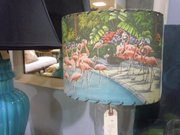 And, well, look at my photos and check out the prices! Local and a bargain? Yep! And I absolutely LUV a fresh tomato sandwich!
I strolled on down the strip center and into another business I've been in numerous times: City Bargains. City Bargains is a very large space similar to others in the area which allow individuals to rent space selling vintage and other items. I've gotten some cool stuff in here. As with any business of this sort, it often requires either time to take in all the possibilities or a specific mission. I've gotten some cool vintage suitcases here, which make great accessories in the home, either on top of furniture, used as end tables, or just as character-rich visual statements in a room. Today I seemed to latch on to flamingo items, as I first found a vintage 50 / 60s Florida lampshade and then ceramic flamingo sugar and creamer from Sassparilla from 1982.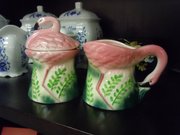 There's at least one vendor dealing in vintage clothing and in the coming weeks I'm definitely going to set Halloween in my sights, and will be exploring lots of area vintage clothing and costume shops!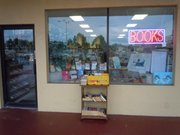 After a recent comment received on one of my pieces and existence of Local bookstores, I had to pop in to A Novel Idea Bookshop. I met the owner Dede Baker, who's owned and operated this store in this same location for 19 years next week! Congrats, Dede! This store has a large selection in most every category. And, in business for 19 years, Dede knows her stuff!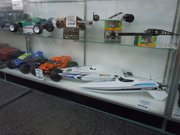 Not ready to leave yet, I was curious about Superior Hobbies (SuperiorHobbies.com). When I went in I was actually a bit floored at their massive selection. If you or a family member are into model cars, remote control cars, this place is a find. I found cars, trucks, boats and helicopters all around, from assembled pieces to kits. The employee I spoke with said they have boats which can do up to 70 mph, cars which can go up to 100 mph. This place may just be how to do SPEED in a safer way. And with all the Local lakes, I admit I had the desire to take one of the boats I saw for an outdoor spin myself!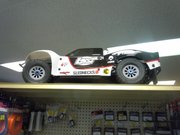 One of my facebook friends, Jodi Molley-Strudwick, this afternoon reminded me of Art in Chambers tomorrow. Reminders never hurt! She contacted me on facebook and then I just happened to come across a post card, an e-mail inviting me to same. It's a reminder of the battle of information we all find ourselves on continuously, often on both sides of the battle. I'd actually seen these works previously as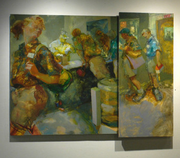 I was in Chambers, stopped to take them in. Rose Thome Casterline is the featured artist and there will be a reception tomorrow, Wednesday, September 19, from 5:30 to 7 p.m. in Chambers to view the art and meet the artist. Her work is truly beautiful, her use of color, texture a delight, so join the event if you can.
Before I wrap it up with 'Give A Dog A Home', if I write another blog this week, it will surely be tomorrow evening. I'm working toward a big special birthday event this weekend, so in an effort to reduce stress and preserve sanity, I'm going to focus on that for a few days. Happy birthday, Jim! 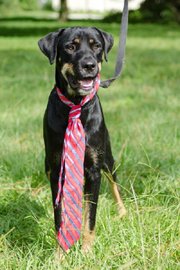 Lastly, if you or someone you know is considering adding to your fam, here's someone who'd LUV to become a member: Gerome is all dressed up and looking for some place to go, now with Pet Rescue by Judy in Sanford! Gerome is a sweet rottie who was found wandering a local school yard. He really has a nice personality and seems to love everyone he meets! It's a mystery as to why he became a stray but we hope to find his forever home soon!