If you're a Local business doing something special for Winter Park's 'Pink Out' to fight breast cancer, let me help! It's a great effort led by Locals for Locals! If you don't know about Winter Park's 'Pink Out' event, it's Locals helping other Locals to prevent breast cancer through a bit o' retail therapy. And if your business is doing something special to promote the 'Pink Out', let's promote it on ILUVWinterPark.com! Just contact me via e-mail @ iluvwinterpark@earthlink.net or facebook (facebook.com/iluvwinterpark), Twitter (@ILUVWinterPark) or the semi-old fashioned way, cell phone at 407-539-3977. It's a GREAT effort and if you're doing something unique, let's put a spotlight on it, give it some legs! I'll put it on the site, promote it all around and then also feature it here.
Saw lots today about the opening of Cask & Larder, but haven't heard from anyone who's made it in yet. Is that you? I want a review! And, yes, I want one of those biscuits! Just stuff an extra in your purse or wrap in a napkin and I'll be right over.
I've been pleasantly surprised of late how many people from out of town have found me and are asking for Local information, suggestions, including a large touring group from Georgia. Funny how questions like "Where can we park a coach and then eat nearby?" get you to start thinking differently about the community in which you live! I forwarded some photos and facebook links and shortly later had a very happy Local business owner offering ideas for the group. And right here in the immediate area, have had some real successes bring business owners together at a time when there wasn't much time to waste. Watch for one such business to be highlighted on the website and here tomorrow.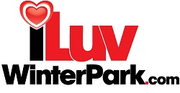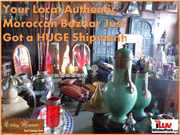 Today on ILUVWinterPark.com . . . Living Morocco in Lake Ivanhoe Village. I've been a Living Morocco for almost as long as we've lived here! We traveled to Morocco in October of 2000 and it's one of those countries that gets my blood pumping faster. Old world & character are definitely my aesthetic! Well, Ali at Living Morocco just received new containers of items he personally selected in Morocco and then shipped to his store in Lake Ivanhoe Village. The metal embellishments, the carved details in wood, the centuries-old ornamentation repeated in henna, these are design pieces which become conversation starters in your home. Come in to see the huge selection of camel bone mirrors, glass lanterns, henna lamps, mosaic fountains & tables, Cedar wood tables, leather poufs, fashion jewelry & MORE! Stop in to check out the amazing selection, and mention I LUV Winter Park to get 25% OFF! Located at 1804 North Orange Avenue, phone 407-898-6610.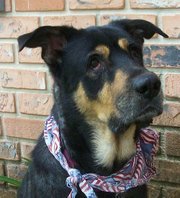 Tonight's 'Give A Dog A Home' is one of those which absolutely tugs at your heart! A devoted companion whose owner could no longer care for him. What a sweet face! Sparky is looking for a home because his owner could no longer care for him. Unfortunately, the close relatives who wanted to care for him were at their limit for animals and were desperately searching for someone to take this sweet guy in. We couldn't let this loving shepherd be sent to the pound. His previous owners indicate he is good with all ages of children, dogs, and cats. He is housebroken. He has regained his beautiful coat, gained weight and has no more flea issues. He is an absolute gem of a dog - smart, friendly, loving, happy and just an overall delight! See more on Sparky and so many more loving animals looking for furever homes in , just go to www.petrescuebyjudy.com.