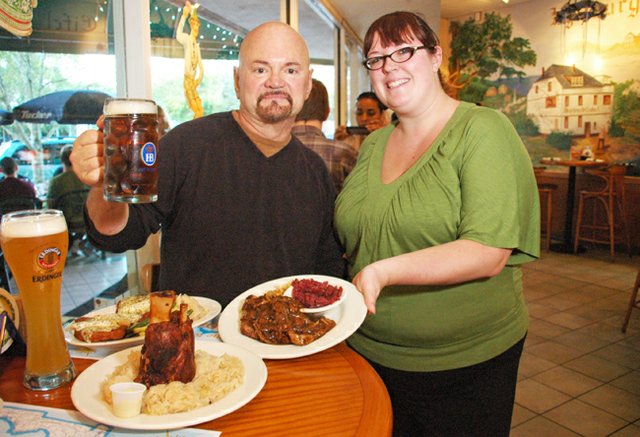 Foodies know that Hollerbach's Willow Tree Café in historic downtown Sanford serves the most traditional German food in Central Florida, so I am pleased to report that on a recent Sunday evening that I too became a "Hollerbach Groupie."
From the moment that my dining companion and I were greeted by the charmingly exuberant – and knowledgeable – Christina Hollerbach (daughter of owners Theo and Linda) to our walk around the corner to visit the "attached" Magnolia Square Market, it was an evening of oom-pah German Gemuetlichkeit (The happiness that comes from enjoying friends and family while savoring good food and drink). So my first – and certainly not my last – visit to Hollerbach's became our own little Oktoberfest.
Hollerbach's is one of those restaurants where you immediately feel like part of a larger family. The German Band – with their occasional "zicke, zacke, zicke, zacke!" answered by all the diners with "hoi, hoi, hoi!" lends itself to meeting your fellow diners. And it's hard to shout "hoi, hoi, hoi!" without a stein of one of the restaurant's 50 German beers in your hand.
The menu includes classic German fare and family recipes, and when that is the case, I've found that asking the server, "What is your favorite thing on the menu?" has served me well. That led to ordering three different entrees – all pork – but with tastes so different that one could hardly imagine we were eating pork in all three dishes.
We started with the Eisbein, a melt-in-your-mouth, oven-roasted pork shank served with sauerkraut and mashed potatoes. This section of pork is the most tender and tastiest – and that was certainly my experience with this offering. And while I've never been a fan of sauerkraut, I now realize it's because I never had sauerkraut prepared as well as it is in a traditional German kitchen such as this one.
The Jäger Schnitzel is – once again – amazingly tender pork, but this time served with a rich pan gravy of onions and mushrooms. When I asked how pork could be this tender, Ms. Hollerbach explained the "marbling" process that takes pork from being lean to the old school way of "larding" what could be tough into a delectable slice of meat. Years ago, butchers would "sew" fat back into lean meat so it would be more flavorful. Hollerbach's has revived this tradition and found pork that is marbled – like the most select cuts of beef – makes this the juiciest schnitzel ever.
Our third entrée is the Schnitzel Holländer Art – also derived from that tender and juicy pork loin, but this time breaded and topped with a buttermilk ranch dressing. It's amazing and truly special. This was served with mixed German beans and the "Heaven and Earth" potatoes, which get their special taste and sweetness from sautéed apples, bacon and onions, which are sautéed before the potatoes are added. Ms. Hollerbach revived this old German recipe when she was in sixth grade and needed to take a "special dish" to a school function. It was so deservedly popular that it was added to the Hollerbach's menu, because – once again – these were the best mashed potatoes I've ever tasted.
So, which entrée comes most highly recommended? In this instance each of the three is so delicious, so different and so tender that each one comes highly recommended … and that is only three items off an extensive menu. So many reasons to go back to Sanford – all wrapped up in a German menu.
Hollerbach's Willow Tree Café is at 205 E. First St. in downtown Sanford. They are open for lunch and dinner Tuesday through Sunday. They are closed Mondays. Call 407-756-4103 or visit willowtreecafe.com
After luxuriating in this variety of pork, we went around the corner to visit the year-old Hollerbach's Magnolia Square Market, which supports the restaurant but also serves as a deli with beef, pork and turkey roasted daily, along with German sausages, gluten-free items (baked on-site), and thousands of imported items including chocolates, candies, cookies, pickles and mustards.
We also have to mention the restaurant's live entertainment from Thursday to Sunday and the simple fun of seeing what kind of Tyrolean hat your server may be wearing … and how that hat is decorated.
Needless to say, I join the chorus in praising this restaurant and give it my highest recommendation for the food, the entertainment and the welcoming family atmosphere that makes eating here so very special.