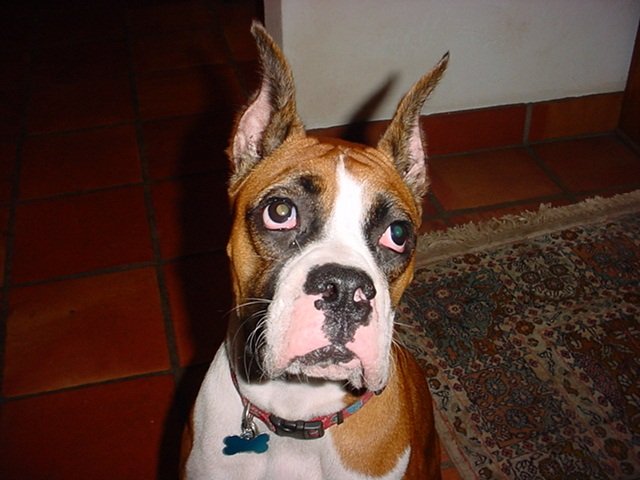 I say, "let's go out," and our three female boxers – Katie, Maddie and Millie – go berserk. They head for our front gate and chaos ensues. They love to run around Mr. Elliott's (formally of Cottrell's 5 & 10 on Park Avenue) house more than anything.
As they beat me to the gate, Katie, now 10, will sometimes begin mounting the faster Maddie, humping her, to remind her who is boss. Interesting how dogs will do that. But when the gate opens, Katie's attention switches to Millie, aka "Fat Puppy." She runs beside her as long as she can, biting at her, attempting to slow her movement, halt it. Katie doesn't like for anyone else to exceed her own abilities, get ahead of her. I now look at that scenario differently, see Katie representing much I had not before.
Personally, I love that there are lots of people all around me who have more money than I do. I love big beautiful houses, gardens and cars. Celebrating success, hoping to imitate it has always been a truly American trait.
In November of 2000, my life partner and I visited India. It's an amazing country with antiquities you've never heard of, yet rival the Egyptian pyramids. It is also a country of extremes, some very sad. While leaving the Red Fort in Agra, a site that provides the most amazing perspective on the Taj Mahal, I was startled by a form behind me. Low to the ground, seemingly not human, was a boy I still feel guilty for not being able to look at, for describing as more crab than human. He wasn't born like that. His bones had been broken purposefully to create pity, increase his prospects for begging. There are places on earth where such suffering is real, easily visible.
What has always ensured America as the vaunted Land of Opportunity? The soil? Special trees? Unique air? This country has always beckoned many of the world's best and brightest because it presented them with the chance to be whomever and whatever they wanted to be, could be based upon their own skills, talents and abilities. That is the original "Yes We Can," and, it didn't come with an asterisk to note it really refers to government.
Americans who like to avoid debate by explaining "I don't do politics" both amuse and sadden me, though I very much understand a distaste for the new "us vs. them" narrative so often employed in it. What is this scary thing known as "politics"? Look it up in a dictionary. It's a very gray area. I describe it as the ultimate euphemism, able to encompass anything and everything that can and will impact your life. To abdicate your role in it is it to forego your own ability – however small – to determine a framework for how you and your children can live your lives and seek to obtain your dreams. You may think Conservatives are the opposite of modern-day Liberals, but I contend it is actually we Libertarians. While these once purveyors of liberty now enjoy telling you all the things you cannot do – drink large sodas, drive SUVs, smoke, etc. – we Libertarians seek to restore and expand true individual liberties.
Right now, Americans' freedoms are eroding, being destroyed. You can circumvent that pesky Constitution by enacting rules and regulations Congress never touches, and you never hear about. They're spending like never before in history, tying an anchor around the neck of America's future. Consider a few things:
Defense Department civilian employees earning $150,000 or more increased from 1,868 in December 2007 to 10,100 in June 2009, during the early stages of our fiscal morass. (USA Today – 12/11/09)
When the recession started, the Transportation Department had only one person earning a salary of $170,000 or more. Eighteen months later, 1,690 employees had salaries above $170,000.The growth in six-figure salaries has pushed the average federal worker's pay to $71,206, compared with $40,331 in the private sector. (USA Today – 12/11/09)
There have been 6,125 proposed federal regulations posted in the last 90 days — an average of 68 per day. (CNS News, 11/9/12)
In the last four years, the growth of food stamp recipients has been 75 times greater than the rate of job creation, adding 14.7 million to food stamp rolls. (Times247.com – 11/2/12)
Recovery? In recoveries, the number of job seekers expand, not contract. I've never considered my college econ class to be a life highlight, though I did love the whole concept of utils, which is simply an extension of my favorite economics philosophy: common sense. Keynesian economics is akin to tooth fairies and unicorns, an economics by and for dummies.
Last week I was depressed. I believe in the traditional tenet that each generation in this country should strive to leave the following ones a better country than was left to them. I fear that now impossible. Last Wednesday and much of Thursday, I thought of myself as one of those motorized toys that runs into something again and again, moves a bit each time, moves on to repeat the process. I briefly listed my mascot, Parker, on Craigslist, as he screamed and hooted in the background. I'm old enough to have learned not to act on impulse, but did. I have a new resolve this week, determined now to not simply tell stories of local small business people, artists, community leaders and others; but, hopefully, describe a bit why they are unique in the patchwork of America, as they and it are vital to our future. They do build it. I will seek to celebrate it.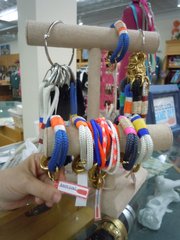 It is very un-American to give up when faced with any challenge. I've been reminded of that lesson, and plan to work with Katie to help her understand her own gifts and abilities, celebrate them, feel less need to attack them in others.
Local Luv'n Local
Knot:ical bracelets and key fobs are inspired by a childhood growing up along the Florida coast, endless hours frolicking on the pristine beaches. Every Knot:ical design is inspired by the days of summers gone by and those yet to come. The designs are made locally in the Orlando area, and are available at local retailers, including Siegel's, 330 S. Park Ave. Visit facebook.com/knotical
Clyde Moore operates local sites ILUVWinterPark.com, ILUVParkAve.com and LUVMyRate.com, and aims to help local businesses promote themselves for free and help save them money, having some fun along the way. Email him at iluvwinterpark@earthlink.net or write to ILuv Winter Park on Facebook or Twitter.