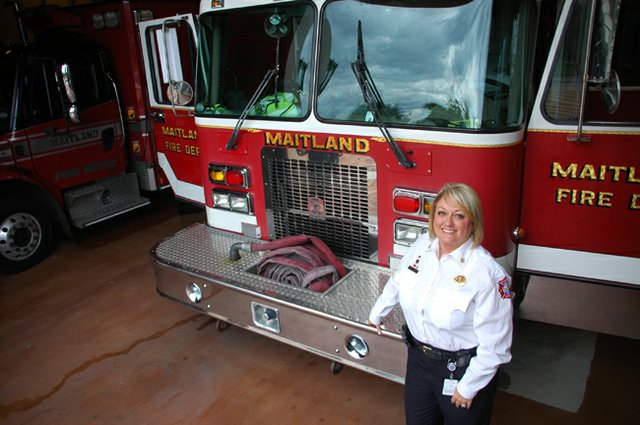 Firefighters are busy hanging pictures and decorations including a large abstract art piece full of colorful metal squares in new Maitland Fire Chief Kim Neisler's office. As she stands in the middle of the commotion, conducting the process, it's almost like watching "Snow White and the Seven Dwarfs."
"Eventually you get so many fire-themed gifts, you don't know where to put them all," Neisler said with a laugh.
Back in her old and nearly empty office around the corner, a small bear wearing a fire hat hangs above the light switch, awaiting the trip down the hall. Old photos of family and friends, including her three daughters, dot her bookshelf.
Neisler's entire family is in public service: Her father is a retired Orlando police captain. Her husband is also a police officer. Two of her daughters are nurses and her third daughter is a paramedic. She said that it's nice to have family members who understand the difficult circumstances that public service men and women face.
Neisler has worked with the department since 1982 and was announced as Maitland's first female fire chief on Oct. 6. Ken Neuhard, fire chief since 2004, announced earlier this year that he would be retiring from a 30-year career in the Maitland Fire Department.
Neisler came into the profession when there weren't many women around, working her way to the top.
There are 44,000 women who are classified as "first-line supervisors of fire fighting and prevention workers" and only 4.5 percent of firefighters are women, according to the national 2011 census from the Bureau of Labor Statistics. But that's trending upward.
"This used to be an all-male profession," said firefighter Kenneth Smith, who has worked alongside Neisler for the last three years. "It's slowly expanding to have more women, but it's a great accomplishment to have Neisler as fire chief."
Being the city's youngest fire chief — she's 49 — and the first female fire chief isn't something that Neisler dwells on. She just hopes to be a role model to young girls, she said.
"This means the world to me," Neisler said. "I've been with this organization for 31 years, and I never envisioned being chief. It's an honor to lead the best fire team ¬in Central Florida."
When you work for an organization for so long, co-workers and their families become your family too, Neisler said.
"Because she was our lieutenant, she's like a mentor and a mom," Lt. Kevin Hoey said. "The only difference is that she didn't cook."
It's that climb up the ladder that has her focused on the future of her department. Neisler said she wants to set up succession planning so that when upper level positions become available she will be able to promote from within. She also wants to continue the care clinic, which will provide small, preventative care to local citizens, and provide the best customer service possible.
She said she plans to achieve these goals in customer service through one-on-one input from the families they serve, and becoming ambulance accredited.
"She always has a new program in mind," Smith said.
Neisler is carrying on the customer service follow-up program that began under Neuhard's command. This program sends some people from the department to check in on the families they serve to see how they're doing and educate them. She is also continuing the fall prevention program in order to help elderly citizens learn ways to avoid dangerous situations.
"These programs are positive for us and the citizens," Hoey said.
Neisler is always striving to enhance the fire department's programs, receive more grants and push her staff to be better.
Neisler has a different leadership style than her predecessor, what she calls "walk around management." She delegates what needs to be done, but keeps a level of interaction with those around her.
"She wants us to be the best and that makes us strive hard," firefighter Sonny Weishaupt said.