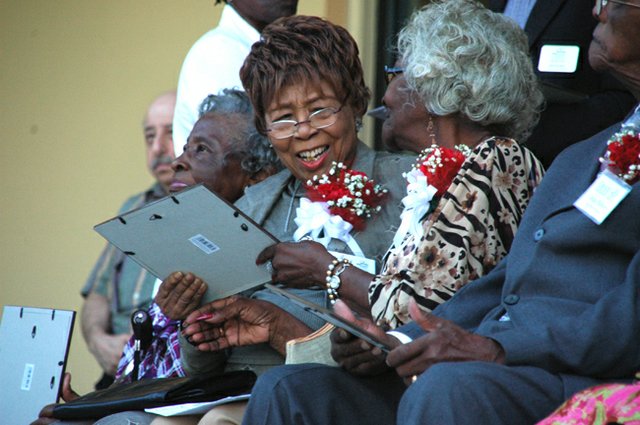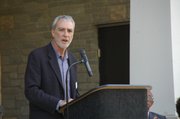 Peter Schreyer grabbed onto the microphone, stared out into a sea of weathered faces and celebrated a lifetime of memories rescued from the grave on Friday, May 11. On the steps of the Winter Park Community Center, he introduced the "The Sage Project: Hannibal Square Elders Tell Their Stories," an exhibit designed to capture the recollections of black residents who had lived through more than a century of the city's history.
"We live in society where we treasure elders," Schreyer, executive director of Crealde, said. But he laid bare regrets that we at times fail to preserve their memories.
It had been a rush to interview the 18 members of the Sage Project, all of them 85 years old or older, before it was too late. Between the moment the project started in April 2011 and the official unveiling, four of the interviewees died of old age.
Just days before the grand opening event, Katherine Ford, who was born before Winter Park's 25th anniversary and had lived until two months before its 125th, died at age 106. The day after the Sage Project told a small part of her story, she was memorialized just down the street.
"These are stories worth telling," Hannibal Square Heritage Center historian Fairolyn Livingston said. She had spent the better part of the last year gathering them, with the help of Mary Daniels and Center volunteers.
"The Sage Project: Hannibal Square Elders Tell Their Stories" is at the Hannibal Square Heritage Center, 642 New England Ave., through Saturday, Sept. 1, in partnership with the Winter Park Historical Association. Call 407-539-2680 or visit www.hannibalsquareheritagecenter.org for more information.
It had been a hundred years of chaos and change as the area grappled repeatedly with issues of poverty and inequality, while celebrating gifts of progress — of Highwaymen artists and music inspired by gospel and delta blues. And Winter Park had played a small part in all of it, chronicled on pasteboards dotting the insides of the Hannibal Square Heritage Center's new exhibit. Photographs taken by Schreyer gave, in many cases, a final lasting glimpse at the eyes of native Winter Parkers who had seen a century in color that we only remember in black and white.
But it hadn't come easily. Funding for the project, which has spanned a year, has been tough to come by, Schreyer said.
"It's hard to raise money for projects with the elderly," he said. "I can't tell you how many organizations we've asked for funding who've said no, including some of the most respected in Winter Park."
But piece-by-piece the project came together, in printed quotes and photographs on the ivory walls of the Heritage Center. Funds from Orange County, Bank of America, Winter Park Historical Association and others helped the project ink its way into history.
And then on May 11 some of the Hannibal Square area's eldest statesmen and women had their day in the spotlight. Holding his award plaque, flanked by more than a dozen of his contemporaries, Winter Park native and Tuskegee airman Richard Hall Jr. smiled and waved to the crowd.
Then the families of those Sages recently passed lit candles, symbolically relighting the flame of memory while dozens looked on.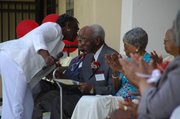 Staring from out in the crowd, a smile crept across Winter Park Commissioner Tom McMacken's face.
"This is why we're all here," McMacken said. "This is community."
As the presentation ended and gave way to a night of visitors exploring the new exhibit just next door, Ken Wright, a bit of gray speckling his beard and hair, clutched a plaque in his hands and headed home. The sun sank behind him as he walked east from the back steps of the Community Center. But ahead of him it still lit a tiny white house with green shutters across Pennsylvania Avenue.
The plaque was for his aunt, Evelyn "Lena" Vivian Wright Mann, who had lived to be 101 years old. The tiny house just a few feet ahead was hers too, from the day she was born until the day she died. Just around the corner, along a wall at the Heritage Center, a spotlight keeps the sage's lifetime of memories aglow.
"This was her home," Wright said. "She never left."