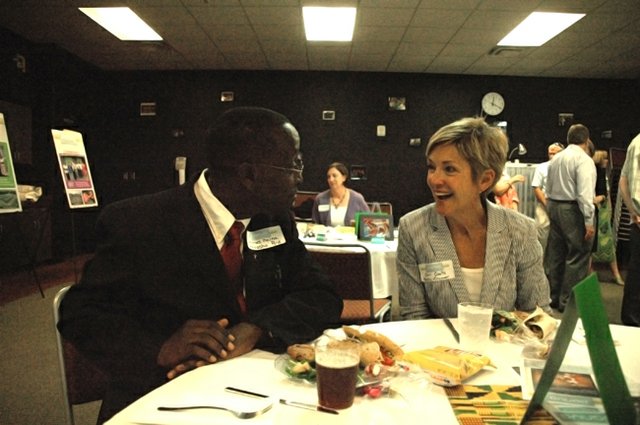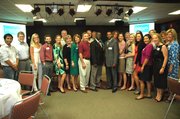 Panua is a ministry partnership between First United Methodist Church of Winter Park and Trinity United Methodist Church in Naivasha, Kenya, that empowers the most-vulnerable orphans and youth in Naivasha to lead their families out of extreme poverty. Visit panua.org for more information.
George Munene became the man of his house at 6 years old. His home made from dirt and sticks sheltered his two brothers and sister from the rain, but food was tough to come by after his parents died during Kenya's rising AIDS epidemic in 1996. What they left behind — a small house and a half-acre plot of land in Naivasha, northwest of Nairobi — was all he had. He just needed to learn how to use it.
A camera pans down to the quiet young man in a bright blue-checkered shirt as he crouches in a field and digs two hands into the ground. When he springs up, red potatoes fill his dusty outstretched palms.
"I'm George Munene," the 22-year-old says with an air of meek pride. "I do farming as my business."
After years of working for only $1 a day, Munene now dreams of a future helping others to do what he's done.
But there was a gap of time when Munene — whose video chronicles the success of the international Panua ministry partnership — had no room to dream. Not when his meager wage only paid enough to get him to work each day. A chance encounter three years ago and nearly 8,000 miles away from his home changed that.
It started at a sandwich shop just outside of a Methodist Church conference in Pittsburgh. Bob Bushong was sitting at a table with two friends when a group of five pastors from East Africa walked in. One of them asked for a seat, touching off a conversation that would start a journey that crossed the globe.
When Bushong, the minister for First United Methodist Church of Winter Park, and pastor Paul Matheri, from the Naivasha District of the Trinity United Methodist Church of Kenya, shook hands and parted ways just outside of that sandwich shop, the seed was planted.
"It's strange how it happened, but it did," Matheri said.
Three years later, the Panua ministry — a partnership between FUMC and the Kenyan church — is helping 400 children survive and thrive beyond poverty.
Many of those children are being raised by other children, FUMCWP Mission and Outreach Coordinator Jensie Gobel said.
"These kids, they're 16 years old and taking care of four siblings," Gobel said. "Both of their parents are dead."
Panua combines life skills with business school to teach teens how to survive and provide for their family. Couple training with a small cash infusion, and the result is stories like Munene's.
For the young farmer, $35 worth of potato seeds and agricultural training turned into $70 from his first harvest. Now he's branching out, doubling his land and growing onions and corn while employing up to 10 workers during planting and harvesting seasons.
Taking the Swahili word "Panua" — "to expand" — literally, Manene's most-recent harvests have grown to earn hundreds of dollars, paying for his siblings' educations. For Manene, the simple fight to survive is a memory.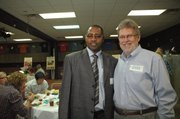 Inside a conference room at the FUMC of Winter Park on Monday, Panua organizers celebrated that type of success. Shaking hands that crossed an ocean to come to Winter Park, Bushong said hello again to an old friend, and members of Panua met for the first time. Matheri and Naivasha board member Moses Maina sat down with the Winter Park delegation to cheer the past and plan the future.
Along the walls, posters of children helped by the program stared back. Children who have yet to learn English dictated letters to American Panua volunteers, thanking them for food, skills, for teaching them to survive.
"May I thank God for giving me such a lovely family as a part of my family," read a letter to the Van Son family, a Panua sponsor.
A photo hangs of a teenager holding vegetables in his hand, grown on his own land for the first time.
In the middle of the room, seated at a circular table alongside fellow Panua organizers, Matheri, thousands of miles from home but still at home, sits down for lunch, a bit of a thanksgiving for a program that's fed hundreds of people half a world away.
"Everybody likes to eat," he said.