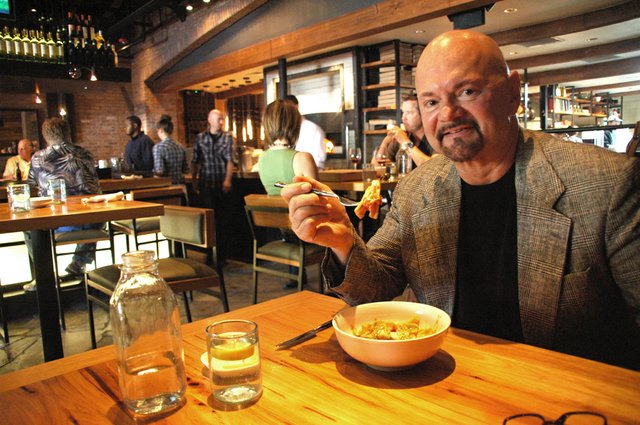 When "foodies" heard that Chef Brandon McGlamery, who has served as executive chef at Luma on Park since 2006, decided to open a new restaurant just up the street on Park Avenue, we sat up and took note.
Creating a restaurant that feels upscale and down-home at the same time is almost impossible — unless you're Brandon McGlamery, and he has done it with amazing finesse.
It begins with the service.
As a lone diner, the hostess was ready to put me at a café table in the middle of the floor, but when I asked for a booth, she did not hesitate for a moment and seated this lone diner at a place set for four. This was followed by the ingenious water bottle — of plain water — that was placed on my table so subtly that I didn't even see it happen. It happens that I drink a lot of water, and no matter where I go, I find myself trying to flag down the waiter for more. The simplicity of having that water on the table was a big hit with me.
And that is what Prato exemplifies — the blend of simplicity and inspiration that can only come from a chef who is able to subdue his ego enough to see his restaurant through the eyes of the people who actually eat there.
My pleasure continued when my waiter approached with a thorough knowledge of the finest details of the menu. I ask a lot of questions, and Charles was thoroughly informed on every point. For example, I wanted to know about the English peas — they show up in more than one dish — and the distinction of this special kind of pea is truly worth it.
The décor plays a part in that "homey upscale" feeling with red brick and rough wood walls rising up around waiters in plaid shirts, blue jeans and long white aprons. The fact that there is a long bar (with televisions) running the length of the restaurant had me concerned with the potential noise level, but even that is no problem. Is it possible that McGlamery is an acoustician too?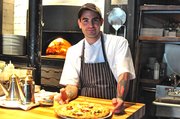 Prato is at 124 N. Park Ave., serving lunch from Wednesday to Sunday from 11:30 a.m. to 3 p.m. and dinner Monday through Saturday from 5:30 to 11 p.m. and Sunday from 5:30 to 10 p.m. Call 407-262-0050 or visit prato-wp.com
With all that working so well, I am happy to say that the food lives up to the inspired simplicity of the room. The menu is Italian-inspired, and the restaurant builds on Italy's legendary cuisine by using only the freshest of ingredients, with "a commitment to" local farms for seasonal — and in most cases organic — ingredients.
McGlamery's handpicked chef di cucina, Matthew Cargo, is an Orlando native, started cooking at the age of 14, and graduated from Le Cordon Bleu Academy. And English peas be praised, he has inherited the best of McGlamery's fascination with mixing fresh produce. Dishes are made up of things such as caperberries, celery hearts, shaved radishes, arugula and pickled red cabbage that are adventurous — and wonderful. He has a light hand with the olive oil sprayed as if by some magic sprayer over the prosciutto; he knows exactly how much cheese to make the pizzas perfect; and he has a second sense about how much anchovy-infused vinaigrette is right for the Caesar salad.
So what do I recommend? Everything I tasted was wonderful, but if you want that crazy interesting fusion of tastes that we've come to expect from adventurous chefs, go for the "Widow Maker Pizza" and be ready to share.