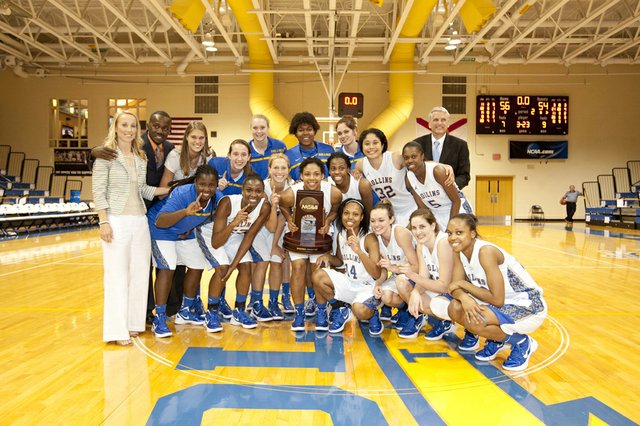 A narrow win over Lander propelled the Rollins College women's basketball team deeper into the NCAA tournament than they'd ever treaded, but a meeting with Shaw ended their miracle run a game shy of the championship.
Rollins (28-6) fell to Shaw in the NCAA Division II Tournament semifinals 87-71 on March 21. They were in the Final Four.
The Tars had watched the Lady Bears rip out a quick lead in the game, one that they would never relinquish. But the Tars had moments of brilliance as they attempted to cut into a lead that at one point in the game ballooned to 22 points. They nearly cut the lead to single digits midway through the second half, but allowed the Lady Bears to go on repeated scoring streaks to keep the game out of reach.
"I think we needed to settle down a little," guard Paris Moore said at a press conference after the game. "We had the NCAA jitters."
Moore led the way for the Tars, shooting 13 points and grabbing five boards in the game, nearly matched by Ashley Jones with 13 points and four rebounds.
Rebounds were a particularly telling tally for the Tars, who grabbed 38 to the Bears' 61.
"They really hurt us on the boards," Head Coach Glenn Wilkes Jr. said at the press conference. "It's very unusual for us to be out-rebounded. But there's a reason Shaw's only lost one game since Christmas. They're very tough to handle in the post."
While the Tars spread the rebounding duties around, the Bears had three rebounders in double digits. Out of the 10 Bears who would play that night on March 21, the top three rebounders had as many boards as the entire Tars team.
The Tars made a comeback attempt in the second half, shooting significantly better than the Bears, but the rift proved too wide.
"Sometimes you come up short," Moore said.