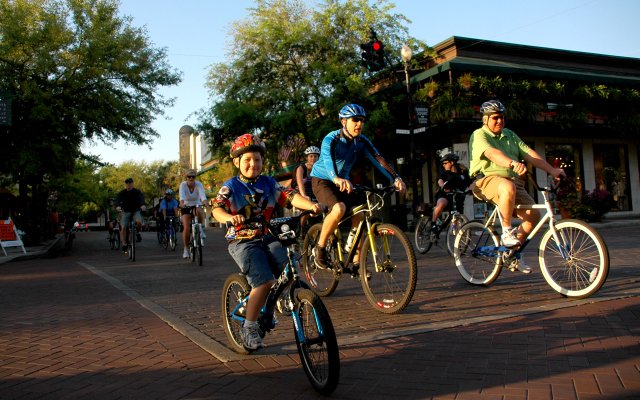 The fourth annual Bike from Park to Park at 8 a.m. on Friday, March 23, will begin at Central Park West Meadow, located at the corner of Morse Boulevard and New York Avenue. The ride, which is about 3.5 miles, will take cyclists through Lake Island Park to Mead Botanical Garden, by Azalea Lane Recreation Center and back to Central Park West Meadow. Those interested in participating are asked to RSVP via email to trafficguy@cityofwinterpark.org or by calling 407-599-3233.
The 35th Annual Winter Park Road Race 10k & 2 Mile is Saturday, March 24, at 7 a.m. in downtown Winter Park. Visit trackshack.com or call 407-898-1313.
An Ice Cream Social to benefit Ronald McDonald House Charities of Central Florida is 1 p.m. to 5 p.m. Saturday, March 24, at Winter Park Civic Center, 1050 W. Morse Blvd. in Winter Park. Tickets are $5 in advance; $7 at the door. Visit www.rmhccf.org
Seminole County Music Together invites parents or other caregivers and their infant, toddler, and preschool children to attend free sample classes March 20-24. Call 407-844-4414 to reserve your spot at 9:30 a.m. and 6:30 p.m. on Thursday at the Winter Park Wedding Chapel or 9:30 a.m. on Saturday at the University Performing Arts Center, 160 Alexandria Blvd. in Oviedo.
Story time at Leu Gardens is at 10 a.m. on Monday, April 2. The Orange County Library System's storytelling program comes to Leu Gardens the first Monday of each month, excluding holidays. Visit leugardens.org
The Art and History Museums – Maitland presents its Spring Series of Art Classes, beginning on April 2. Participants can choose from an array of creative classes, all instructed by professional artists and educators. Register at ArtandHistory.org. You can also register by phone at 407-539-2181 extension 265 or in person.
At 10:30 a.m. each Tuesday, the Maitland Public Library hosts preschool story and craft time. At 10:30 a.m. each Thursday, it hosts baby time stories and activity. At 4 p.m. each Thursday, it hosts Reading Buddies for kindergarten through fifth-grade. No registration necessary. Call 407-647-7700.
The Florida Symphony Youth Orchestra announces auditions for the 2012 – 2013 Concert Season. Praised as one of the top youth orchestras in the country, the FSYO seeks dedicated, talented young musicians from around Central Florida to join one of their four orchestras. Auditions are to be held in late May. Visit fsyo.org/auditions.htm 
Send submissions to editor@observernewspapers.com