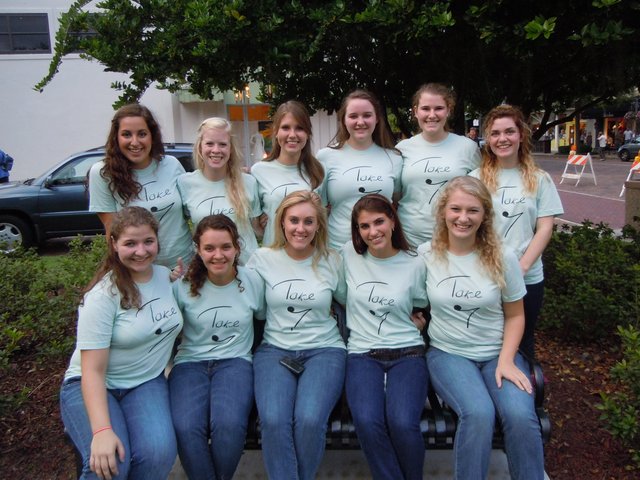 Event information
Help send Winter Park High School's all-girl a cappella group Take 7 to the finals in New York City. Attend the "A Cappella Showcase" benefit concert at the school at 7:30 p.m. on March 20. Tickets are $8 and additional donations will be accepted all evening. For information on how you can contribute, contact Matthew Swope at matthew.swope@ocps.net
There was much screaming and shouting, applauding and whistling — not to mention jumping up and down — at the ICHSA Regionals in Tampa on Feb. 4 when Winter Park High School's all-girl a cappella group won the Southeast title. "And the winner of the International Competition of High School A Cappella Regionals and the group going to the finals in New York City is… Take 7!" And the crowd went wild. I know; I caught the mayhem on my camera through my mamma tears. But even though we knew the girls had talent, one question remained: did we have the funds to send them to NYC?
I can tell you this much, the 11 girls in Take 7 are serious about their music and dedicated to performing a good show. Any given week you can find them in the chorus room at Winter Park High working on music, showmanship and choreography; many of them take voice lessons and each of them sings in at least one other choir at Winter Park High School.
So you can imagine the girls' excitement when their hard work paid off with such a big win. Every judge had placed Take 7 in first and their total score was higher than any score our directors had ever seen — when most winning scores are between 350-400, our girls had scored an unimaginable 434 out of 465!
But as the girls' excitement grew, we began to wonder, "How are we going to pay for this?" Our choral department, students and families had already done multiple fundraisers for our chorus trip to Washington, D.C., in March; there were no more resources for the $7,000 it would take to send 11 girls and chaperones to New York City in April.
And so we began to scheme. We had meetings and sent emails to family and friends; we asked for corporate sponsors and even sang at Publix for cash. We inched our way to the first $2,000 raised — $5,000 to go.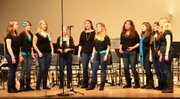 Then a germ of an idea began to grow… let's hold a benefit concert! Take 7 will sing, as will Naughty Scotty and the Octapella, our all-boy a cappella group. We will ask the select ensembles from Glenridge Middle and Maitland Middle to join us, and all of the choral directors. Our "A Cappella Showcase" will feature not only our kids, but our directors Matthew Swope and Joseph Kemper along with Maitland Middle's director, Dr. Lori Lovell, and Glenridge Middle's director, Matthew Begale. In short, March 20 will be an unprecedented performance of students and directors to raise money to send Take 7 to NYC.
They say, "It takes a village to raise a child." Well, in our case, "It takes a village to send a choral group to NYC." That's where you come in; we have performers, an auditorium and even tickets, but we need an audience! So come to Winter Park High School at 7:30 p.m. on March 20 for an evening of great music and inspiring spirit. Tickets will be sold at the door for $8 and additional donations will be accepted all evening.
Finally, I think Swope said it best: "We're so proud of Take 7, and we don't want anything to stand in the way of this incredible opportunity to sing on a NYC stage as one of the 10 best high school a cappella groups in the country."