New development in Maitland There couldn't be a better time to develop land, according to Anthea Turner of Maitland. This comes as no surprise to Turner's family, friends and community. Recognized as a leader of many Central Florida civic organizations and a patron of the arts, Turner is a forward-thinking woman with a vision for her beautiful park-like property. What started as a dream that she and Dr. Turner (now deceased) shared is taking shape. The property has been approved for seven custom premier home sites at the corner of Manor Road and Live Oak Street. The four existing homes are scheduled to be demolished to make way for new construction. Turner's development team includes several established Central Florida businesses: R. Miller Architecture – Bob Miller, FAIA Titan Properties – David McDaniel, Broker Kamenoff, LLC – Larry Kamenoff, Custom Home Builder The development team worked closely with Turner, her neighbors and the city of Maitland throughout the entitlement process.
WPCC renovated Process Architecture announces the recently completed Winter Park Country Club Starter's House renovation and addition. Originally tasked with providing restroom and locker facilities within the existing structure, the architects seized on the opportunity to transform the facility into a viable community space in addition to serving the needs of the golf course. This large space can serve multiple functions ranging from a pro shop, golfers' lounge or to hosting public and private events. With its renewed presence on the golf course and in the community, the facility frames a moment of historic Winter Park, re-presenting it within a relevant public space.
Traugott joins Kelly Price Winter Park's Kelly Price & Company has bolstered its real estate operations with the addition of longtime and multi-faceted real estate professional and Broker-Associate, Mark Traugott. Traugott, a state certified general appraiser, is the newest addition to the downtown Winter Park residential real estate company, which posted nearly $130 million in property sales in 2011.
Stirling Sotheby's named sales agent for Alaqua home Stirling Sotheby's International Realty has been named exclusive sales and marketing agents for a luxury golf course home at Alaqua Country Club in Longwood. Roger Soderstrom, founder and owner of Stirling Sotheby's International Realty, said Jere Matheny, international luxury home specialist with the firm's Heathrow Real Estate Gallery, is listing agent for the luxury home, which is priced at $1.95 million. The nearly 11,000-square-foot luxury home, situated on a landscaped two-acre golf course site, features five bedrooms and seven baths.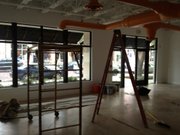 New design concept comes to Winter Park
Design Studio 15 is relocating its Orlando office to a new space in Winter Park's Hannibal Square. The interior design firm, led by owner and design principal Shanna Bender, has signed a lease for a 1,200-square-foot storefront at 433 W. New England Ave. 
The new location will not only house the firm's primary design offices, but also an interactive furniture and design gallery. Design Studio 15 will feature furniture collections from the likes of Christopher Guy and Kartell, as well as custom designed reclaimed wood pieces from Blaire Sligar. Additionally, the showroom will boast eco-friendly "smart" fireplaces, European tile and bath selections and unique lighting fixtures.
Bender envisions more than just an office and run-of-the-mill gallery. "We want Design Studio 15 to be a fun and interactive place for people to become a part of the design process," she said. "We plan to host monthly social gatherings at our showroom, during which we'll have guest speakers from the community talking about the latest in design trends and do-it-yourself applications."
The build-out of the new space has begun and Bender expects to move in some time in April. Design Studio 15 will announce the first of their community socials on its website and Facebook page. For more information, please visit DesignStudio15.com