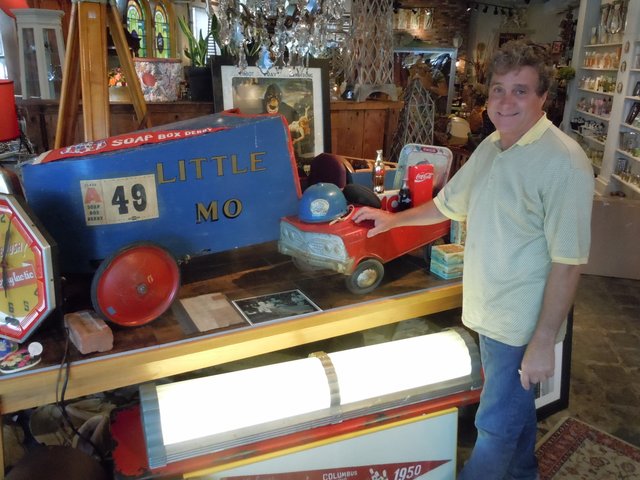 I've been told you must give any new living environment at least two years before you'll truly feel at home. It rings true to my own experiences.
Living in any new location requires exploration and discovery. The process of feeling truly at home somewhere can be like peeling back the layers of an onion — doing so you start to learn, know and understand all you need and want to. The best places have stories you keep discovering, always learning something new. Winter Park has definitely proven to be such a place. This past week I've learned even more about it through two locals who seem to revel in those layers, appreciate them and LUV to collect pieces of them to share with others.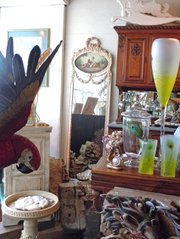 Entwined is a new home décor and antiques store in a vintage building that suits it. As the space was being renovated, previously a Pittsburgh Paint and Glass, it was discovered that the façade on Fairbanks Avenue had a perfectly preserved "green jelly glass" from the 1940s beneath layers of stucco. The store is appropriately named, as I'm told there are others besides myself who have wandered in it for hours, discovering and taking it all in, becoming Entwined in all they see.
The store is the collaboration of two longtime Winter Park residents, Judith Giraulo and Craig Tremblay. They met back in the early '80s when Judith owned a Crabtree & Evelyn store on Park Avenue and Craig operated a restaurant called Bonefish Billy's. As they tell me about their latest venture, their long friendship is obvious as they finish one another's thoughts and sentences, and one jumps in after the other excitedly with more information. They delight in the stories they tell of things well worth remembering.
Entwined is nothing like the East India Ice Cream Co. they both reference early, and yet maybe it's entirely like it. They talk of the atmosphere it had, desiring the same for their outside garden center, which is planned to include a wine bar this fall. "It felt like this secluded spot, like a little oasis in the middle of town," Judith explains. "It was just a great atmosphere. Instead of building the store out, they created little tables and chairs out — it was like you were in a park." Craig mentions the tin roof and raw brick walls.
A light fixture from the East India Ice Cream Co. is now one of the items available at Entwined. Other vintage Winter Park pieces include two large hand-carved and painted wooden mirrors from The Proctor Shops; vintage light fixtures including one from a home on Via Tuscany and others that were used in The Boathouse Restaurant; a portion of the original light at the Colony Theater; two large stained glass windows from Drake's/Harper's Bar; a vintage zinc fountain; folding theater-type seating from the balcony of the First Presbyterian Church on Interlachen; and a collection of much enlarged vintage post cards that will be used to create locally-inspired coffee tables. There's also art, wooden furniture and photography, all made by or designed by locals.
Entwined is most certainly the sort of store you have to come back to a few times to really get an idea of all they carry. Each visit provides a new opportunity for discovery. "Anybody can buy in here. That's my goal, is that you could buy a $2 item but you could also buy a $50,000 set of furniture," Judith said. One wall of shelves contains nothing but miniature pieces popular with parents and their children, all items ideal for creating "fairy gardens."
Items that may quickly grab your attention include a large vintage airplane from a 1950s carnival ride and a soap box derby car that carried its 14-year-old driver to national victory in 1956. It's displayed with the photo taken after the win. "He's still alive, living in an assisted living facility, and he's just as nice to talk to as possible," Craig said. Judith adds, "We have his little hat, everything." His prize for that win was $1,000 and, Craig says, Chevrolet paid him $100 a day to sign autographs at their dealerships. "He said it was the highlight of his life."
On one of my visits an older gentleman on a bicycle rides up with vintage building materials that he displays on the floor for Judith, who then buys them. This, I'm told, isn't too out of the ordinary, as they delight in finding local pieces via local residents. The assortment is vast, yet all of it works together as a piece of relaxing music. Judith's husband, Doug Scarola, represents several of the new national lines they carry, including Root Candles, which have been made in Medina, Ohio, since 1869 and still contain a bit of beeswax in each, a tribute to the founder who was a beekeeper.
I ask them about their favorite items and if it's hard to part with certain ones, and Craig, who declares he "brings in the weird stuff," quips, "Oh, that happens all the time. But then the rent comes due." On the same topic Judith quickly mentions the King Tut vintage pinball machine at the back of the store, "I think the hardest thing for me to sell would be the King Tut pinball machine because it came from Rollins College. Back in the '70s the students would bow down to the machine," she says laughing.
Entwined Home & Garden is at 620 W. Fairbanks Ave. Winter Park. Call 407-599-9988 or visit tinyurl.com/EntwinedWinterPark
I ask about their most bizarre acquisition and Craig looks studious, contemplating the question for a bit. He then finally says it's got to be "the front of a convent in New York" they recently acquired. They both get excited again, describing the terra cotta tiles, glazed stones, angels and noting an inscription in Latin which translates: "Peace to all who pass through these doors."
At first I wonder how they'll deal with such a large, unusual addition, but then decide it's going to fit right in.