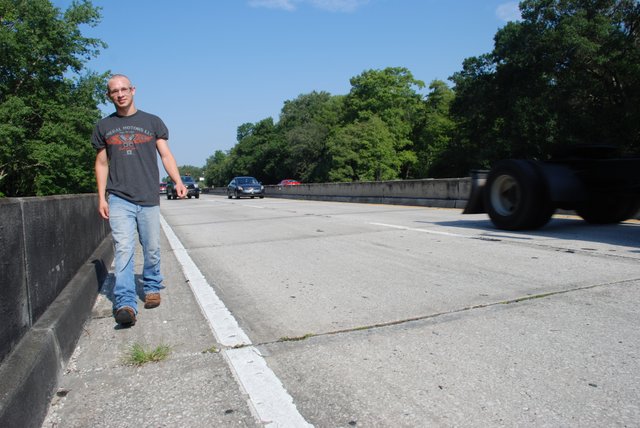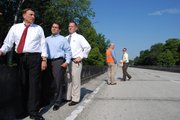 Wind from a passing tractor trailer truck hit Jacob Hyers with enough force to make him sway toward the rail of the bridge — Womp!
The 19-year-old from Bithlo said he walks the State Road 50 bridge just east of Avalon Park Boulevard on a regular basis but still, it's unnerving.

"It's really dangerous. I always feel like I might get hit," Hyers said, crossing the bridge after visiting a friend.
"There's no other place to cross. There's a swamp down there you can't cross," he said pointing to the Econlockhatchee River below the bridge.
The state is researching temporary methods to make the bridge safer and should have a plan in the next few months, said Gene Ferguson, Florida Department of Transportation's MetroPlan Orlando liaison.

He said the most promising solution seems to be adding a platform onto the side of the existing bridge for pedestrians. This would likely not require obtaining any right of way or permits and the estimated construction time is one year. Ferguson said he's not sure how long it would take to design.
The bridge, which is a four-lane road with about a foot-wide shoulder, isn't currently set for a makeover until 2018 when the state plans to add one lane in each direction to S.R. 50 from Old Cheney Highway to State Road 520.
"Old Cheney Highway to S.R. 520 is on the MPO-prioritized project list ranked No. 10, which means there are nine projects ahead of it," Ferguson said. "Over $300 million is needed for those nine other projects. In a good year, the department can pick off several projects but with the way government budgets are these days, it's kind of hard to project."

Officials were also looking into lumping permanent bridge work into the larger plan to widen S.R. 50 to six lanes from Dean Road to Old Cheney Highway — which is just shy of the bridge. That project, carrying an estimated price tag of $54 million, will go out to bid in July 2013 with construction likely to start in October. Ferguson said a project of that scale usually takes about two years to complete.

"The bridge is not a part of the project. It's not something you can just throw out and do at the same time as this road project," he said.
He said a permanent solution to that bridge would take one to two years to design and would likely require obtaining right of way and permits. "The soonest we could do things there would be three years roughly and it could be longer."
In the political crossfire
The bridge caught the attention of Congressman John Mica, who went out to visit the bridge, only walking a few feet out once he saw the conditions there, and of his challenger, Congresswoman Sandy Adams, who said she travels the bridge by car on a regular basis as an east Orange County resident and said she's horrified to not only see people crossing it on foot and bicycle but also by skateboard.
Standing on the bridge with tousled hair from a trailer truck that had just roared by, Congressman John Mica said last month that he's putting his foot down.
"I've driven over this bridge several times but standing on it, I never realized how serious this is to pedestrian safety," he said. "This bridge has to be made a top priority."
Tim McKinney, United Global Outreach executive vice president, who has been lobbying local, state and federal officials to do something about the bridge and Bithlo's many other transportation needs since he started advocating for the community in 2009, said the bridge affects Bithlo residents most because of a lack of public and private transportation. Many Bithlo residents must travel by foot.

Orange County District 5 Commissioner Ted Edwards, whose seat is also being contested this election year, said he's surprised the bridge gets much foot traffic considering the amenities in Chuluota, which is between Bithlo and the bridge. He agreed that the bridge is antiquated and due for restructuring.
"It's certainly an old bridge. It's been there since 1948, and the last time they added two more lanes to it was in '64," he said. "That's the condition it's been in for years. My concern is more the entire widening of 50 in east Orange County, which was delayed due to budgetary cuts."
His opponent for District 5, Gina Duncan, said Edwards' attitude toward the bridge is a reflection of how he's handled Bithlo issues in the past. But Edwards said the bridge isn't even in Bithlo and therefore is not a Bithlo issue.
"The commissioner is from Winter Park and the bridges in that part of town are not the kind of bridge that's over the Econ there," Duncan said.