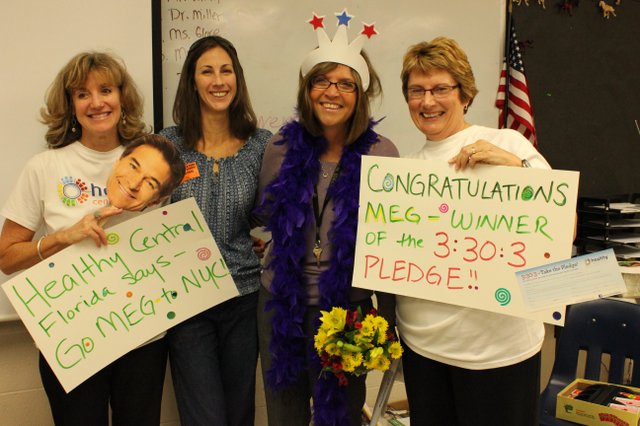 The tune of "New York, New York" bounded off the walls of Winter Park High School, as a group of 25 or so friends, family and coworkers of marketing teacher Meg Pietkiewicz snaked through the halls leading to her classroom.
The music was quickly drowned out in a rush of excitement, as Winter Park Mayor Ken Bradley, Executive Director of Healthy Central Florida Jill Hamilton Buss and WPHS Principal Tim Smith flung open her classroom door, surprising Pietkiewicz mid-class with balloons, feather boa and a declaration that she'd won round-trip tickets to New York City to see a live taping of the "Dr. Oz Show."
Friends and family donned masks in the likeness of the doctor, who motivated the teacher with his speech at the Feb. 6 Healthy Central Florida (HCF) launch event to be one of 360 attendees to take the initiative's "3:30:3" pledge: Get active three days a week, for 30 minutes a day, for three months. Doing so entered her for a chance to win the trip to NYC to see a live taping of the show. But it was a chance Pietkiewicz said seemed slim, until the crowd rushed her classroom on June 7 telling her she'd won.
"You know I think I'm going to need a sub for this," she said to Smith, the shock of the bombarding announcement slowly wearing off. She stood front and center, now with tiara on her head, feather boa around her neck and balloons in hand, as the whole room laughed.
"That's OK, Mrs. P!" a student from the interrupted class shouted from a desk in the back.
"I think we'll make it work," Smith said with a laugh.
After three months of alternating between walking her dogs and riding her horses three times a week, eating healthier and sharing her progress on Healthy Central Florida's Facebook page, Pietkiewicz was chosen as the winner of the Winter Park, Maitland and Eatonville-wide first-time challenge.
"She left everybody else in the dust," said Buss, from HCF, who helped choose the winner. "She's just gone above and beyond… she's really walked the talk and done this pledge."
Pietkiewicz lost 12 pounds during her three months on the challenge, but more importantly, Buss said, used the mission of Healthy Central Florida to improve not only her own health, but of those around her at home and at school.
The marketing teacher got her classes involved in starting a "Live. Life. Healthy." campaign targeting increasing teen health and wellness at Winter Park High School. She plans to launch the campaign in the fall after securing a grant from the Winter Park Health Foundation. Plans are in the works for monthly healthy cooking classes and a fitness blog to help motivate students to stay in shape.
"Not only does she teach it, but she models it and she lives it, which is a really powerful thing for students to see," Smith said.
She also helped bring Zumba classes to campus for faculty, to start the fitness journey from the top down. The 16 staff members involved this spring lost a total of 66 pounds.
At home, Pietkiewicz said she started following Dr. Oz's advice of shopping the perimeter of the grocery store, looking for fresh foods and produce to limit processed foods and preservatives from her diet. These choices, her sons Michael and John said, forced her family to eat more healthily whether they wanted to or not.
"It definitely forces us to be more healthy," said John, who drove overnight from Auburn, Ala. to help surprise his mom. "It's a lifestyle that affects everyone around her."
It's that ongoing healthy-living ripple effect that Buss said made Pietkiewicz the clear choice of who best exemplified the mission of Healthy Central Florida through the 3:30:3 pledge.
"Everyone around you is healthier because of you," Buss said, as she presented Pietkiewicz a letter detailing her winnings — her trip to NYC slated for sometime in August or September when "Dr. Oz Show" tapings resume.
"This is a beginning point — please continue on your health journey," Mayor Bradley said. "You're a great example for all of us."