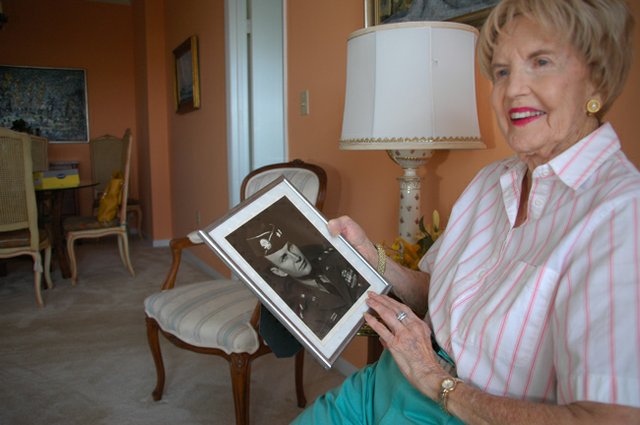 "This is the story of an odyssey."
That's how Lt. Gen. James Gavin, 82nd Airborne commander during World War II, begins his memoir, "On to Berlin."
The book, published in 1978, walks readers play-by-play through Gavin's firsthand experiences commanding paratroopers from 1943 to 1946 during World War II.
This three-year span only scratches the surface of the greater odyssey of Gavin's life, which would take him from the streets of Brooklyn, N.Y., to the shores of Normandy, France, on D-Day, and from summers in Cape Cod, Mass., with the Kennedys to serving as the U.S. ambassador in Paris. It was a journey that would eventually land him in residence here, on the suburban, tree-lined streets of Winter Park in 1981, where his wife Jean Gavin, 89, still lives today.
Gavin's odyssey may have ended 22 years ago when he passed away in February 1990, but the late-general's life as a "Great Floridian" was commemorated on March 21 by Gov. Rick Scott as part of Florida Heritage Month celebrations in Tallahassee.
"We was a great American and a great resident of Winter Park, and deserved to be honored as such," said former Winter Park Mayor David Strong, who nominated Gavin for the distinction.
Making the man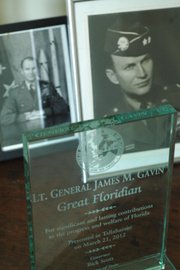 Born in New York in 1907, James was orphaned early on and adopted by the coal-mining Gavin family in Mt. Carmel, Penn. Knowing he didn't want to go into the family business, at 17 years old, Gavin ran away to New York.
"He decided the only way he would ever get out of Mt. Carmel — knowing he definitely didn't want to be a coal miner — was to get an education," Jean said.
He would find a lawyer in New York to pose as his guardian and enlisted into the Army at 17 in 1924. In 1925 his hopes of an education solidified when he began at West Point Military Academy.
In 1941 when the U.S. declared its participation in World War II, Gavin was just completing airborne school and was quickly recruited to the growing airborne war effort. He would rise to colonel and then commander of the 82nd Airborne Division, where he would earn the title of the "Jumping General" and play vital roles in the paratrooper invasions of Sicily and Normandy.
"Everyone said he was always the first man out of the first plane," Jean said.
Before retiring as a general in 1958, he would be awarded two Distinguished Service Crosses, a Distinguished Service Medal, Silver Star and Purple Heart.
Jean, who met and married Gavin after the war, said she had always heard talk among women about how great and wonderful Gen. Gavin was on base, "But I thought, no one could possibly be that great — until I met him," she said.
"Coup de foudre," she says in French. In English, it was like lightning. Love at first sight.
The two would marry in 1948 and raise four daughters. The family would travel with him as the military took Gavin from Naples, Italy, to Stuttgart, Germany, and all around the world.
In 1961, incoming president John F. Kennedy would ask Gen. Gavin to be the Grand Marshal of his inaugural parade in Washington, D.C. The same year he'd ask Gavin to serve as the U.S. ambassador in France, to which Jean says Gavin was hesitant.
"I remember sitting across the table from Kennedy when he turned to James and said, 'Are you reluctant to serve your country?'" she mimics in a serious-yet-joking manner. She said Kennedy knew that would get under Gavin's skin.
"And James said, 'President, when do you want me to leave?' and in six weeks I was in Paris," she said with a laugh.
Honoring his legacy
Former Winter Park Mayor David Strong and his wife traveled along with Jean Gavin to Tallahassee in mid-March to accept the general's honor of Great Floridian. The title puts him in the ranks with other distinguished war heroes, former Florida State football coach Bobby Bowden and former Florida Gov. Jeb Bush.
"He was a great American and a global citizen, but at the same time, he was very interested in citizens from the town hall up," Gavin's daughter Liné Lewis said.
That attitude, and his great service of not only country but as an outstanding citizen of Winter Park later in his life, Strong said, motivated him to nominate Gavin for the honor.
"He had what was a very impressive career from the humblest of origins, and I think we should all take inspiration from what he did for our country," Strong said.
A clear, glass sculpture and certificate documenting Gavin's status as a Great Floridian now sit on an end table in Jean's apartment in the Mayflower Retirement Community in Winter Park.
"There was never any pretension about James — he was one of the most humble people I've known," Jean says, gently stroking a black-and-white portrait of Gavin in his Army days. "He never understood why people thought he was so special … but I've realized after, how all these people really respected, admired and really honored my husband."