JUNE
Photo Gallery
Baldwin Park's First Friday Art Stroll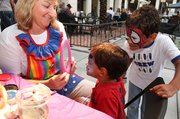 Baldwin Park's First Friday Art Stoll on June 1, 2012 featured local artists, a dj and face painters. Art, jewelry and massages, from In Style Hair Nails and Day Spa, were all available for purchase from vendors.
Baggy Pants Theater presents "Seussical The Musical" at the Harriett and Hymen Lake Cultural Auditorium in JCC Maitland. Show times are June 8, 9, 11, 15 and 16 at 7:30 p.m., and June 10 and 17 at 3 p.m. and 7 p.m. Visit baggypantstheater.com/tickets
Art & History Museums – Maitland (A&H)'s free admission for Maitland residents has been extended through Sept. 30. For more information, call 407-539-2181 or visit ArtandHistory.org
Morse Museum Summer Family Tours and Films will begin in June and go through August. These programs include gallery tours on select Tuesdays with a take-home activity for children. Family films are on select Fridays. Reservations are required. Visit MorseMuseum.org
If you're a college student home in Orlando for the summer and looking for a place to work out, go to the JCC for the entire summer for just $49. Just go to either one of our campuses in Maitland or Southwest Orlando and show your college ID to sign up. For more information, call 407-645-5933.
JUNE 9
The Children's Summer Reading Program featuring the "Return to Wonderland" live show and "Alice's Tea Party on the front lawn" will take place at the Maitland Public Library on Saturday, June 9, from 2 to 4 p.m. Call 407-647-7700.
JUNE 14
Popcorn Flicks in downtown Winter Park's Central Park will feature "Seven Brides for Seven Brothers" at 8 p.m. on Thursday, June 14. Bring your blanket or chair to enjoy the movie under the stars with free popcorn for all. Call 407-629-0054 or visit Enzian.org
JUNE 16
The Art & History Museums – Maitland (A&H) presents Family Days at the Museum, a new program in which families can spend quality time together, have fun, and learn about art and history in a family atmosphere. Family Days at the Museum are held on the third Saturday of every month (June 16 this month) at 1 p.m. at one of the A&H's five museums. Each program will be approximately 45 minutes in length, and families are encouraged to stay as long as they would like. The June 16 event features Jasper Johns Flags/Paper Flag Craft at the A&H's Maitland Art Center. For more information, call 407-539-2181 or visit ArtandHistory.org
JUNE 17
Take a walk with your dad this Father's Day at Leu Gardens from 9 a.m. to 5 p.m. on Sunday, June 17. There is free admission for dads.
Come to Father's Day at Enzian featuring "Caddyshack" (rated R) on Sunday, June 17, at 1 p.m. Dad also gets a bottle of Blue Moon beer on Enzian! Lunch and drink specials are available at Eden Bar starting at 11 a.m. General admission is $8 and $5 for Enzian Film Society Members. Purchase tickets at Enzian.org or call 407-629-1088.
ONGOING
The Art and History Museums – Maitland offers artistic classes for adults and children this summer. Call 407-539-2181 or visit ArtandHistory.org
Send submissions to jandreasson@turnstilemediagroup.com