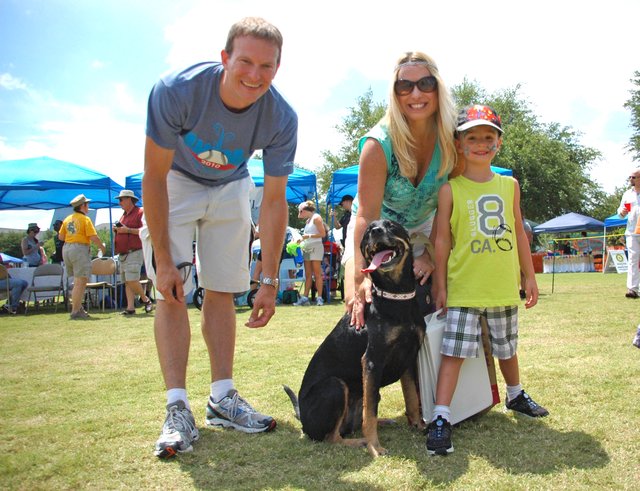 Photo Gallery
Baldwin Park's First Friday Art Stroll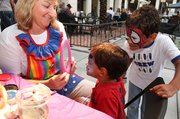 Baldwin Park's First Friday Art Stoll on June 1, 2012 featured local artists, a dj and face painters. Art, jewelry and massages, from In Style Hair Nails and Day Spa, were all available for purchase from vendors.
The temperatures are heating up and so are the events in Baldwin Park! For those who brave the outdoor temperatures there are plenty of things to do in the neighborhood. The Baldwin Park Merchants Association expanded its First Friday Charity Festival on June 1 with an Art Stroll along New Broad Street. Teaming up with the Arts Hub Florida, the First Friday series had live music, drink specials, free samples, interactive activities and much more. More than 40 local artists of all genres displayed their works of art while guests shopped, strolled and sipped through the heart of Baldwin Park. The event benefited the Navy League of the United States. Donations will be used toward the construction of a Lone Sailor Memorial in Baldwin Park to commemorate those who served at the former Naval Training Center.
Movies in the Park
Movies in the Park is Friday, June 15. The free movie will be played on the lawn in front of Barnie's. Family activities will begin at 6:30 p.m., followed by entertainment and a drawing for winners of gifts donated by sponsors just before the movie plays at dark. Bring lawn chairs and blankets. Seating is limited so arrive early!

Guided walk
On Saturday, June 16, Cuplet Fern Chapter of the Florida Native Plant Society (www.fnps.org) invites everyone to join them at 9 a.m. on a guided walk through Baldwin Park's natural landscapes, spotlighting the use of native plants in the urban landscape. Meet at Harbor Park, near the fountain. Please RSVP to cupletfern@gmail.com
Independence Day Bash
Save the date for Sunday, July 1, for the Baldwin Park Independence Day Bash from 6 p.m. to 9:30 p.m. in the Village Center. Come and check out the many arts and craft vendors and local restaurants while listening to live music from Room 2 and the Orlando School of Music. Unfold your chairs, make yourselves comfortable and watch the amazing firework show at 9 p.m. You don't want to miss this patriotic event!
Winning ways
May was super busy. We would like to recognize winners from several of the events. The winners of the 5th Annual Doggie Derby were Mike and Wendy Wood, owners of Tinkerbell; Michael Goldwasser, owner of Sophie; Lori Neal, owner of Jaxom; and Darlene King, owner of Casey, the overall winner.
The American Cancer Society Relay for Life included 177 participants and 17 teams, which raised more than $17,500. Way to go! Congratulations to our triathlon participants.
Baldwin Park residents Genie Deitz and James Mark participated in the recent Orlando Triathlon at Baldwin Park. Mark represented American Home Companions, his company located in Baldwin Park, in the Triathlon Corporate Challenge and took second place in the CEO Division. "It's nice to be in a race that is one block away from the office where you can swim, bike and run," Mark said. Dietz competed in the duathlon portion (2.8 mile run, 12 mile bike, 2.8 mile run) of the event. She finished fourth out of 11 women. Dietz runs and bikes regularly during the week as a way to keep fit. Come and try out the trail around Lake Baldwin and run, bike, walk or just sit in one of the gazebos overlooking the lake in Harbor Park while enjoying the scenery. Have a great month!