It's wet. VERY.
And while I keep wanting to start this out with 'rain, rain, go away', I can't. We need it too much.
So, I'm taking the high, non-whiny road . . . . what's a little water? This IS Florida, after all . . . it does this a good bit; and, well, we're sort of surrounded by it (water). There, now I already feel so much better, not just wetter.
Rain did manage to impede my activities today. Hey . . . I wanted to go home and take a nap! Dang, that idea did sound good. And I knew our girls would have LUVed the idea. Alas, eyes still open and I'm at ye olde keyboard again.
Did get some done today . . . .
Popped into Eyes & Optics. Kristina MacKinder contacted me earlier in the week about featuring some of their LUVly eyewear in my blog spreads next week. They were buzzin' with activity in there, as they prepare new photos for their website. I do not wear glasses and had not been in before, but such a nice, bright store and pleasant staff! Watch for their great eyewear along with fabulous Blue Door Denim Shoppe clothes next week!
Dropped in briefly to The Bistro to review some of our efforts. Facebook is more difficult these days . . . . WHY do they constantly want to change things users actually LIKE about the site? I dunno. But, while our plans with some things we're doing there are going a bit slower on that site, persistence always pays off!
I was headed over to College Park but the rain really picked up and I bagged it! This means my Monday is going to be much busier. Those are the best kinds of Mondays, so I'm good with that. I decided to instead stop by a shop I've been curious about for a while: Entwined. I was contacted by Judith this past week about including some things in my décor related blog next week and wow, is this store perfect for it! Lots to come next week, but for now, just wanted to share the tables they'll be producing from these vintage Winter Park post card images. If you like vintage . . . if you like large conversation pieces . . . . get Entwined!
Tonight I'm off to the kickoff party for the Tiffany Deli (6 to 9 p.m.) and then to Tails on the Town (5 to 8:30 p.m.), a benefit for the SPCA of Central Florida, starting at 'Doggie Door'. If you are in an arty mood, also consider the Art Stroll in Baldwin Park, tonight 6 to 10 p.m.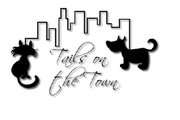 Whatever you do, wherever you go, have a LUVly weekend!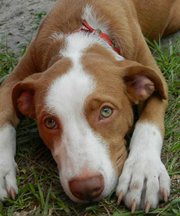 And . . . . if you're looking for a new member of the family . . . todays' Give A Dog A Home pet is Bridget. HOW can you resist that face? Hopefully, you can't! More info on Miss Bridge and her friends here: http://www.petrescuebyjudy.com/animals/detail?AnimalID=4397512