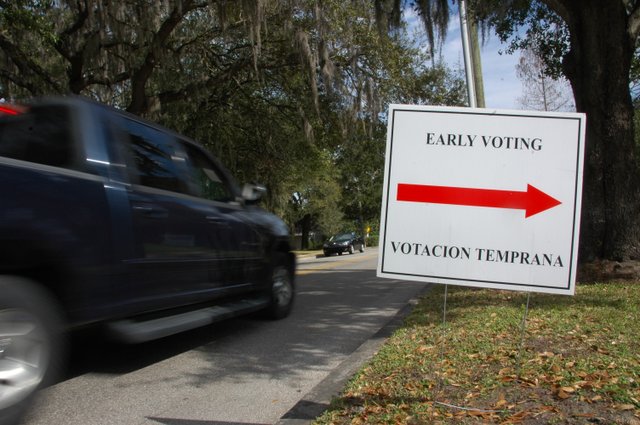 The following centers are open from 10 a.m. to 7 p.m. Saturday, Aug. 4 through Aug. 11 for early voting:
-Alafaya Branch Library, 12000 E. Colonial Drive, Orlando
-Apopka Community Center & VFW, 519 S. Central Ave., Apopka
-Orlando Public Library (Downtown), 101 E. Central Blvd., Orlando
-South Creek Branch Library, 1702 Deerfield Blvd., Orlando
-Southeast Branch Library, 5575 S. Semoran Blvd., Orlando
-Southwest Branch Library, 7255 Della Drive, Orlando
-Supervisor of Elections Office, 119 W. Kaley St., Orlando
-Washington Park Branch Library, 5151 Raleigh St., Ste. A, Orlando
-West Oaks Branch Library, 1821 E. Silver Star Road, Orlando
-Winter Park Library, 460 E. New England Ave., Winter Park
Voters are reminded that Florida law requires them to present signature and photo identification when checking in to cast their ballot. If a voter has moved since the last election – especially if they've crossed county lines – they are encouraged to call 407-836-VOTE (8683) to update their registration record prior to visiting an Early Voting center. This will expedite their Early Voting process.
Early Voting is one of three voting options available to voters. They also have the option to submit an absentee ballot to vote by mail. The ballot must be requested no later than 5 p.m. Wednesday, Aug. 8. If it's not requested in time, the voter will have to either visit the Elections Office in person or send a designee (with written permission) to pick up their absentee ballot, cast their ballot in person at an Early Voting Center (last day is Saturday, Aug. 11) or go to their assigned polling place on Election Day.
Voters submitting an absentee ballot must return their ballot to the Elections Office so it arrives no later than 7 p.m. Tuesday, Aug. 14. If voters return the ballot by express mail service, they must use the street address for the Elections Office, which is 119 W. Kaley Street, Orlando, FL 32806. They may also hand deliver their voted absentee ballot to the Elections Office or to an Early Voting Center. Absentee ballots may not be delivered to polling place locations on Election Day.
The third option is to vote on Election Day at their assigned polling place. Voters may call 407-836-VOTE (8683) for more information or visit www.orangecountyvotes.com
Source: Orange County Supervisor of Elections