Fleming's Prime Steakhouse & Wine Bar, 933 N. Orlando Ave., introduced its new Bar la Carte Menu. Served exclusively in the bar, the menu offers guests six all-new satisfying dishes available any time. The menu includes Salt and Pepper Shrimp ($15) (pictured); Prime Steakhouse Meatballs ($9); Fleming's Original Prime Rib Melt ($16); Filet Mignon Flatbread ($12); Cedar-Roasted Mushroom & Artichoke Flatbread ($11); and Fleming's Housemade Burrata ($12). One additional offering, the Prime Burger ($14), is borrowed from Fleming's celebrated "5 for $6 'til 7" menu. Visit www.flemingssteakhouse.com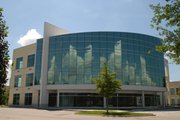 O,R&L Facility Services and Owens Realty Services recently acquired the 24,000-sq.-ft. building within the I-4 Commerce Center located at 1646 33rd St. for a purchase price of $1,825,000. The building has been vacant since its completion in 2007.
BRIO Tuscan Grille (BRIO) restaurants launched an easy-to-use online ordering system for carryout orders on June 25. To place online orders, go to www.BrioItalian.com and visit the "Order Online" icon.
The Winter Park Chamber of Commerce is pleased to welcome Ashley Ringler as its new Events Manager. Ashley, a Winter Park native and graduate of Winter Park High School, earned a degree in event management from the University of Florida. Ashley has worked in event marketing for St. Jude's Children's Research Hospital in Atlanta and most recently as part of Healthy Chef Creations in Winter Park.
James Coffin recently joined The Balmoral Group as marketing coordinator.
Shuffield Lowman law firm partners, William R. Lowman, Jr., Heidi W. Isenhart, Greg W. Meier, J. Stephen McDonald and Arthur J. (Randy) Ranson III were recently named five of Florida Trend magazine's "Legal Elite" in the July 2012 issue.
Since its founding in 1993, the Orlando Philharmonic Orchestra has never ended its fiscal year with a negative budget balance. On June 30, the professional orchestra balanced its budget again, celebrating its 19th year without a drop of red ink.
G R Bridges, a Park Avenue jeweler, has a brand new website: www.grbridgesjewelry.com
Rollins College revamped their Mini-MBA™ 18-week certificate program with the addition of three new topics. The Crummer Management Program – Mini-MBA™ presents a fast and comprehensive way to update management skills. Visit http://www.rollins.edu/execed