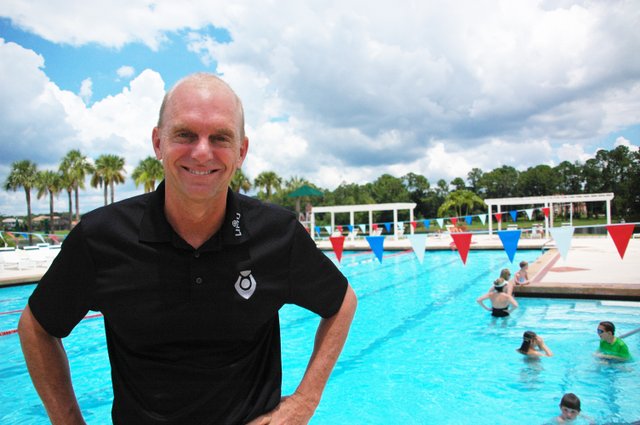 Rowdy Gaines won three Olympic gold medals in 1984. But being on top of the world in men's swimming translated to about $100.
Today a swimmer would pocket about $100,000 after a year like that, and that's not including sponsorships. Daytona Beach native Ryan Lochte is set to earn about $2.3 million this year, CNN Money reports, thanks to contracts with the likes of Gillette, Ralph Lauren and AT&T.
"When I swam there was no money," the Lake Mary resident said, relaxing in a poolside chair as kids shouted "Marco" and "Polo" in the pool behind him at the Heathrow Racquet Club. "You weren't allowed to take money. … Now you can actually earn a living by swimming."
Gaines sports a polo, jeans and a perennial tan, and insists folks call him Rowdy. He's never liked sunglasses, he said, his eyes drawn into a permanent squint in the scorching afternoon sun. It's July 16, and in a week he'll jump on a plane to London to begin his sixth straight Olympics as a swimming analyst. He's been an institution in swimming for 36 years, as the sport has evolved into one of the Olympics' most-watched events.
He says money is the reason for most of the changes he's has seen in the sport in the last 30 years, including the increasing age of its athletes and the U.S.'s struggle to keep up with swimming technology.
The U.S. government doesn't provide any funding for the Olympics, in sharp contrast to other leading countries, such as Australia, Russia and China.
"I think we're behind in many cases with the rest of world when it comes to technology and how they support their athletes, absolutely, because they have government support," he said.
It all comes down to fundraising, which Gaines has done a lot of for USA Swimming. They've come a long way since the '80s.
Today elite swimmers get a stipend from USA Swimming of about $30,000 a year. In the 1980s, Gaines could follow his dreams of Olympic glory, but swimming didn't pay the bills. That meant getting used to an interesting sleep schedule.
Leading up to the 1984 games, he worked as a night clerk at a hotel from 7 p.m. to 2 a.m. He'd go home and sleep for a couple of hours and hit the pool from 6 a.m. to 9 a.m. After morning practice, he'd catch some more sleep before heading to his afternoon workout, which ended just before he had to put his hotel uniform back on.
No one at the hotel knew they were working alongside a soon-to-be three-time gold medalist.
Swimming grows up
That was a tough few years, he said, and exactly why swimmers used to retire from the sport after their college graduation. But that all began to change as sponsorships and stipends started flowing in for Olympic athletes. And with that came drastic changes in the demographics of the U.S. swim team.
Gaines was the oldest swimmer at the 1984 games, and became the oldest swimmer in history to win a gold medal. He was 25. Today, the average age for the U.S. men's team in London is 26, he said. Lochte will be 28 on Aug. 3. The man Lochte hopes to catch, Michael Phelps, at 27, is going into his fourth Olympics — the most in history for an American.
"Two (games) is usually the max, three is rare and four is nearly impossible," Gaines said.
Phelps has said this will be his last games. After London, he will have accomplished all he can, Gaines said, including shattering the record for the most medals in Olympic history, set by Soviet gymnast Larisa Latynina in 1964 at 18 medals. Phelps will easily nab six medals, Gaines says, bringing him over the 20 mark.
"You can't do anything else. He's broken 40 or 50 world records in his career," Gaines said.
But, with a glimmer of mischief in his blue eyes, Gaines admits he thinks Phelps will be back, at the old age of 31, for a fifth games. It's not because of some insider information he's heard — it's just a "gut feeling," suspecting that he and Phelps are a lot alike.
Gaines qualified for the 1980 Olympics, but he never got to swim because of the U.S. boycott. So, when he graduated from Auburn the next year, he hung up his goggles. He was out of the pool for more than two years.
"But there was an emptiness," he said. "Swimming was what I did best and what I knew best. … When you're wired that way and you're wired to compete at the highest level, and when you're really good at it, you want to take advantage of it."
Once he was back in the pool, he didn't look back, going on two years later to win three gold medals. At age 53, he's still setting records both in and out of the pool. That competitive drive just doesn't go away.
"You wait," he said, smiling. "You're gonna call me in about three years and you'll say, 'Whoa, I saw Michael back in the water. You were right, Rowdy.'"
Follow Rowdy on Twitter (@RowdyGaines) to find out more about the athletes and to ask him questions.
All swimming, all the time
Gaines is not an outsider looking into the swimming world. He lives and breathes it. Although Gaines insists he doesn't "train" anymore, he still swims 8,000 yards just about every day. And if he's not swimming or talking about swimming, he's teaching kids about swim safety and following their dreams.
On June 14, he broke a Guinness World Record for the largest simultaneous swimming lesson, with more than 23,000 participants around the globe. At first he jokes that he did it because he likes to break records. But then he gets dead serious — drowning is the second leading cause of death for children 10 years and younger, he says, only behind car accidents.
"It's not like we're trying to find the cure. We've already found the cure – it's swim lessons. So it drives me crazy when I see a child drown (in the news) for no apparent reason."
As part of his nonprofit Rowdy's Kidz, sponsored by his employer, Limu, he goes around the country teaching free swim clinics and inspiring kids to follow their dreams.
"Probably the thing that I'm most proud of in my career is Rowdy's Kids and what we're able to do in different communities," he said.
And for a guy who started swimming at age 17, only after failing at five other sports, he's pretty good evidence that dreams do come true as a three-time gold medalist and the voice of the sport.
By the time this paper hits newsstands, Gaines will be on air for NBC in London, providing swimming commentary for his sixth straight games. But it's not all fun and games.
"You're there to do a job," he said. "A lot of it is just studying, getting to know the team, getting to know who you're talking about on TV."
The London 2012 Summer Olympics kick off with opening ceremonies on Friday, July 27, and events run through Aug. 12. For a full TV schedule of events, visit nbcolympics.com.
He admits that he didn't do a lick of sightseeing when he was in China four years ago.
"I was in Beijing for a month and I never saw the Great Wall," he said. "I went from the pool to the hotel, pool to the hotel."
But he admits that each Olympics experience still amazes him.
"To actually be there is really special. … It's a different animal. It's so cool also because it's only every four years. That's our Super Bowl, that's our World Series."
As he steps into the 17,500-seat Aquatics Centre in Olympic Park, he's traded in his swimsuit for a suit.
But 27 years later, the nation is still watching Rowdy.