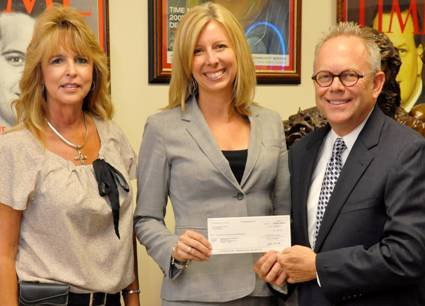 Coalition for the Homeless of Central Florida recently received a grant from Enterprise Holdings Foundation with the help of the Holler-Classic Group of dealerships. A check in the amount of $1,500 was presented by Cindy Reeves, Enterprise Holdings Group Rental Manager in Longwood to Brent Trotter, president/CEO of Coalition for the Homeless of Central Florida, at the home offices of Holler-Classic.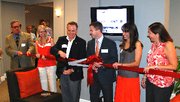 Wilson McCoy, P.A. ("Wilson McCoy"), a new law firm in the city of Maitland and new member of the Chamber of Commerce, held its open house and ribbon-cutting ceremony on Wednesday, July 11. The firm, comprised of attorneys Gary D. Wilson and Nathan A. McCoy, applies a combined 30 years of experience in employment, commercial and contractual matters. Wilson McCoy is located in the First Colony Bank Building, 711 N. Orlando Ave., Ste. 202. For more information, call 407-803-5400 or visit www.wilsonmccoylaw.com
The Florida Fish and Wildlife Conservation Commission recently elected Vice Chairman Kenneth Wright to serve as chairman, effective July 1. Wright, of Winter Park, has served on the Commission since August 2007.
Massey Services presented a pledge on June 27 for $250,000 to the Central Florida Veterans Memorial Park Foundation (CFVMPF) for construction of the Memorial to the Fallen at Lake Nona.
Craig Diamond recently joined The Balmoral Group, headquartered in Maitland, as regional manager, economics. He will lead the firm's new Tallahassee office.
Herzing University Online has earned accreditation for its MSN - Nursing Education, MSN - Nursing Management and RN to BSN Bridge programs from the Commission on Collegiate Nursing Education.
NAI Realvest recently negotiated three lease agreements with local tenants totaling 6,206 square feet of industrial space at Hanging Moss CommerCenter and Goldenrod CommerCenter in Orlando. Michael Heidrich, principal at NAI Realvest, negotiated a new lease agreement with EC Events, LLC for 2,000 square feet at 6112 Hanging Moss Road and a lease renewal agreement with Paramount Drywall for 2,000 square feet at 6100 Hanging Moss Road. Maitland-based COP-Hanging Moss, LLC is the landlord. At Goldenrod CommerCenter, Heidrich negotiated a renewal agreement with Black Forge, LLC for 2,206 square feet at 1468 N. Goldenrod Road. COP-Goldenrod, LLC of Maitland is the landlord.