Editor's note: Tom Carey is sitting on a deserted Southwest Florida beach, enjoying the tranquility of a summer vacation. This is a reprint of his Oct. 25, 1995 Oviedo Voice column titled: "The pees and ques of quality lawn care."
A recent article in a widely read gardening magazine about the use of human urine as a fertilizer raised a few chuckles, not to mention a few letters to the editor. The history of "spraying the crops" is as old as agriculture itself. As noted in F.H. King's 1911 book, "Farmers of Forty Centuries," Chinese farmers would entice travelers in need to make deposits in elaborately decorated roadside privies. These waste products were then greedily applied to the fields, leaving the soils better with passing generations. Rice farmers routinely selected a corner of a paddy as a latrine. American homesteaders knew the best place to plant an apple tree was the depression left at the location of last year's outhouse. Using most nitrogen fertilizers in gunpowder formulas, Nazi Germany encouraged citizens to keep "Honey Buckets" to grow their version of "Victory Gardens."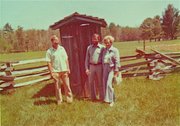 Contemporary health concerns are paramount, so please note: we are discussing strictly liquid urine from healthy individuals applied to lawns and ornamental landscaping. The filtering process of the kidneys has no contagious microorganism functions.
Many valuable crop fertility compounds are found in the "golden mists." Nitrogen tops the list, with copious quantities of phosphorous, potassium and calcium readily available. I am sure we do not need to mention the waste and expense of flushing gallons of potable water down the loo, let alone building commensurately huge and smelly treatment plants "not in my backyard."
Gender specific note: these "how to" details are geared more toward the gentlemen of the audience. An article in Permaculture Activist magazine suggests that ladies might use a paper cup as a preliminary collection device. Since it's not socially acceptable to "drain the monster" while exposed in a neighborhood, a collection container in the privacy of one's domicile is a first step. Plastic half-gallon citrus bottles with a convenient handle are much easier to use than 2 liter soft drink bottles. After a few uses, head the ripe "huney bottle" to the recycling bin.
In the dark of the evening, while the rest of the world is glued to their televisions watching "Roseanne" or "ALF," saunter out to the backyard with your full jugs and spread the accumulated wealth of "golden rain." Rotate between selected pee-trees or weak spots in the lawn. You will probably win your next homeowners association best landscape award!