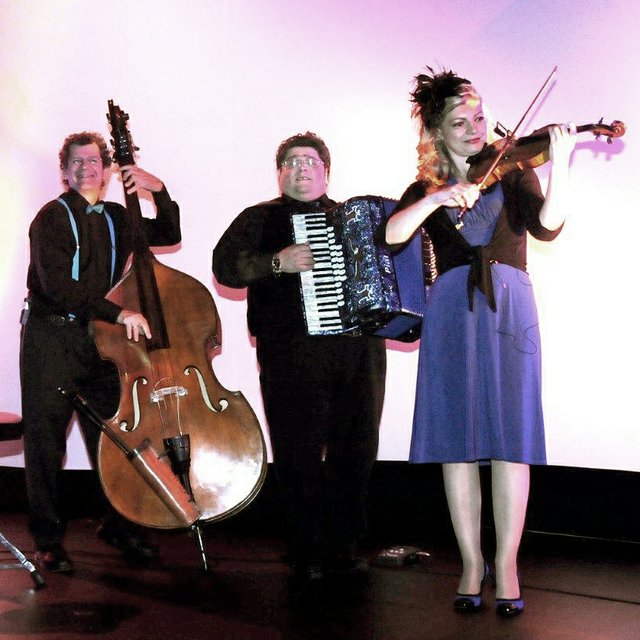 July 9 – Tango Music on Philharmonic's "Sounds of Summer" concert series
Bring on the variety. The Orlando Philharmonic's "Sounds of Summer" chamber music series continues with an all-tango program led by violinist Olga Ferroni and her musical group Kalinka. Formed in 2010, Kalinka performs regularly at Epcot, Downtown Disney and private events, and tangos are its trademark. "Tango combines the glamour of ballroom and the allure of the underground," says Ferroni. Kalinka's July 9 performance will feature classical Argentinean tangos, and the performance will be held at the Shakespeare Center in Loch Haven Park. Call 407-770-0071 or visit OrlandoPhil.org
July 12 to July 16 – Empty Spaces Theatre Co(llaboration) presents "fragment(ed)"
"fragment(ed)" is the oddly titled sequel to Empty Spaces Theatre Co(llaboration) with DiDonna Productions' Best Dance winner of the 2011 Fringe Festival. This group is known for original and thought-provoking performances, and this one is a fusion of dance, movement, spoken word, aerial acrobatics and original music. "fragment(ed)" explores the very adult world of love, sex and desire, guilt and rejection, violence and destruction, and … fragmentation. With direction by John DiDonna, choreography by Mila Makarova, fight choreography by Bill Warriner, and original music by Tod Kimbro "fragment(ed)" will host seven performances from July 12 to July 16 at the Shakespeare Center located in Loch Haven Park. Call 407-328-9005 or for online ticket purchases, visit redchairproject.com
July 13 and monthly – Art & History Museums – Maitland (A&H) has begun a 'meet your neighbors' Summer Concert Series outdoors in A&H's beautiful gardens at 231 W. Packwood Ave. in Maitland. The series, called "Art. Music. Food. Architecture." takes place the second Friday of each month through September. July's concert features Evan Taylor Jones, a soul singer and songwriter whose influences are from blues and funk. Jones is from California and now resides in Orlando. The event is perfect for summer evenings under the stars with music, poetry and an array of food truck fare. Guests bring blankets or chairs, and a bar is available for those who would like a drink or two. The museums stay open, and the atmosphere is welcoming and full of talent. Call 407-539-2181 or visit ArtandHistory.org
July 14 – Orlando Philharmonic performs "Legend of Zelda" concert
Attention Nintendo gamers and symphony concert-goers! While you may not usually find yourselves in the same audience, the evening of July 14 at 8 p.m. will find you shoulder to shoulder at the Bob Carr PAC for a live orchestral performance of music from Nintendo's "The Legend of Zelda." Conducted by Eímear Noone, the new four-movement symphony recounts the classic storylines from "The Legend of Zelda' along with orchestral music from other series games. Since 1986, "The Legend of Zelda" game series has sold more than 65 million units worldwide. The Orlando Philharmonic, who will perform, is currently celebrating its 20th anniversary season offering a variety of programs from classical and pops concerts, to chamber music, staged musicals and opera productions. Visit orlandophil.org or call 407-770-0071.
Now through July 29 – "Cinderella" on Shakespeare's stage
There are so many reasons why "children of all ages" can enjoy the delightful performance of "Cinderella" currently offered by the Shakespeare Festival in Loch Haven Park. There is the parade of young princesses in the audience with 'gowns' from Orlando's most famous palace and the autograph signing – with time for each young prince or princess – after the performance, but the most fun is the playwright who has written a pivotal role for himself as a mouse. This classic fairytale is cleverly told with help from the younger members of the audience as author (and audience favorite) Brandon Roberts reminds us how a mouse can make things happen in Orlando. And with the always-inventive Patrick Flick directing this fairytale world, this Cinderella is suitable for audiences of all ages as it runs through July 29 at the Shakespeare Center at 812 E. Rollins St. Visit orlandoshakes.org or call 407-447-1700.
Now through July 13 – B-Side Artists at the City Arts Factory
A group of 'urban pioneers,' the B-Side Artists have brought their talent inside the City Arts Factory in a stunningly original and beautifully produced show that is a must-see for art-lovers of all ages. These artists continue to amaze with their unique style and content. On exhibit through July 13, the City Arts Factory is at 29 S. Orange Ave. in downtown Orlando. Call 407-648-7060 or visit cityartsfactory.com
Now through Aug. 18 – Witness to Creativity III
The Florida Museum for Women Artists presents the third in its series of installation exhibits called "Witness to Creativity III." Viewers were invited to watch the process of creation as 10 art pieces were installed, engaging the artists as to their projects, work methods and messages. The artists include: Greer Dauphin, Tallahassee; Ofra Friedman, Bradenton; Kathleen Ivers, Lake Helen; Cecilia Lueza, St. Petersburg; Deborah Mitchell, Miami Beach; Mindy Matthews, Sanford; Natasha Nesic, Miami; Deb Paradise, Helena, Ala.; Libby Ware, Port Orange; and Beau Wild, Port Orange. The works will be on view through Aug. 18. The museum is located at 100 N. Woodland Blvd. in DeLand. Call 386-873-2976 or visit FloridaMuseumforWomenArtists.org
Breaking News – ever closer to our new Performing Arts Center
Every time we walk into the Bob Carr Performing Arts Center we are reminded of how much Orlando needs the new Performing Arts Center that is being built across from City Hall. This week the builders came up with more good news as they began demolition of the building located on the future site of the Acoustical Theater. This milestone signals the Center's commitment to complete the entire project, which will eventually open doors to four new theaters including the new performance hall for the Orlando Ballet and the Orlando Philharmonic. Bravos and thanks to Mayor Dyer, Dr. Phillips Center President Kathy Ramsberger and Board Chairman Jim Pugh for making this happen. It's a legacy we will all be proud to share for generations to come.