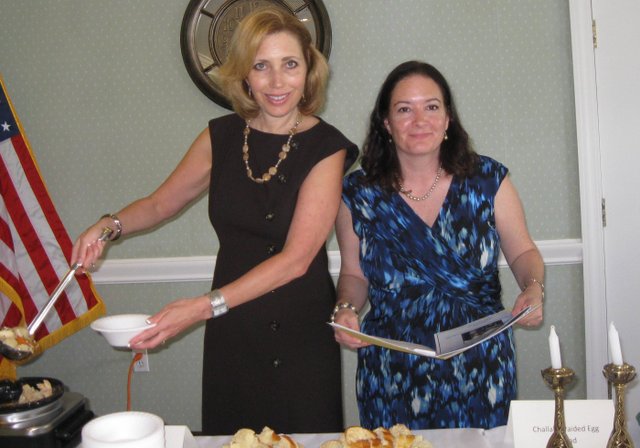 As the population ages there will be an increase in residents who will make their permanent homes in long term care facilities. Their activities directors and chefs will need to address their diverse cultural backgrounds in order to make them feel at home in their new communities. Since activities directors are rarely Jewish, the Jewish Pavilion, a non- profit that serves the elderly of all faiths in Orange and Seminole Counties, designed a booklet to familiarize long term care staff with Jewish culture. The booklet includes a list of the primary holidays and explains how to celebrate them, and what to serve. "Like many cultures, food means everything to the Jewish resident," says Nancy Ludin, executive director of the Jewish Pavilion. You can imagine how thrilled residents are to eat challah (egg bread) and noodle pudding after feasting on institutional foods.
What is especially terrific about the guide is that it encourages facilities directors to look at the cultural heritages of all of their residents and attempt to meet their needs. Most residents will prefer ethnic foods compared to the boiled chicken normally served. When the Jewish Pavilion throws a Hanukkah party, residents of all faiths are invited to partake in the festivities. By making the staff more conscious of the Jewish culture, it raises their awareness of the diversity of all cultures they currently serve.
The Pavilion's first publication, " A Guide for Caregivers of the Jewish Elderly," was the brainchild of Pamela Ruben, a professional writer (Pepperypress.com) who serves on the Friends of the Jewish Pavilion Board, and took the initiative to create the booklet. Nancy Ludin was integral in supplying and revising the contents, while keeping the focus on the Pavilion's mission, as well as on tolerance and understanding of peoples of all backgrounds.
Ludin was assisted by members of the Pavilion board, who added a personal touch with family recipes and the sharing of Judaic knowledge. The booklet contains information about welcoming the Jewish resident, kashruth, the Jewish calendar, Sabbath and holidays.
Even with a booklet in hand, some activities directors with traditional Christian views feel uncomfortable reciting a transliterated prayer, which they may mispronounce. In addition, some chefs feel uncomfortable preparing foods they have never tasted. To make things easier, Pam Ruben will facilitate a workshop for caregivers at Horizon Bay at 3p.m. on Thursday, June 21, to familiarize the staff with Jewish culture. Of course the workshop will include tastings of challah, matzah ball soup, noodle pudding, gefilte fish and other Jewish delicacies.
The Jewish Pavilion goes wherever someone in our community is in need. We are there to look after loved ones, brighten someone's day with a gift, or lift someone's spirits with a visit or holiday celebration. It's in all 50 of the long term care facilities where we come together to share our culture with residents of all faiths. It's not a place on the map; it's a place in the heart. We like to see seniors smile.
No one wants to be forgotten … it is the mission of the Jewish Pavilion to enhance the quality of life of our elders in long term care by strengthening their connection to the community. With your support, you can personally make a difference in the lives of our elderly. Visit jewishpavilion.org or call 407-678-9363.
Nancy Ludin is executive director of the Jewish Pavilion.