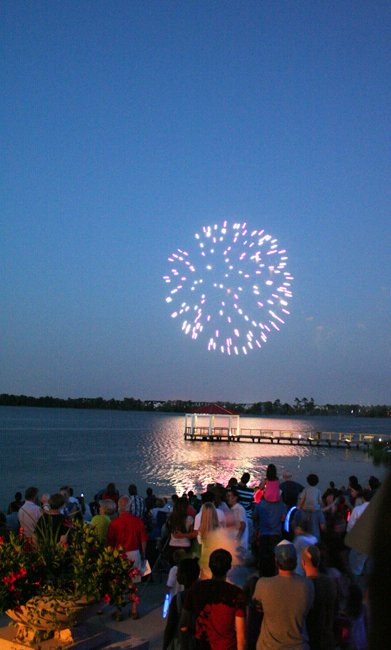 So how many fireworks shows did you attend? Every year there seems to be a new one in town. It is great how they are scattered over several days so you can attend as many as you want. Baldwin Park's continues to grow each year! The Independence Day Bash this past Sunday in the Village Center was awesome. The evening started with patrons strolling down New Broad Street enjoying good food and music by Room2, a band made up of Baldwin Park residents and the Orlando School of Music. The night ended with a spectacular fireworks show over Lake Baldwin.
Thanks to organizer Elizabeth McCarthy for making this happen, along with the Baldwin Park Joint Committee and Residential Owners Association, McKinley Properties, David Weekly Homes, Hunter Vision, Caddy Shanks, Colibri, Jack's Steakhouse, La Bella Luna, O'Boys, Paddy Murphy's, Seito and WineStyles. Baldwin Park resident and WESH 2 meteorologist Jason Brewer did a great job as the master of ceremonies and helped keep the weather at bay. A special thanks goes to the Baldwin Park Rotary Club and Young Marines for their help with the event. Can't wait until next year!
First Friday Festival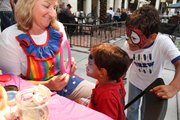 The Baldwin Park Merchants Association will host its next First Friday Charity Festival & Art Stroll on Friday, July 6, along New Broad Street from 5 p.m. to 10 p.m. Visit the event's Facebook page, Baldwin Park First Friday Festival & Art Stroll, for more information. More than 40 artists and vendors are participating.
Orlando Food Truck Bazaar
The Orlando Food Truck Bazaar 2nd Sundays will be at Fashion Square Mall on July 8 from 6 p.m. to 9 p.m. with more than 30 trucks participating. If you haven't tried this latest craze… try it! Think tailgating, as seating isn't provided. Many local eateries are participating. The food is great, as is the atmosphere.
Great turnout for trail walk
Thirty people gathered and spent two hours walking along the Lake Baldwin Trail and Mid Lakes Parks on June 16 with the Cuplet Fern Chapter of the Florida Native Plant Society (fnps.org). Miguel Garces with ValleyCrest Landscape Maintenance led the field trip and pointed out the use of native plants in the urban landscape. It was a great time for all who attended.
Movies in the Park
The Movies in the Park scheduled in the Village Center in June was canceled due to weather. As we all know, summertime in Orlando is a difficult time to plan outdoor events. The organizers hope to bring this back in the fall and apologize for any inconvenience caused.
Have a great month!