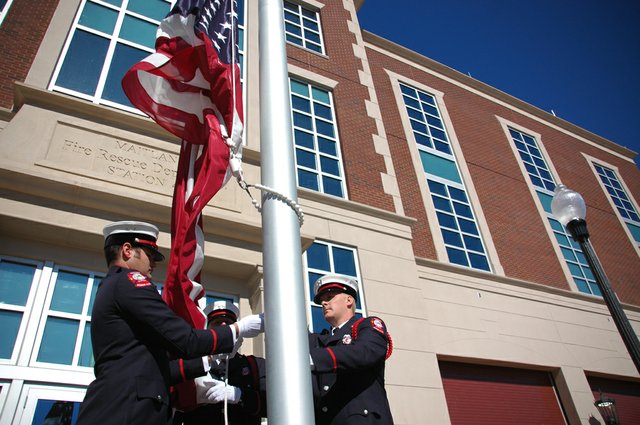 Maitland Fire Chief Ken Neuhard silently watched from the police station lobby as the ceremony for the new police station came to a close on Nov. 19, 2009.
His station on Independence Lane and the former police station were both built in 1973, along with City Hall. That scalding November day, he told the Observer that he couldn't wait to dedicate a new facility of his own.
On Thursday, Jan. 19, exactly two years and two months later, and more than a decade after the plan for a new fire station was conceived, Neuhard's day arrived.
"He worked hard and waited a long time, and this is his moment," Maitland Mayor Howard Schieferdecker said, motioning for Neuhard to come up to the podium at the dedication ceremony for the new Maitland Fire Station No. 45, located at the corner of Packwood and Maitland avenues.
"We can train, workout, study and respond all from one location. How can you beat things like that?"
—Firefighter Daniel Paiva
The hundreds of residents and officials that gathered inside the new station's roomy engine bay rose from their chairs and cheered as Neuhard took the stage.
"It is with a great deal of pride … that I usher in the future of public safety to the residents," Neuhard said. "There's been a lot of blood, sweat and tears put into making this a reality but it's all been worth it. … This is the cornerstone of our new downtown."
The $3.8 million, 15,500-square-foot, three-story fire station is "the personification of what a traditional station should like," Neuhard said, adding that some folks have told him, "Now that is a real fire station."
Schieferdecker agreed. "This is the foundation on which to build Maitland's future," he said.
New home
Firefighters in dress blues proudly guided attendees through a tour of the three-story station on Jan. 19. The living quarters boasts individual "dorm-style" rooms — in the old station, members slept in the same room on bunks — and there are two locker rooms, one for men and one for women. The genders had to share before.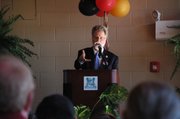 There's also an expansive kitchen complete with food pantries and refrigerators for each of the three shifts. In the last station, there had been a problem with shifts swiping each other's food, one firefighter said with a laugh. That won't be happening anymore — there's a lock on these cabinets.
The dining room table, painted with a red and black stripe, is emblazoned with "Maitland East Side Express." There's a "day room", complete with six puffy recliners — donated by the Friends of First Response Maitland — and a large flat-screen TV. There's also a workout room with universal gym equipment that was donated by Councilman Ivan Valdes.
There's a meeting room, an office with laptop hookups, a laundry room with shiny new machines, and firefighters can practice rappelling off the backside of the building whenever they want.
"It's hard to compare," Firefighter Daniel Paiva said about the old and new stations. "We can train, workout, study and respond all from one location. How can you beat things like that?"
All of the fire administration members have offices on the third floor — they used to be housed off site in rented space.
The tiny lobby holds a special significance to all of the department's members. A section of steel debris from the Twin Towers of New York City's World Trade Center is encased in a memorial for Sept. 11, 2001. Friends of First Response commissioned the lobby's mural — a firefighter holding a folded American flag among the debris — created by artist Dee Squartino.
"We will do our best to preserve and use this station to its full potential and serve with pride, honor and integrity," Neuhard said.
Dream to reality
The fire station, along with the police station and the underway city hall, was funded through a 2005 tax referendum in which citizens approved the borrowing of $8.5 million. The fire station project, however, had been on the drawing board for 12 to 13 years.
The project was delivered on time and under budget, architect John Cunningham of ACi said. The city hall project, he said, should be completed within six months. Community Development Director Dick Wells said the budget savings — about 5 percent — will be returned to the construction fund.
"Chief never believed this could happen," Cunningham said, "and if you could see the smile on his face right now…."
For the history books
The Maitland Fire Department had its origins in the 1920s as a volunteer department. In the early 50s, volunteers constructed the first station. In 1973, Station 45 was built on Independence Lane along with the police station and city hall complex. In 2004, a second fire station opened on the west side of the city. The department received accreditation from the Center for Public Safety Excellence in 2009.
Today, there are 16,000 Maitland residents, but there are 25,000 people in the city during a typical business day because of all of the city's office complexes. The Fire Department gets about 3,400 calls for service each year, Schieferdecker said.
"Today marks a new milestone," Neuhard said. "Even more importantly it is the date the city set the standard for things to come."