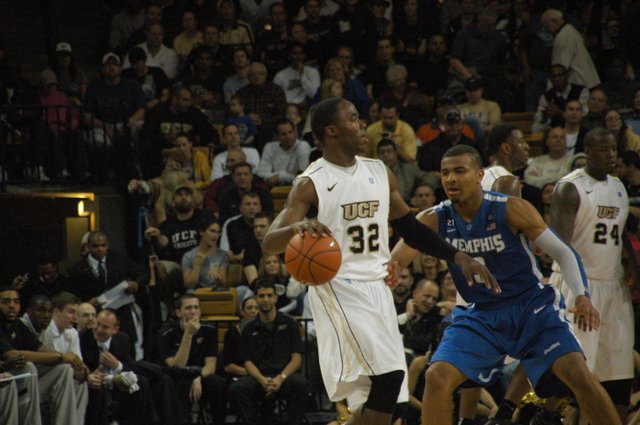 The UCF Knights shrugged off a loss at Rice on Feb. 22 to come back home and decimate UTEP 63-45 in front of the home crowd for the second to last time this season.
And they did it all with little playing time from regular starters A.J. Rompza and Josh Crittle. While those two key players were resting on the bench, freshman Kasey Wilson got his UCF starting debut at forward, picking up four points and four rebounds, and leading the team with three blocks. Two more freshmen, Rod Days and Wayne Martin, each had some playing time as well, with Days picking up two points and two rebounds, and Martin snagging a turnover in only a minute on the court.
Isaiah Sykes again led the team in scoring with 23 points, collecting 11 rebounds for a double-double in the game.
He needed them all after the Knights let a lead slip and let the struggling Miners tie the game at 29-even. But after early second half sluggishness they ran up a massive scoring gap to run away with the lead and the win.
That was sweet redemption after the game before, when the Knights (20-8, 9-5) blew a 20-point lead against Rice to lose a game that would have put them in a tie for second in the conference.
They fought to start a winning streak at Memphis on Tuesday night at press time, but will return home for a final regular season game against UAB (13-14, 8-6) at 7 p.m. Saturday.
The only time the two teams faced each other this season, the Knights won in Birmingham by a score of 48-41, one of the lowest scoring games in team history. It was also the first time the Knights had ever beaten the Blazers.