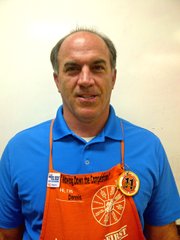 On Jan. 1, a multi-year phase out of incandescent light bulbs began as part of the nation's move toward clean energy. Consumers will notice changes in the light bulb aisle with a new array of energy efficient options, but there is still quite a bit of confusion surrounding the transition to these bulbs and new technologies. In fact, nearly half of homeowners in the U.S. are unaware of the legislation changes, and 77 percent are still using the standard incandescent bulbs to light their homes.
Energy-efficient lighting options
The new energy-efficient lighting technologies include LED, CFL and high-efficiency incandescent bulbs. Replacing standard incandescent bulbs with energy-efficient lighting options will bring immediate savings on electricity bills. The most innovative technology, LED bulbs, require higher upfront costs, but use 85 percent less energy than the standard incandescent while emitting the same amount of light and last about 23 years, meaning changing them happens less often.
Compact fluorescent lamps, or CFLs, provide a great solution for homeowners looking to save energy without a large initial investment. CFL bulbs use 75 percent less energy than traditional bulbs and last about nine years. CFLs come in three-color temperatures – soft white, bright white and daylight – with more range and options for consumers for different uses. The Home Depot offers CFL recycling for light bulbs.
High-efficiency incandescent bulbs offer an easy transition for traditionalists, as they look and light just like the standard incandescent bulbs. Additionally, the high-efficiency incandescent bulbs are an affordable option that requires the least upfront investment. The bulbs last two to three years and are 28 percent more energy-efficient than standard bulbs.
Learn the lighting lingo
With new lighting technologies comes new lighting lingo that can make the light bulb shopping experience baffling for some consumers. As LED, CFL and high-efficiency incandescent bulbs are gaining popularity, watts are no longer the only source of measurement. Watts measure the amount of energy used in a bulb, whereas lumens measure the bulb's brightness. For instance, if a light bulb label designates a higher number of lumens, the bulb will emit a brighter light.
The color temperature, which describes the light's appearance in terms of warmth or coolness, is expressed on the Kelvin scale. Low Kelvin numbers, around 3,500 to 4,100, represent warm, soft light and would be best used in kitchens and bathrooms. High Kelvin numbers of about 5,000 and above are considered cool, bright lights and would be better suited for reading rooms or workspaces. The higher the Kelvin temperature, the closer the light's output will be to true sunlight.
Additional cost savings
Homeowners can also use dimmers to save energy and set the mood in any room. Advancements in technology, such as Lutron dimmers, have made it possible to dim LED, CFL and high-efficiency incandescent bulbs to use less energy when bright light is not needed. Dimmers are compatible with most efficient bulb technologies and enable consumers to adjust brightness to suit their desired level.
To learn more about energy-efficient lighting visit your local The Home Depot store or HomeDepot.com/lightbulb.
Dennis Halligan is store manager of the Home Depot on Narcoosee Road in Orlando.