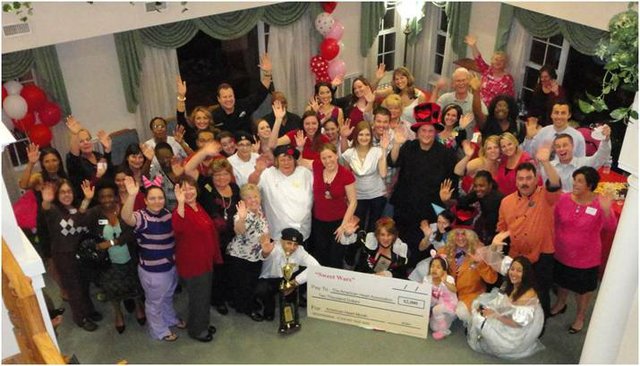 Sweet success
Indigo Palms at Maitland was bristling with excitement as community members and area healthcare professionals and organizations came together to sample an array of tasty desserts, network with peers, socialize with friends and support a great cause. Samaritan Care Hospice of Florida's first "Sweet Wars" dessert competition to benefit the American Heart Association, held on Feb. 9, was a resounding success. Thanks to the efforts of the dessert competitors, event sponsors and the community, Sweet Wars achieved its fundraising goal of $2,000.
FSYO concert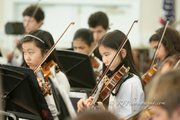 On Sunday, Feb. 12, the Florida Symphony Youth Orchestra played their annual Celebration of Music Education Concert, which honored Central Florida music educators and highlighted the many benefits of music education. This concert was part of United Arts of Central Florida's ArtsFest 2012.
A new beginning
Habitat for Humanity of Greater Orlando Area recently welcomed the Clarke family to their new townhome at Stag Horn Villas, the nonprofit's first multifamily community. Habitat is in the final stages of constructing Stag Horn Villas – currently, 41 of 58 units have been completed.
Mica versus Adams
Congressman John Mica will seek reelection for the congressional seat representing the 7th District of Florida, which includes Orange, Seminole and Volusia counties. Congresswoman Sandy Adams will challenge Mica in the district.
Food drive
The greater Orlando area will host the JFS Feinstein Challenge from March 1 to April 30.
Every year, Jewish Family Services (JFS) teams up with the Feinstein Challenge $1 Million Food Drive, a national hunger awareness campaign, by collecting non-perishable items, canned goods and cash donations for its food pantries. JFS is reaching out to the community to "Help Fill the Cart." Conduct a food drive in your neighborhood or office and help supply the groceries for a family in need. JFS will be happy to provide you with all the supplies: a collection bin, flyers and posters. You may also drop off individual donations of food or mail checks to JFS at: 2100 Lee Road, Winter Park 32789. jfsorlando.org/events.html
Forging connections
The Orlando Museum of Art announced the beginning of a new program that connects developmentally disabled students to art and the world around them. This program, Creative Connections, is designed for third through eighth grade students. Although the first tour on March 4 is already sold out, other tours are scheduled at 11:30 a.m. for April 1, May 6, June 3, July 1 and August 5. The cost is $8 per adult, $5 per student, and $15 for families (up to 4 participants). Call 407 896 4231 extension 262 to register. Each program has limited attendance.
Opera star from UCF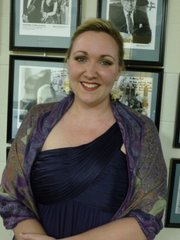 Samantha Barnes, Soprano, a graduate of UCF Opera Program, won first place in the Regional Competition of the Metropolitan Opera Auditions. Samantha will proceed to the Semi Finals in New York on March 11. The Grand Finals Concert will be March 18, where the final winners will be chosen.
New Happy Meal
McDonald's restaurants in the Orlando metropolitan area launched a new Happy Meal on Monday that automatically includes Apple Slices (¼ cup or ½ serving) as a side, and choice of beverage, in which fat-free chocolate milk and 1 percent milk will be options. The meal also includes a new smaller size French Fries (1.1 ounces). For customers who prefer apples only, an additional bag of Apple Slices is available in lieu of fries.
Greek trip with Josh
Adventurous "student-travelers" from ages 16 to 80 may join Observer Arts Columnist Josh Garrick as he leads a three-week college course for Americans who wish to immerse themselves in a Classical Greek experience. Whether you follow the course-work for 3 college credits or simply turn "study-time" into time on Greece's magnificent beaches, this small-group trip provides access to Greek sites and beaches that no "bus-group" could include. Email studyabroad@sva.edu.
Be a mentor
Junior Achievement (JA) of Central Florida has partnered with the City of Orlando on its "Path Finders" initiative. Volunteers are needed to serve as career coaches and mentors for middle and high school students. For more information, visit www.jacentralfl.org, email pathfinders@jacentralfl.org or call 407-898-2121, ext. 36.
Display your art
The Winter Park Public Library is now taking applications for artists who would like to exhibit their work as part of its continuing Community Room revolving art display during 2012 or the first half of 2013. Artists' work will be displayed in the Library's Community room for one-month periods. All interested artists should send an artist statement/biographical sketch accompanied by four to six digital images representative of the work to be displayed to mgcoffee@wppl.org. Deadline for submissions is Monday, Feb. 13.
Volunteer for literacy
The Foundation for Orange County Public Schools is asking the community to consider volunteering for one hour a week during the school year in order to improve literacy in children though the Read2Succeed program. Go to www.foundationforocps.org to register as a mentor today.
Help build wheelchair ramps
The Center for Independent Living (CIL) is in need of donations and volunteers for RAMPAGE, an annual, one-day event on Wednesday, Feb. 25, where volunteers will build wheelchair ramps. To donate, or for more information, please contact Lindsey Koeneman at 407-623-1070 ex. 127 or LKoeneman@cilorlando.org
Send submissions to editor@observernewspapers.com