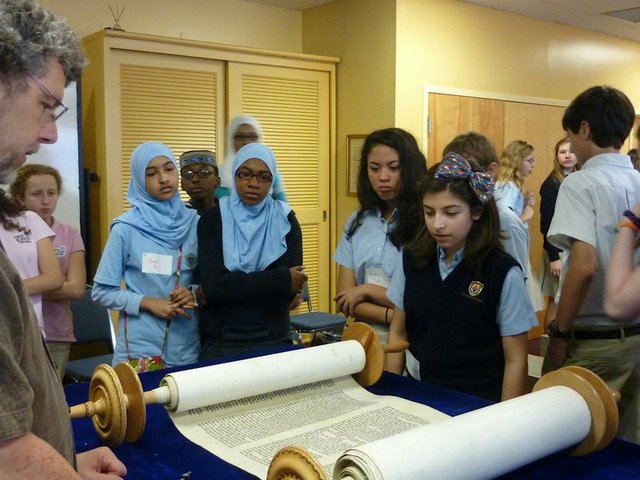 Invention convention
On Wednesday, Feb. 1, Jewish Academy of Orlando held its annual "Rube Goldberg" Invention Convention in the school's Multipurpose Room. Their challenge was to work in groups to create a machine, using at least 10 steps and no form of water or electricity to put a paper wad into a trash bin. They had to be able to fit their contraptions (unassembled) into two shoeboxes and then assemble the full machine in less than 10 minutes. Pictured are team members Max Reis, Elizabeth Gordon, and Sam Freed rejoicing when their invention, "The Paper Tosser 2000", successfully completed its task.
Hiaasen drops by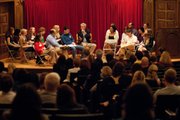 On Feb. 2, three-time Pulitzer Prize-nominee and best-selling novelist Carl Hiaasen kicked-off Rollins College's Winter With the Writers event. Throughout the event, renowned writers share their work and expertise with students and the community. Visit rollins.edu/winterwiththewriters for an event schedule.
Presidential scholars
Trinity Preparatory School seniors Harry Pham of Winter Park and Sam Savitz have been selected as candidates for the 2012 United States Presidential Scholars Program, one of the nation's highest honors for high school students, as a result of their outstanding performance on the ACT or the College Board SAT. They are among the 3,000 candidates recently invited to submit applications for the program competition. About 20 males and 20 females from each state are part of the program competition each year.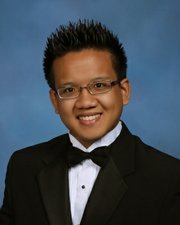 False alarm at Wine Room
On Saturday Jan. 28, at about 11:45 p.m., a white female activated the fire alarm at the Wine Room located at 270 S Park Ave. in Winter Park. This is a photograph of the suspect. If you have any information that could lead to identifying her, please contact Crime line at 407-423-TIPS or the Winter Park Police Department at 407-644-1313.
Garage sale
The Maitland Men's Club is having its annual Garage Sale on March 2-3 in the former Winn-Dixie parking lot in Maitland. The Club uses the proceeds to support "Christmas for Children". The Men's Club is accepting donations every Saturday morning in the Royal Plaza shopping center parking lot from 8 a.m. to noon, and it has trucks and trailers available to schedule pick-ups. Call Phil Bonus at 407-694-8737 for more information.
State of the city
CMF Public Media has posted "Winter Park: State of the City Address 2012". Hear the 2012 Winter Park State of the City Address presented by Mayor Ken Bradley. In a separate segment, hear the presentation of the Employee of the Year Awards and remarks by the luncheon sponsors. Visit tinyurl.com/cmfwpaddress
Student honors
Grace G. McNair of Maitland has been named to the Dean's List for the fall semester at Samford University.
Jesse Carl Smith V of Winter Park has been named to the Dean's List at Clemson University for the fall 2011 semester.
Jonathan Hill, a resident of Maitland and a senior at Southern Methodist University in Dallas, is listed on the honor roll with distinction.
Darian A. Welsh of Winter Park, a SUNY Canton Construction Technology Management major, made the Dean's List.
Be a mentor
Junior Achievement (JA) of Central Florida has partnered with the City of Orlando on its "Path Finders" initiative. Volunteers are needed to serve as career coaches and mentors for middle and high school students. For more information, visit www.jacentralfl.org, email pathfinders@jacentralfl.org or call 407-898-2121, ext. 36.
Display your art
The Winter Park Public Library is now taking applications for artists who would like to exhibit their work as part of its continuing Community Room revolving art display during 2012 or the first half of 2013. Artists' work will be displayed in the Library's Community room for one-month periods. All interested artists should send an artist statement/biographical sketch accompanied by four to six digital images representative of the work to be displayed to mgcoffee@wppl.org. Deadline for submissions is Monday, Feb. 13.
Volunteer for literacy
The Foundation for Orange County Public Schools is asking the community to consider volunteering for one hour a week during the school year in order to improve literacy in children though the Read2Succeed program. Go to www.foundationforocps.org to register as a mentor today.
Help build wheelchair ramps
The Center for Independent Living (CIL) is in need of donations and volunteers for RAMPAGE, an annual, one-day event on Wednesday, Feb. 25, where volunteers will build wheelchair ramps. To donate, or for more information, please contact Lindsey Koeneman at 407-623-1070 ex. 127 or LKoeneman@cilorlando.org
Send submissions to editor@observernewspapers.com