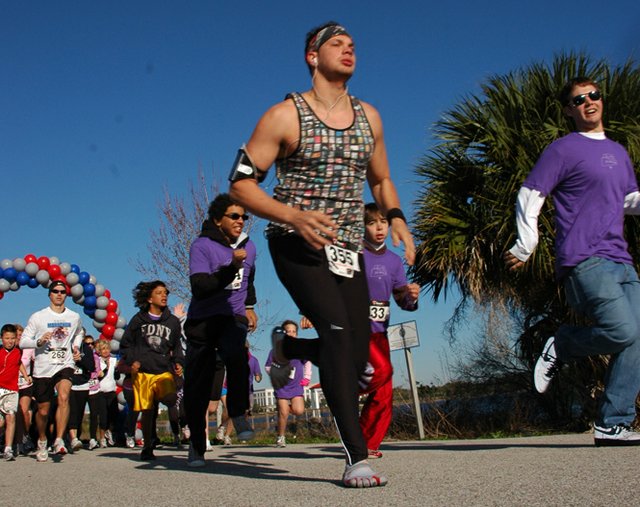 Learn more
Moving Towards a Cure 5k is Saturday, Feb. 11, at Lake Baldwin. Online registration gets cut off on Feb. 8, but those interested in participating can still register on the day of the event. For more information on this year's walk/run, go to tinyurl.com/moving-towards-a-cure
About 28,000 children in the U.S. are living with the diagnosis of a primary brain tumor, according to the Pediatric Brain Tumor foundation. Seventy-one percent of children diagnosed with a brain tumor are younger than 15.
Runners are ready to lace up their shoes and hit the pavement in the name of finding a cure for brain cancer.
On Feb. 11, nonprofit Miles for Hope will be hosting the second annual Moving Towards a Cure 5k walk/run and a one-mile family run at Harbor Park in Lake Baldwin to raise money for pediatric brain tumor research.
Last year's event in Orlando focused on funding research for adult brain tumors and raised $39,923, said Belinda McAbee, fundraising coordinator for Miles for Hope. The goal for this event is to raise $60,000 that will go toward a $250,000 grant for pediatric brain tumor research.
This year's ambassador is Blake Appleton, an 8-year old boy who lives in Lake Wales and suffers from brain cancer. He's been in the national spotlight recently, having the opportunity to meet both Dwight Howard and Tim Tebow.
Appleton was diagnosed in January 2008, and after four years battling the disease, he asked his mother, Miranda Appleton, to end his chemotherapy treatments. In a post she put on her son's Facebook page, she said her son told her, "Mommy, I love you and please don't be unhappy with me, but I don't want to do the chemo."
She honored his wishes. Blake's doctors told her that he would not go into remission even if he continued the treatments. She feels that sharing her story with others is important.
"It makes me feel good that I can share Blake with so many people, and so many people be touched and inspired by him because of what he's going through," Appleton said. "He's literally been fighting for his life for the last four years, and even though he's been fighting for his life, he chooses to try and stay positive and he'll live his life to the fullest and be happy."
Her son suffers from what is known as anaplastic medulloblastoma, Appleton said. Medulloblastomas account for about 20 percent of childhood brain tumors and have survival rates that range from 60 to 80 percent, according to St. Jude's Children's Research Hospital. Appleton said he still does most of what he used to do before being diagnosed with cancer.
"There's really not much that he did before that he can't do now. There's some things he can't do as well," Appleton said. "Before he got sick, he could ride a bicycle without training wheels, and now it's difficult for him to ride a bike at all because it takes physical ability to be able to ride a bike. He'll still go out there and ride his bike."
Miles for Hope is a nonprofit organization that raises funds and awareness for brain tumor research and clinical trials, and also provides travel assistance to qualified brain tumor patients. Last year's 5k event was attended by about 500 people, McAbee said. This year, they are hoping to get more than 500 people to participate. There will be a complimentary continental breakfast and local food vendors will be on site. McAbee said they will have access to 911 and other emergency services, should they be necessary for medical emergencies.
Melessia Adams, a 20-year-old junior pre-medical student at the Florida Hospital College of Health Sciences, will be volunteering at this event for the first time. She found out about the event when she was searching online for volunteer work. Adams hopes her involvement will shed some light on this issue.
"I hope it will bring more awareness to others about it, maybe bring in some funds to help those who need money," Adams said.
Adrienne Kaltenschnee, a resident of Longwood, is participating for the first time. She was inspired to participate due to her own experience with brain cancer. Her son, Christian Kaltenschee, was diagnosed with brain cancer in February of last year and died on Oct. 27. She said her own contribution to the cause of fighting brain cancer began with her son.
"My son was a giver. At his celebration service, we collected hats, and that was kind of the start of what we did," Kaltenschee said. "Everyone who participated in the celebration service or attended brought in a new hat to donate to other kids that are still fighting cancer."
She said she collected more than 400 hats, which she donated to Florida Hospital South and New Hope for Kids. She also donated some hats to the radiation department of Florida Hospital.
Appleton said that although her doctors may not necessarily agree with her, she continues to want her son to live as full a life as possible.
"I didn't ever want to put boundaries on him, on what he was allowed to do and what he isn't allowed to do," Appleton said. "They understand how I feel about it and that I didn't want Blake's cancer to rob him of his childhood.
"I pretty much let Blake do whatever it is he's wanted to do within reason. I've been close by just to make sure that nothing happens. Blake gets to live a life as normal as possible."