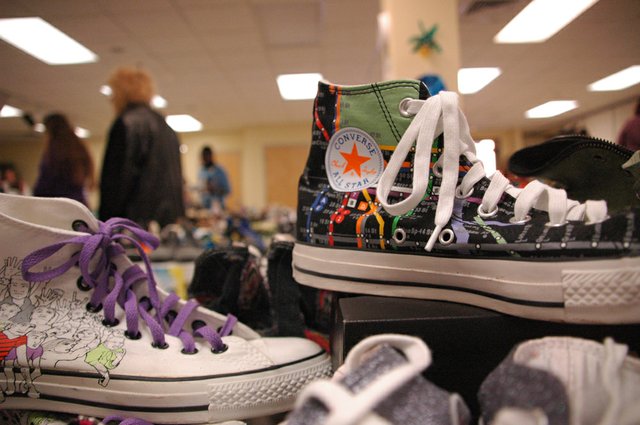 A walk into the record books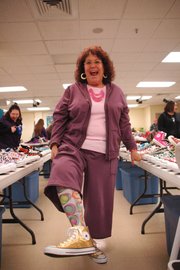 Penny Gold threw away the first pair of Converse Chuck Taylor All Star sneakers she owned, but she's spent the rest of her life making up for it. Seven hundred and thirty three pairs later, she may own more Converse shoes than anyone else in the world. "A walk into the record books" in the Jan. 12 Observer detailed the long journey between Penny Gold's first and most recent pair of Converse shoes, with a Guinness World Record thrown in for good measure. To read the rest, visit tinyurl.com/Converserecord
Waiting to say 'I love you'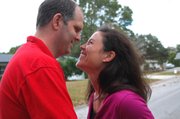 She asked him what his idea of heaven was like. Always devoted to his favorite baseball team, there was only one answer. "He said, 'being at a Red Sox game in Fenway Park with my family and friends and a beer and a hotdog,'" she said.
A community came together to help a family have one great final year with husband and father Jeff Van Son. Parties, a Christmas of miracles and dreams come true made Jeff's final year one worth knowing about. "Waiting to say 'I love you,'" published in the Feb. 9 issue of the Observer, chronicled the story of the Van Son family slowly saying goodbye to the father they once knew, diagnosed at age 38 with frontotemporal dementia. Jeff passed away June 15, but not before he learned to say "I love you" a million new ways. To relive their story, visit tinyurl.com/VanSons
Skater takes flight amid chaos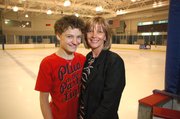 A quiet calm follows Liam Thomas as he glides out onto the ice of RDV Sportsplex on a chilly Thursday morning. The steel blades of his skates skim effortlessly over the surface as movements flow together faster, faster, building to a spinning, gravity-spurning leap into the air. Then he flies away. Overcoming the diagnosis of more than a dozen physical and mental disorders from stunted growth to autism, Liam has found refuge and success on the ice. Following a diagnosis of her own in late-2011, Liam's mother Jan was given a prognosis of six months to live. News spread, and the Maitland community gathered to support her medical needs and Liam's Olympic dreams. Revisit the Observer's story "Skater takes flight amid chaos," published June 21, at tinyurl.com/LiamThomas
Kids with cancer bring community together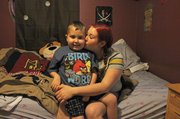 Calls for love for London and cheers for Caitlin echoed throughout the Central Florida community this year. They were two of the estimated 200 children to be diagnosed with DIPG—a uniformly fatal and incurable form of brain cancer— this year, living less than 20 miles away from each other, and diagnosed three months apart. Family, friends, neighbors and strangers from throughout the Central Florida community and beyond worked to celebrate and support both children's lives through fundraisers and events throughout the year. To read their stories from the May 17 issue of the Observer, visit tinyurl.com/LoveForLondon
Saving the sages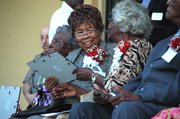 It had been a rush to interview the 18 members of the Sage Project, all of them 85 years old or older, before it was too late. Between the moment the project started in April 2011 and the official unveiling, four of the interviewees died of old age. "Saving the sages" told the story of stories, chronicling Mary Daniels and Fairolyn Livingston's project to record the memories of Winter Park's West Side's oldest residents before it was too late. To read about it, visit tinyurl.com/Sageproject
Winter Park alumna leads row across Atlantic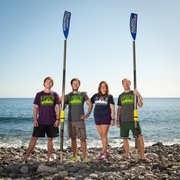 A team of four rows a 29-foot-long boat. It's a speck in the Atlantic Ocean, minuscule compared to the three-story waves and 50-mph winds it battles. Saltwater smacks the team members' skin, and the only space they have for refuge is a tiny cubby not large enough to sit up straight in. In "Winter Park alumna leads row across Atlantic" in the Feb. 2 issue we told the story of a Winter Park High School alumna who set out to sea not knowing if she'd make it all the way, or survive the journey. Read it at tinyurl.com/Rowingtheatlantic
Little Free Library opens at Fleet Peeples Park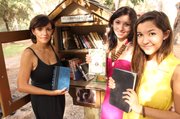 A book, Alanna Leaptrot says, can change your life. Bound pages fitted between paper or cardboard, cemented in order with staples or glue, she says, can transport you around the world with a few flips and turns.
That's why Alanna, her sister Kiara and mother Jannette Matos worked to put together Winter Park's first Little Free Library, a tiny book exchange for readers to pick and choose as they please. But they didn't stop there. To read the story "Little Free Library opens at Fleet Peeples Park" from our Sep. 20 issue, visit tinyurl.com/Leaptrotlibrary