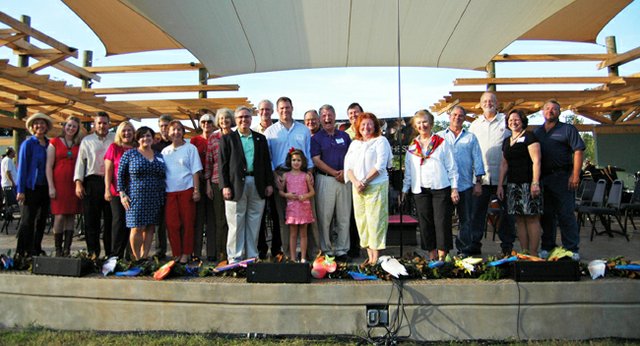 The hum of bowed strings lifted from the stage for the first time Sunday night, welcoming at once The Grove amphitheater and the thousand audience members listening to a moment in history. Mead Garden, for years a struggling nature preserve, finally had a place to play.
The night the Grove made its first music had been years in the making, from the first mention three summers ago until that moment Andrew Lane, conductor's baton in hand slammed home the final note that reverberated into the evening air.
"I finally get to perform on a really beautiful stage," Lane said, moments before alighting it as conductor for the first time. Though the Florida Symphony Youth Orchestra conductor characterized the duration of its musical gestation as less of a concerto and more of a single measure, the word 'finally' strikes a chord. He had been with this project from the start two and a half years ago.
From the moment Lane had approached Winter Park Parks and Recreation Director John Holland with the idea, he had no idea what to expect. But by the time it was done, the list of donors and volunteers was more than 200 names long.
"You look at any project, and this is as smooth as it gets," Mead Botanical Garden Treasurer Stephen Schenck said. It had to be. For many like Schenck, this would be their children's stage.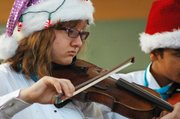 And it would be the FSYO's main performance venue. Lane had already looked elsewhere for a potential site, but when he found the quiet backdrop of Mead Garden, and the residents nearby who wanted to help, he knew he'd found the FSYO's new home.
Looking out at the stage just moments before showtime, he said it wasn't a difficult journey.
"People wanted this to happen," Lane said.
And so they did, as hundreds of thousands of dollars trickled in — including a quarter million from an anonymous friend of the FSYO — and the stage began to take shape, at least in their imaginations.
But how do you build a stage on the edge of a wetland? Ask Eric Miscoe with A.D. Owens construction makes it sound easy. Take 10 giant wooden stilts and sink them 40 feet underground, cover them in one million pounds of concrete, and voila.
The word 'sink' is something Miscoe said won't apply here, even if the land the theater was built on was landfill from other city projects.
"That's what it was designed for, so it wouldn't sink," he said.
Quite on the contrary, Mead Botanical Garden Board Member Jeffrey Blydenburgh said, at least metaphorically speaking. The Grove's purpose is more of the Garden's phoenix.
It's all part of a $900,000 project meant to serve as a nexus for the resurrection of a city park and nature preserve that had languished for years. Blydenburgh had taken the reins to push for more city funding and to turn it into an event venue to help the park pay for itself as it gradually weaned itself off of city funding.
The goal is for the park to eventually be almost totally financially autonomous, and do so without visitors even noticing.
"From a financial point of view, we want to use this as an event venue, so money goes back into the garden," Blydenburgh said. "Our goal is to never have to charge admission to the park."
Eventually he hopes, with the help of neighbors, friends and the city, the vision of a fully revitalized Mead Garden will come true. And in the meantime he's setting that resurrection to music.
"It just keeps growing and growing," Blydenburgh said. "And it's being built by the community."