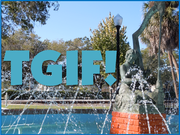 Okay, I'm exhausted.

This is TGIF in large, neon letters. I may nap most of the weekend.
But . . . before I get to that, a few closing thoughts.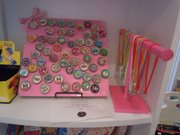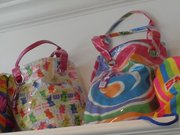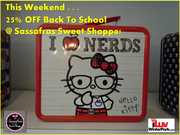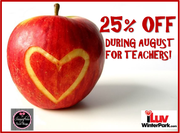 Today on ILUVWinterPark.com a number of new promotions from the sweetest shop on Park Avenue, Sassafras Sweet Shoppe. Sassafras has some terrific unique items for back to school, from bags and lunch boxes to notebooks, pencils and erasers. This weekend they're all 25% off! And, all during August Sassafras is offering Local teachers 20% off their purchases for anything / everything with a school ID, badge, pay stub, etc. It's Sassafras' way of saying: THANK YOU, teachers!
While I was in the store today I also snapped a few pics, including some of the super colorful bags which are included in this weekend's promotion and some cool bottle cap necklaces Manager Ashlee Workman explains it's a product which was presented on the television show 'Shark Tank,' the idea of a young female entrepreneur. Stop in this weekend for some school items and check them out as well.

Congratulations are in order! Local artist Jessilyn Park will be traveling to California in November for presentation of new wine labels for Artiste Wines. Her paintings will be featured on two labels and will be traveling to California for the reception, label introduction on November 10. Congratulations to this Local artist who's so well used social media to create buzz and tremendous success. Congrats, Jessilyn!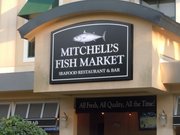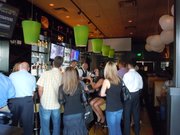 Last night's best drink at Toast in Winter Park Village, in my opinion, had to be the unique martini at Mitchell's Fish Market. It was terrific. It was nice, too, they provided a bit of food, as I was hungry. During the evening I also briefly got to check out Deja Vu Creperie, just off the main square in Winter Park Village, and Truffles Grill, ground zero for the event. Both definitely on the radar for a future lunch or dinner. Truffles was packed, has a cool vibe inside. And while I haven't eaten yet at Deja Vu Creperie, I've only heard great things.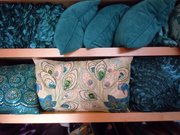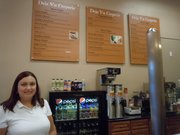 One other find during Toast . . . I wandered into Pier 1 for a quick bathroom break as I got there. It's not my usual spotlight for Local, but their peacock pillows, and others in turquoise and such, VERY Winter Park!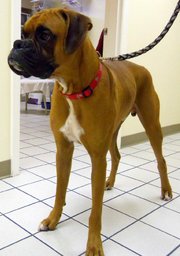 Lastly, before I go into my rendition of the Von Trapp kids 'goodbye, farewell, adieu to yeu and yeu and yeu' dance . . . tonight's 'Give A Dog A Home' is Whiskey. I LUV Boxers. If you've never had one, I'll tell you that they are each and every one as unique as the people you know. They have PERSONALITY. Or, dogality, as I sometimes say. Whiskey is now ready for his FOREVER HOME! If you are interested PLEASE contact Florida Boxer Rescue at (888) 612-5782 or check him, and others out on their website: http://www.flbr.org.