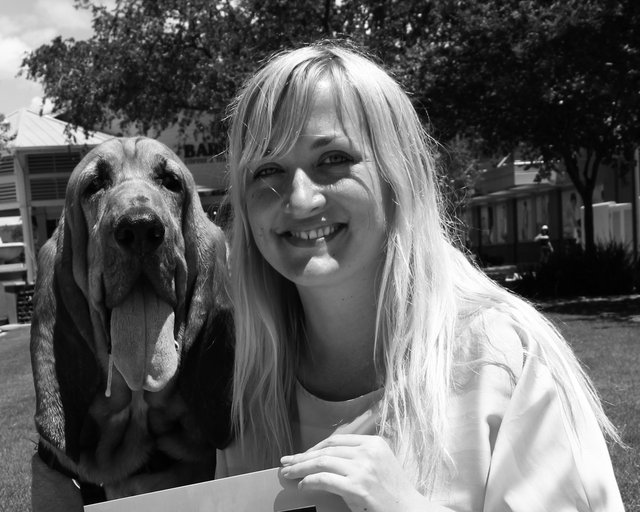 Becky and Boris Adney are both bit-by-bit beginning to make their mark in Baldwin Park.
For Boris, his fame has built up steadily, often leaving Becky barely able to catch up. But she's become accustomed to that part of the pair's relationship. "It's usually where he wants to go, when he wants to go," she said. "I'm just hanging on for the ride."
Boris, even with his nose toward the pavement, can't keep his admirers away. He can barely take four steps down New Broad Street without someone stopping to admire him, or pointing and calling from afar.
"Oh my, isn't he handsome?" they say. "What a character!"
A man of few words, he leaves the talking to Becky. And though he doesn't mind modeling for a camera, Becky is in tow to offer you a printed portrait of him she's handcrafted for your forever enjoyment at a reasonable cost.
There are only two occasions in which the bumbling Boris will interrupt: if you're accompanied by a dog or if he smells that you've brought along a snack. In those cases, mild-mannered Boris will speak up for the world – or maybe just all of Baldwin Park – to hear.
"In here you can sometimes hear him before you see him," Baldwin Bark owner Ashley Liguori says. "I think he needs a theme song or something."
In her shop, it's a double whammy of dogs and delicious treats, and sometimes, big ol' Boris just can't contain himself. His inner hound comes out. A howl to top all others escapes, and with a shake of his head, so does a splattering of slobber, which sticks to the dog supply-filled shelves around him.
One look into his big droopy brown eyes, and an apology is unnecessary; though Becky does offer one on her beloved drooling bloodhound's behalf. She's glad her small glimmer of spotlight in the shop is set high enough to escape the splash zone. Set on a shelf behind the shop's counter sits Becky's business card, which reads "Boris and Beck's Dog Art Prints"
"Artist: Becky Adney."
"Muse: Boris the Bloodhound."
Unlikely inspiration
At the top of most artists' lists of inspiration, there probably isn't a 5-year-old, droopy-eared, 100-pound bloodhound, but maybe that means Becky Adney isn't most artists.
Though she's been creating art decades longer than she's had Boris, the Freedom High School art teacher says since she adopted the bloodhound through a rescue in Gainesville a year and a half ago, he's given a new spark to her art.
In December, Becky decided to temporarily ditch the large-scale home-décor pieces she'd been painting and selling, and take her art to the dogs. She now specializes in crafting linoleum block print portraits of her customers' favorite pooches.
"I probably never would have picked dogs if it wasn't for him… but there's something that's so much fun about working with dogs," she said. "They just make you laugh."
Bloodhounds, beagles and boxers, the University of Central Florida graduate is slowly working her way to her ultimate goal of making prints of all of the top 100 breeds in the U.S. She's up to 20 so far, and also offers custom portraits of customers' dogs for an additional fee.
Medium matters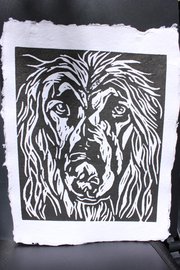 Though she moved to Baldwin Park three years ago after falling in love with the small-town, community feel, Becky is just starting to poke around the local art scene. Busy with her art students at Freedom High School in south Orange County during the school year, the summer, she says, is the only time she has to focus on her art and her art alone.
In the classroom she focuses on teaching her students the basics of figural drawing and the art of painting what they see in the world around them. Much of the art she does on her own time is less by the book.
"I try to practice art for a cause," she said, stressing the importance of not only using environmentally friendly materials but using her craft to give back. Last year she and her students participated in an art auction for the Pink Ribbon Princess Foundation, raising nearly $2,000 to benefit breast cancer patients.
She's made entire paintings from melted chocolates, other works from rain barrels and many from recycled materials. But she always comes back to her one preferred medium.
"Print making is my favorite," she says. The perfection-necessary process of carving the design of the print into the linoleum backing, and then inking it up to produce a high-contrast print, she says, is the most rewarding of all her projects.
Combining that love with the inspiration she found in Boris' sweet, slobbering persona makes her dog art prints the best of all her worlds combined.
"He makes everything in my life more enjoyable," she says as she rubs Boris' drooping, wrinkled face. "He's just made my life so much happier."
She doesn't mind if on the street his spotlight outshines hers, because in her art and her life, he is the star.