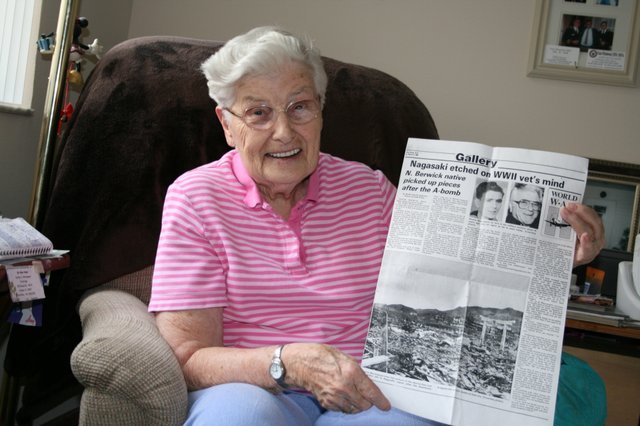 Seventy-six veterans and widows of the fallen were honored during a special Fourth of July observance by Cornerstone Salutes! and the Cornerstone Hospice staff. These often faceless and largely forgotten aging warriors of the United States armed forces sacrificed a portion of their youth and sometimes decades of their lives. This Salutes! honored 25 veterans largely from WWII, Vietnam, Korea, and 51 widows residing at The Bridge assisted living community on Rouse Road, said Ann Harr RN and regional team manager for Cornerstone Hospice.
"We are pleased to have partnered with The Bridge assisted living community of east Orlando in this recognition to veterans and widows of the fallen residing at this great facility. It's the least we can do to recognize their sacrifice on behalf of our nation," said Mary Manrique, CEO of nonprofit Cornerstone Hospice.
Among the widows recognized on this Fourth of July observance was The Bridge resident Carolyn Wormwood, widow of U.S. Navy officer Wayne Wormwood, who was one of two Navy officers entrusted with photo-documenting the aftermath of the effects of the 'Fat Man' atomic bomb dropped on Nagasaki on Aug. 9, 1945. Originally from North Berwick, Maine, Wayne Wormwood enlisted in the Navy becoming a medical technician. Destiny would place him aboard the USS Sanctuary, anchored on Okinawa Bay awaiting orders to proceed to Nagasaki immediately after the detonation. He and another fellow officer used a 4x5 Graphlex camera, setting up a makeshift dark room in the ship's morgue to develop their photos. To support details of her husband's assignment in Nagasaki, Carolyn showed us a sizable article published on March 6, 1990 in the Dover, New Hampshire Foster's Daily Democrat newspaper. Carolyn and her husband were married sixty-three years. They had two sons, Vance, a 15-year U.S. Navy officer and Brian, in personnel at UCF.
The Cornerstone Salutes! Fourth of July proceedings were officiated by clinical liaison Alex Newsom, himself a U.S. Army veteran who called out the names of the veterans and widows gathered in the spacious dining hall at The Bridge to receive their commemorative pins and certificates of appreciation.
Kris Munch, administrator at The Bridge assisted living community, expressed "we are honored to have residing here dozens and dozens of veterans like Joe Hand and widows like Carolyn Wormwood and Betty Ann Caracci and we are proud to be able to offer this emotional recognition jointly with Cornerstone Hospice."
Lieutenant Colonel Joe Hand served nation 39 years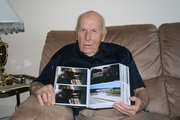 Another Bridge resident honored on the Fourth was U.S. Army Lieutenant Colonel Joe M. Hand (91), originally from Fulton County, Georgia, enlisting in the Army in 1942 "it was specifically on July 14, I recall" he is quick to clarify. Undergoing boot camp at Cheyenne, Wyoming, he was promptly sent to Fort McPherson in Atlanta, then to Abilene, Texas, then to the Denver, Colorado U.S. Army Hospital for training as a surgical technician. His unit was sent to New Orleans for further training and from there to the point of overseas embarkation at Camp Shanks, New York. From there to Bizerte, Tunisia, the northernmost point on the African continent, then quick across the border to their base in Algeria. From there, Joe Hand's medical unit serviced extreme cases flown-in from battlefields throughout Italy, although eventually they had to set up a 500-bed tent hospital outside Naples. With the European war winding down, Joe's medical unit was deployed to the Phillipines to treat the wounded from the many fighting fronts with the Japanese, "but three days out of Gibraltar the Japanese heard I was coming and they surrendered", quips this 91 year-young warrior who served his nation thirty-nine years between enlisted time and time in the National Guard. Joe married his wife Doris Jean Marchant on Easter Sunday, 21 April, 1946. They were married sixty-one years until her passing in 2007.
Michael Davies, activities director at The Bridge, specially emphasized the recognition being granted to fifty-one widows of fallen warriors, indicating "widows are a largely neglected segment, but we are elated to have this opportunity to recognize our resident widows and provide a certificate of recognition for their fallen husbands".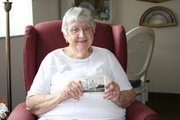 Widow Betty Ann Caracci tells us how she met her future husband Jack Caracci, originally from New Orleans and then in the merchant marine hauling gas in huge tankers out of Galveston, Texas. When the danger of that profession dawned on Jack, he enlisted in the U.S. Army in 1946 and they were married a year later, at age 22. Since Jack was a medical tech sergeant, he was assigned the Pratt Army Hospital in Coral Gables, better known after the war as The Biltmore Hotel. He was later reassigned to Walter Reed General Hospital in Washington, D.C. Betty recalls Jack's tales how while at Pratt, famous for sprawling golf greens, General Dwight Eisenhower stayed for a week of recuperation after the war and to take in some golf as well. Betty and Jack were married fifty-nine years until his passing in 2006. They had two sons, David and Christopher.
Learn more
Since 1984, Cornerstone Hospice and Palliative Care, a nonprofit community-based healthcare organization, has provided care and services to central Florida residents experiencing life-limiting illnesses. Medicare, Medicaid and most commercial insurances are accepted. To learn more, call (407)206-2273 or toll-free (800)679-6088 in Orange County or visit www.cornerstonehospice.org as well as www.SeriousIllness.org/Cornerstone These Cornerstone Salutes! are funded through the Cornerstone Hospice Foundation and anyone wishing to make a contribution may visit the first website listed above or call our Foundation toll-free (888)728-6234.